Lexus RC coupe launched in Malaysia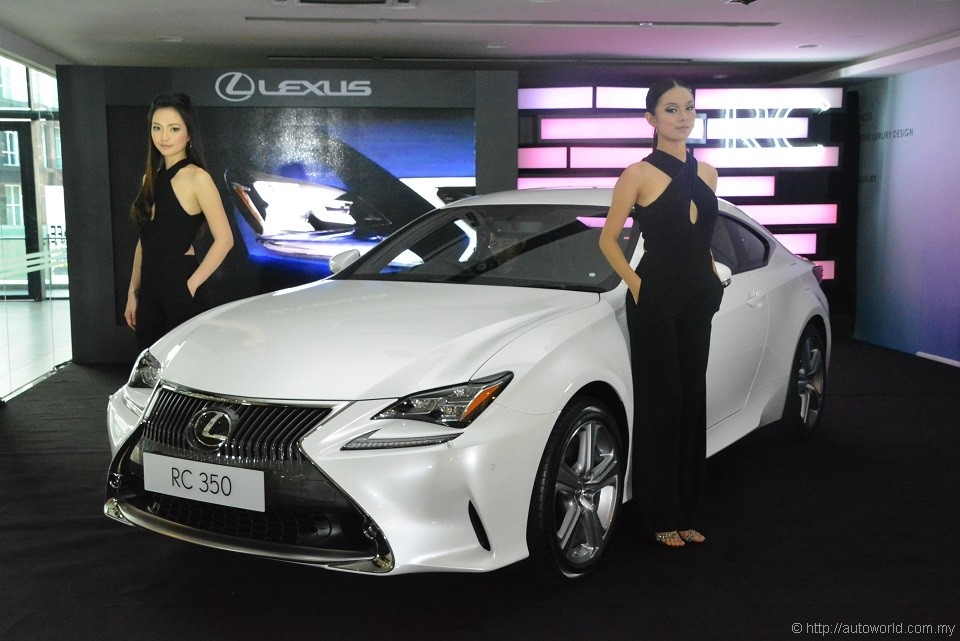 Lexus has officially launched its new mid-sized two-door coupe, the Lexus RC, in Malaysia offering it in two variants – the regular 3.5-litre V6 RC 350 together with the 5.0-litre V8 RC F performance flagship.
First shown to the world at last year's Tokyo Motor Show, the RC is underpinned by a platform that incorporates the front suspension of the GS with the rear floor pan from the IS. In between, the centre section is based on the old IS C coupe but with an enlarged rocker cross-section. Utilization of new manufacturing techniques such as laser screw welding, additional spot welding, and body adhesives help deliver added body strength without incurring weight penalties. Usage of high-tensile steel sheets and aluminium in key body panels help to further minimize vehicle weight.
With engine downsizing being the prevailing trend of today's market, the RC's relatively brash line-up offering two naturally-aspirated high capacity engines feels much like a throwback to an earlier era of motoring. First up is Toyota's familiar 2GR-FSE engine that powers the RC 350. Featuring dual variable valve timing and dual injection technology (port and direct), the 3,456cc V6 generates outputs of 312hp and 378Nm, which is sent to the rear wheels via an 8-speed automatic transmission.
Over at the RC F, we have the 2UR-FSE engine, which is a 5.0-litre 32-valve V8 generating 470hp and 530Nm paired also with an 8-speed auto. Construction of the engine includes a selection of very expensive materials such as titanium valves and forged con-rods. A unique feature of the engine is its ability to switch between Atkinson and Otto combustion cycles – the former mode activated for fuel economy whilst cruising, the latter for instances when maximum performance is required.
Safety is high in the agenda for both variants of the RC, with electronic stability control, hill start assist, anti-whiplash front seats, blind spot monitoring, and rear cross traffic alert as standard in both models. Additionally, the RC 350 also incorporates a pedestrian-friendly pop-up bonnet whilst the RC F exclusively gets a reverse camera – RC 350 makes do with reverse sensors and monitor display.
Internationally, the RC is designed by Lexus as a competitor to the BMW 4 Series, although the BMW offers more affordable alternatives in the form 2.0-litre turbo variants. With only big V6s and V8s currently at its disposal, Lexus is constrained to focus its efforts on upper variants of the 4er, with the RM539,915.85 RC 350 taking on the similarly priced 435i and the RM802,482.35 going after the M4. It remains to be seen if Lexus will include its upcoming 2.0-litre turbo engine into the RC's future line-up to take on the 420i and 428i.