Volvo V40 T5 Test Drive Review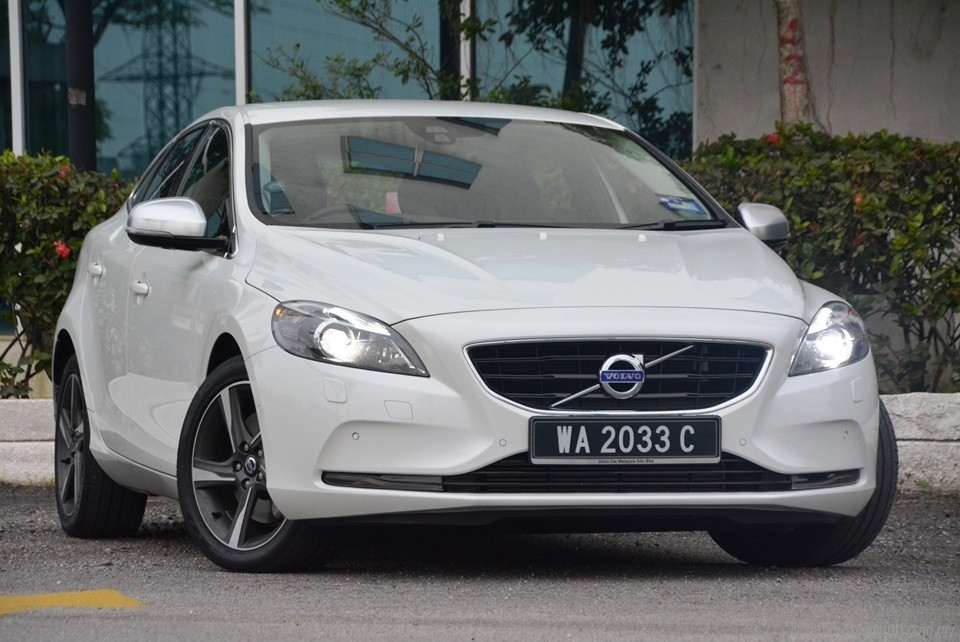 The inseparable connection between Volvo and safety is one that is imprinted in the public psyche for almost as long as the car business has been in existence. Many safety related innovations, chief amongst them the seat belt, which we take for granted today, were developed first by Volvo, and subsequently adopted by the industry.
Considering the associated dangers of driving, Volvo's tenacious dedication to safety is indeed admirable. Yet from a marketing standpoint, safety is not nearly as sexy as sportiness nor as alluring as luxury; it is a mindset that has, perhaps unfairly, kept Volvo at the second-tier of the premium car segment perennially seen as less aspirational than the German big three.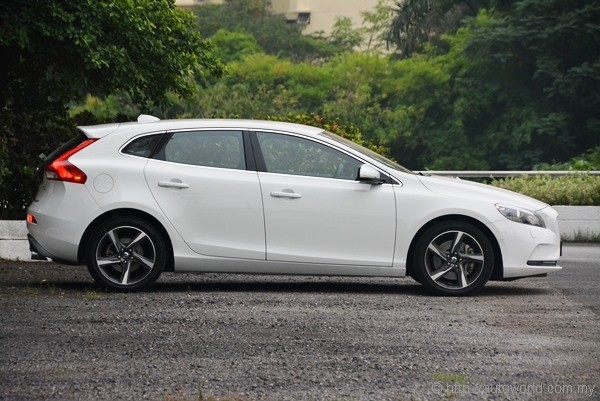 The first all-new model launched under Geely ownership, the V40 will be the last Ford-based Volvo.

There was a time when Volvo vehicles stood head-to-head with Mercedes-Benz on the desirability scale and the company is determined to recapture those glory days. The company's in-house developed SPA platform and Drive-E engine family will pave the way to a new future, but full roll out across the line-up will take time, and until then, existing products such as the S60 and XC60, which use a high amount of technology and engineering co-developed with previous owners Ford, are tasked with the responsibility of laying the groundwork for a new era.
The V40 hatchback was the last Volvo model that commenced development whilst under Ford ownership but launched under the watch of current owners Geely. Its mechanical makeup consequently reflects this transition of ownership – it shares a common platform with the Focus and offers a mix of Ford-sourced and Volvo's own engines.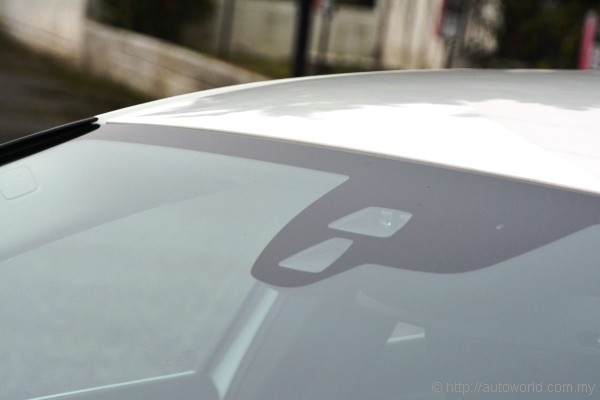 City Safety is standard in the V40.

Prices & Variants
What was formerly the S40 sedan, V50 wagon, and C30 coupe are now merged into one model here in the V40. Two engine variants are available, namely the 1.6-litre T4 and 2.0-litre T5. As you would expect from a vehicle with European origins, both engines are turbocharged. Our review today is based on the latter T5 model, which hits the road at RM190,888 before insurance. Settling for the lower T4 model yields RM17,000 of savings – a prospect which we hope to investigate in a later review.
A third option presents itself in the form of the V40 Cross Country – a derivative of the regular V40 with raised ride height and armoured with pseudo-rugged body cladding. That 'look tough' image comes at no small cost, however, its price tag breaching the RM200,000 threshold before even factoring insurance. It shares the same engine with the T5 we're testing here and, despite its robust appearance, does not benefit from the added traction of all-wheel drive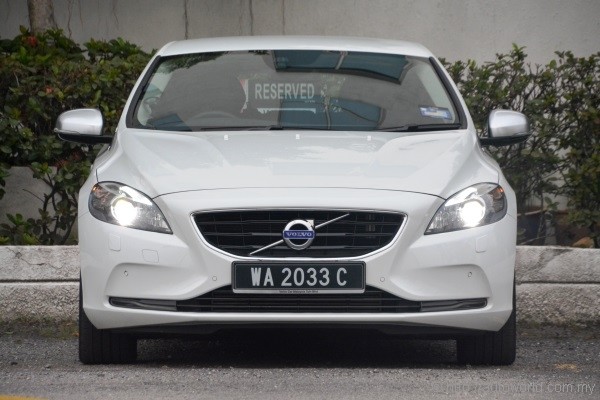 The V40 is a single-stroke replacement for the old S40, V50, and C30. Talk about a wide brief.

Specifications
The T4 is effectively a Focus 1.6 EcoBoost underneath, but the T5 here sports a 2.0-litre five-cylinder from Volvo's venerable Modular engine family that traces its origins back to the 1990s. It's a proven block design, but one that is hardly antiquated, featuring all-aluminium construction and the usual suite of technologies you'd expect of an engine complying to Euro 6 emissions – auto stop/start, direct injection, and turbocharging.
Both the T4 and T5 come standard with self-shifting six-speed transmissions to drive their front wheels; the T4 predictably sticks with the Getrag-sourced Powershift dual clutch gearbox that comes packaged with its 1.6-litre EcoBoost engine, whilst the T5 here uses Aisin's TF-80 torque converter automatic.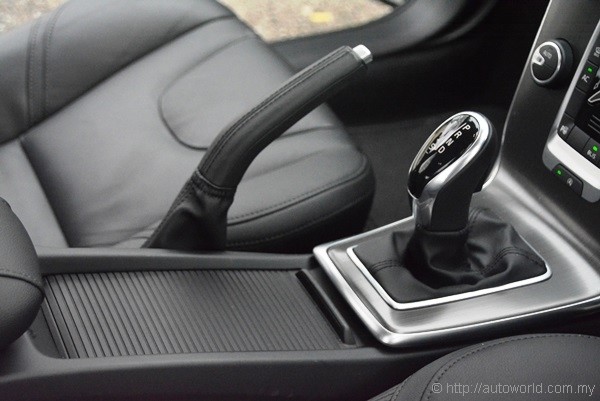 Centre cubby holes are lidded and deep – swallows a pleasing amount of stuff.

True to form, both versions of the V40 are specced very comprehensively in the area of safety, even if the full complement of items from the international catalogue are not offered here; the world's first pedestrian airbag, for example, is a notable absence. Still, whatever that's left is more than adequate to make the V40 one of the safest cars your money can buy – blind spot warning, electronic stability control, ISOFIX mounts, whiplash protection, front and rear seat-belt pretensioners, and seven airbags are standard on both variants.
Braking on the V40, as it should be at this end of the market, is provided by four discs and is supplemented by no less than six assist systems, starting with the basic ABS and EBD and going on to Emergency Brake Assist, Ready Alert Brake, Fading Brake Support, and lastly autonomous emergency braking (City Safety). We did not test that last feature, but in our experience, the V40's anchors deployed with confident authority.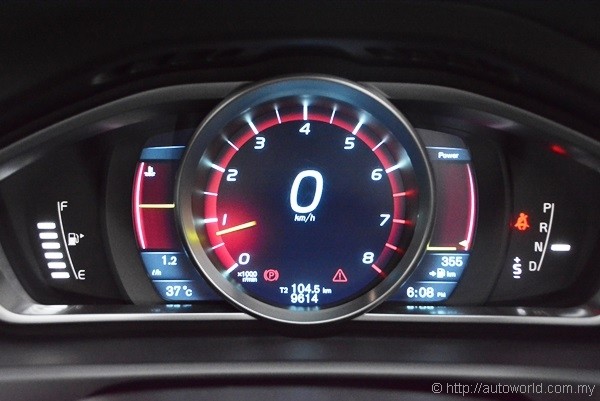 Digital instruments are standard in the T5.

Exterior
Like the Focus hatchback which it is loosely based upon, the V40 is also available only in five-door configuration. Bodily measurements also correspond closely to the Focus, a trait which in turn pitches the V40 head-on against the BMW 1 Series and Mercedes A-Class. On paper, measurements show the V40 as being the biggest car among the three aforementioned vehicles in all three dimensions – length, width, and height.
Appearance-wise, the V40 reflects Volvo's ambition in using one body style to create a broad stroke replacement for what was previously three models in the C-segment; from the front, its widened fascia which very convincingly emphasizes its width over its height reminds us of the low-slung C30 coupe. From the side and rear, estate-like proportions hark back to the V50's utility.


Interior
Anyone who has spent time in modern Volvo interiors will find the V40's cabin to be positively familiar surroundings. Although its layout is not shared with other models in the stable, signature touches such as the floating centre console, an impeccable choice of materials, and top notch build quality sets it apart as a truly pleasant cabin to be cocooned in.
Its simplistic appearance is pleasingly easy on the eye and, perhaps more pertinently, just as easy to use. From the driver's vantage point, all relevant controls are logically placed within an arm's length and forward visibility is good. Narrow glass and thick pillars limit rear visibility, however, making the unavailability of a reverse camera (even as a cost option) an oversight that requires immediate rectifying.
Along the centre console and indeed even behind it, is plenty of space, all concealed, to hold your keys, phones, Smart Tags, and other small items. A commendable little touch is that the recess behind the floating console has been made deeper to hold items more securely in the event you decide to explore the upper limits of the V40's handling spectrum.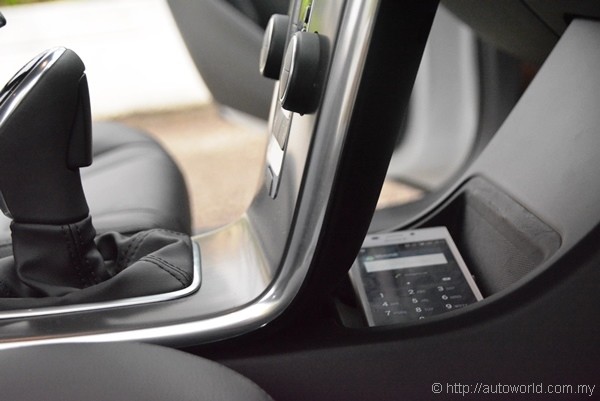 The familiar floating console has been refined with a deeper-recessed cubby hole behind.

Driving Experience
With the chassis of a Ford Focus underneath, the V40 starts off with the right raw ingredients to deliver a sparkling driving experience, and in many ways, it does. Steering is positively accurate and nicely weighted, although the three-mode variable assist function seems redundant; we failed to pick up any significant difference in any of the three settings – Light, Medium, and Heavy.
The sharp steering is nicely complemented by well-controlled body movements; roll is convincingly suppressed around corners, whilst stability at speed is confidently reassuring. This is, without question, the best handling vehicle in Volvo's stable at the moment.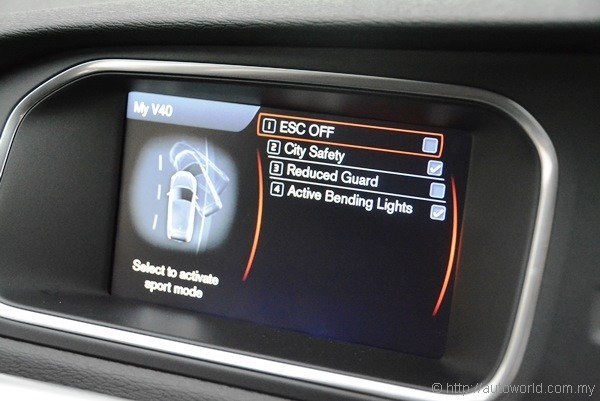 7-inch colour screen for infotainment system.

Our only complain on the dynamics front is a minor if predictable one, and it concerns ride comfort – although the suspension soaks up major disturbances well, smaller ripples are less effectively isolated. Like the XC60 we drove recently, and indeed many other cars specified for our market, it seems like another case of a vehicle with its suspension balance disturbed by oversized rims preferred by our consumers. Our suspicion is that the T4 with rims one size smaller may deliver a more satisfying setup.
Compared to the 240-plus horsepower outputs of the S60 and XC60 T5 variants, the V40 T5's 213hp and 300Nm outputs seem conservative on paper. In reality however, the all-aluminium five-cylinder engine delights with wonderful smoothness and flexible power delivery. Throttle response felt more immediate than in the more powerful four-cylinder T5s, be it the Ford- or Drive-E-powered versions – so, although outputs are lower, they are delivered faster and in a more linear and usable fashion. The engine note is also predictably more evocative than those of the four-pots, making it the more delightful motor to work.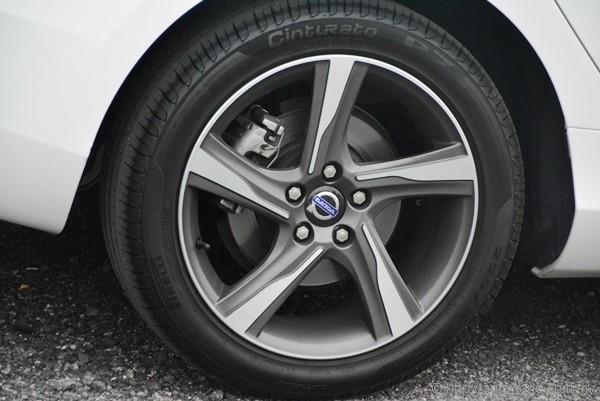 Ride is firm with 45-series 17-inch alloys. We expect the T4 with 16-inch rollers to be more pliant.

Verdict
In a segment that includes cars like the 1 Series, A-Class, and to a certain extent the VW Golf (be it in 1.4 TSI or GTI format) and Audi A3 Sedan, the V40 swims in deep waters. It has both the style and substance to not feel out of its depth in this company, however, which is important if Geely's ambitions of seeing Volvo mentioned in the same breath as Mercedes and BMW are to be realized.
The V40 is a transitional product for Volvo, one that bridges the company's previous chapter under Ford ownership and a bright exciting future with its new Chinese masters. There is much to like about it – it is a handsomely styled vehicle and not remotely boring to drive, a finely-balanced chassis and the distinctive hum of its five-cylinder engine see to that. It ticks all the right boxes to convincingly qualify as a premium vehicle; if you're not hard up on having a German badge, we highly recommend it.