Ford EcoSport Test Drive Review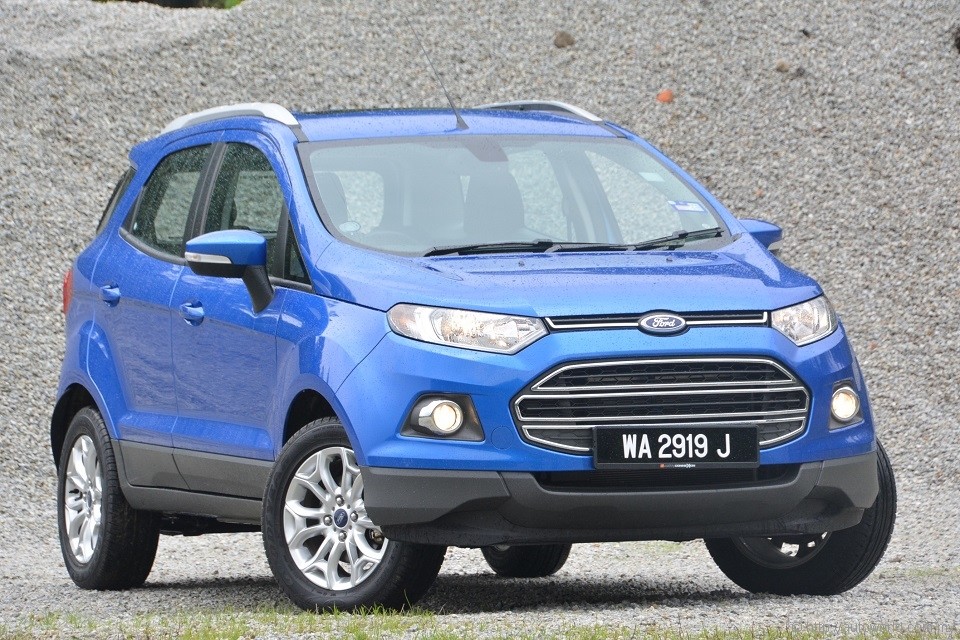 Previously, with a budget of RM100k, vehicles one can afford are largely limited to Japanese B-segment vehicles. Choices are aplenty now, and there is even the odd mini-MPV to choose from, but if you're looking for an SUV, then your pool of options is suddenly not so wide again. Majority of SUVs in the market reside around the RM130k-RM150k ballpark, and they are mostly mid-sizers displacing two litres and above.
With market forces steering the industry towards downsized vehicles and also toward SUV, there should be strong demand for pint-sized SUVs priced no more than RM100k with engines considerably smaller than the market-norm two litres. Options in this field are limited at the moment; the Toyota Rush is too much of an aging product to claim any relevance. The rugged Suzuki Jimny, whilst not without charms, is too limited in its appeal. The Great Wall M4 is an intriguing product, and with pricing reported to dip below RM50k, it will see no shortage of buyers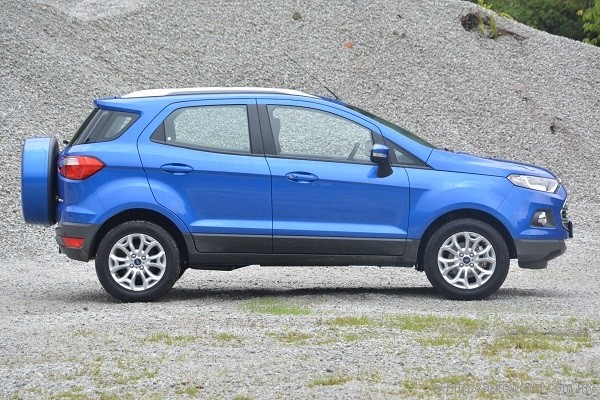 A raised Fiesta platform underpins the EcoSport

Clearly, the small SUV segment is largely unrepresented at the moment, and it is one calling for more entries. Perodua demonstrated the viability of this segment years ago with the Kembara. Its replacement, the Nautica, fumbled, although one can argue it is due to the reluctance of Malaysians paying Toyota prices for what was, ironically, a Perodua-badged Toyota Rush fully imported from Japan.
We anticipate that it is only a matter of time before this segment opens up, but making an early move to secure market dominance is Ford with its all-new Fiesta-based EcoSport mini-SUV that was launched only last month. We've driven the EcoSport in Hua Hin, Thailand, back in March, and we now follow up with a final more decisive review of the vehicle in home soil.


Prices & Variants
If you're looking for a sub-compact SUV but limited to a five-figure budget, the EcoSport is an easy entry into your shortlist. With prices starting at RM92,888 on-the-road, the entry-level Trend variant is an affordable and respectably specced vehicle being equipped with dual airbags and electronic stability control as standard
Above it comes the RM103,888 Titanium version which we are testing for this review. Besides minor trim differences, the additional RM11,000 paid for this version manifests itself in the form of a sunroof, auto headlamps, auto wipers, keyless entry with engine start button, digital climate control, leather upholstery, and most notably, seven airbags. Engine and transmission are identical for both variants.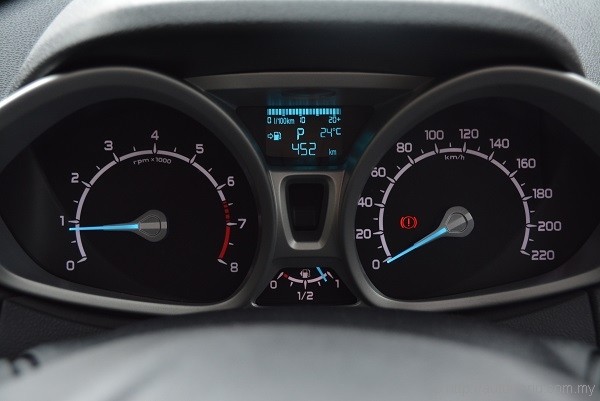 Instrument panel is similar to Fiesta's but with different fonts.

Specifications
The Fiesta's B-platform forms the basis of the EcoSport's underpinnings. The two cars share identical suspension layouts, with geometries raised for the latter, and engines, in this case the naturally-aspirated 108hp 1.5-litre four-cylinder Ti-VCT powerplant mated with Getrag's 6-speed dry dual clutch PowerShift transmission as standard.
Ford is reportedly considering the 1.0-litre EcoBoost for introduction in the EcoSport at a later date – this version is available in overseas market, so it's simply a question of whether Ford is interested to explore this spec combination in our region or not.
Ford's marketing emphasizes its 200mm ground clearance and 550mm wading depth alongside a pleasing 5.3m turning radius, clearly pitching the EcoSport as a go-anywhere urban SUV. Whilst you can try traversing flash floods or climbing kerbs, we won't recommend taking the EcoSport out for serious off-roading – it is, after all, only front wheel driven.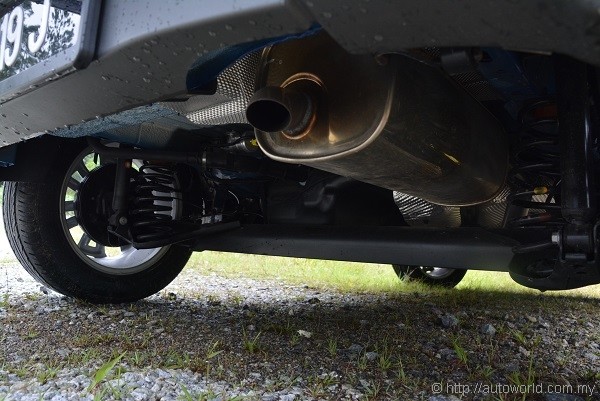 Since it is FWD, Ford retains the Fiesta's torsion beam suspension for the EcoSport.

Exterior
Despite its relatively modest passenger car underpinnings, the EcoSport's appearance may fool the uninitiated into assuming it is a robust 4×4 SUV. It is a kind of pseudo-ruggedness that we find funky, but those with modern appetites may disapprove.
The unpainted gray cladding running around the vehicle's lower body suggests a vehicle built to take abuse whilst the tailgate-mounted spare tyre looks like a clear nod to SUVs of days past – there are packaging reasons behind this spare tyre placement as well, for it allows Ford to free up more cargo space, some 362 litres of storage are usefully available with rear seats up.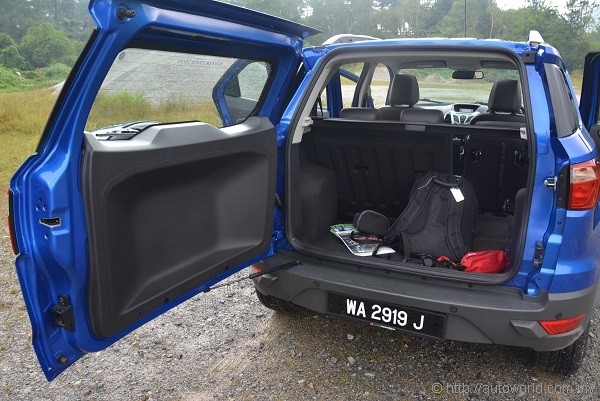 Because of the spare tyre's weight, the EcoSport's tailgate opens sideways.

Viewed from the sides, the EcoSport has decently-balanced proportions, but being a lot more taller than it is wider compared to the Fiesta gives it a lanky appearance when looked upon head-on. Front end styling borrows elements from the Aussie-built Territory large SUV; squeezed into the EcoSport's narrower fascia, the result is an almost caricature-like reinterpretation of styling cues developed for a bigger vehicle.
The rear end is a simpler and neater affair. The designer's integration of the side-hinged tailgate opener into the starboard tail light assembly is a particularly sophisticated touch, contributing to a relatively clutter-free appearance. For trained observers, the raised rear end clearly exposes the torsion beam suspension, eliminating any illusion of this being a vehicle with off-road ambitions.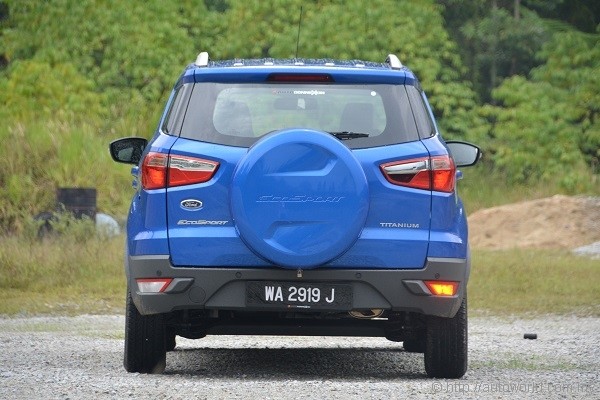 Tailgate-mounted spare tyre reminds us of SUVs of an older era.

Interior
The many clever touches adorning the EcoSport's interior suggest that this is a cabin designed not without considerable thought, although in some instances Ford clearly overthought matters when simpler solutions would have sufficed.
The side-mounted rear power socket, for example, seems like a novel idea at first glance, but deeper consideration raises question marks to its water resistance when that particular door needs to be opened during heavy rain that happens so often in our climate. Also needing a re-think is the layout of controls lifted wholesale from the Fiesta. Funky in appearance, the cluttered key pad is not the last word in usability and it is far from intuitive to operate. We would have been happier with a simpler interface.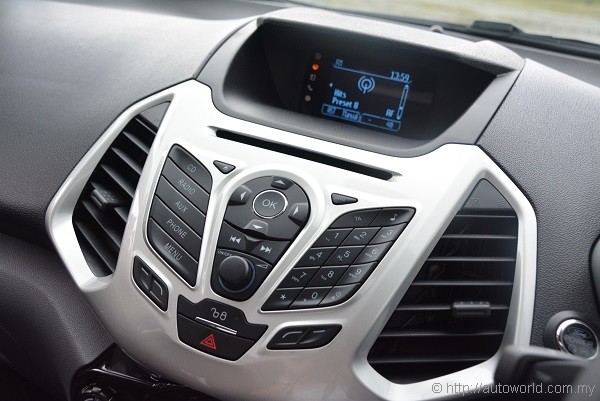 Centre stack is clearly borrowed from Fiesta. User-friendliness not the best.

Ample distribution of storage spaces both open and hidden are a big plus point of the EcoSport's interior. Besides the obvious cup holders along the well-compartmentalized centre console, Ford also allocated two large tunnels, one in each front door to swallow an entire 1.5-litre bottle. Lidded storage compartments include a front passenger under-seat drawer and a glove box that bleeds cool air off the air-conditioning system to chill your drinks.
Build quality feels a step down from the Fiesta, which is shocking. Owing to its positioning as a more rugged vehicle, we can understand the selection of hardier materials than one would find in a passenger car, but the incessant dashboard rattling on our test car is something that requires urgent addressing. We also spotted a misaligned lower panel. Overall, the cabin does not feel badly built, but quality is not at the level we've come to expect from Ford.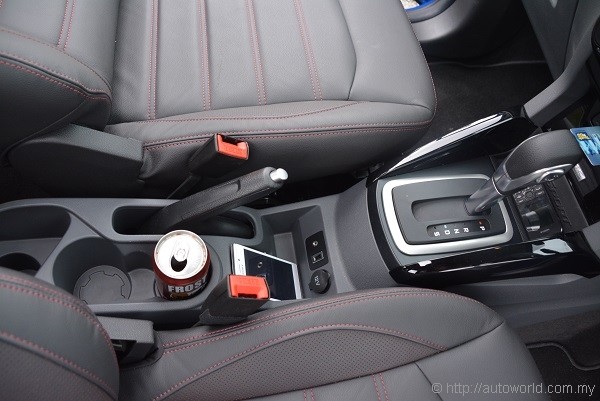 Centre console is well compartmentalized to accommodate small items.

Driving Experience
The consistent ride and handling excellence of Ford vehicles have made us big admirers of the Blue Oval brand in recent years. From the diminutive Fiesta right up to the seven-seating S-Max MPV, Ford vehicles consistently outhandle the competition and impressively do so without much sacrifice of any decent ride comfort. The EcoSport largely maintains this tradition of excellence, although it does come with a few caveats more than we are accustomed to.
Typical Ford handling traits, namely stability around corners and at high speeds, allied with a firm yet well-damped ride are all present and accounted for, although the set up does allow for additional body roll that is the result of its increased ride height – a largely acceptable compromise. Owing to its Fiesta underpinnings, the EcoSport is also largely free from vices that typically ruin on-road refinement of hardened SUVs. The electric steering rack steers with pleasing accuracy, and like in the Fiesta, feedback is satisfyingly crisp.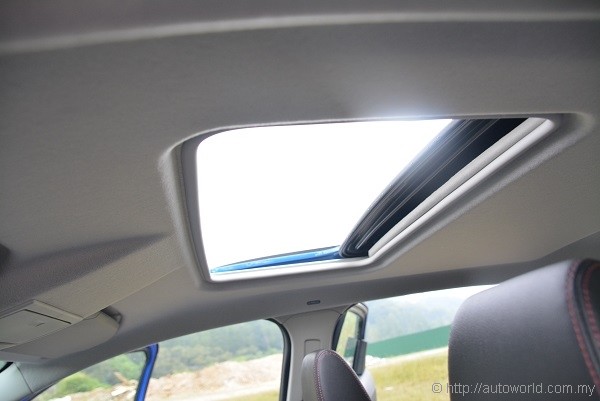 Sunroof for the Titanium model.

Remarkably, however, its road-biased suspension provided enough travel to help it effectively subdue gravel and stone chip surfaces. It also exudes a sense of robustness that we would typically equate with body-on-frame SUVs rather than the monocoque structure which the EcoSport is built upon.
It wouldn't take much for one to figure that the EcoSport, despite the latter half of its name, is not going to be the market's byword for blistering performance. The same naturally-aspirated 1.5-litre engine that proved merely adequate in the Fiesta hatchback suddenly has an additional 100kg of mass to haul in the EcoSport. In urban settings, it offers enough thrust in reserve to propel the EcoSport to respectable speeds, but show it a hill to climb, things become a huff-and-puff affair. Good thing that the engine is a smooth-revver that emits pleasing acoustics.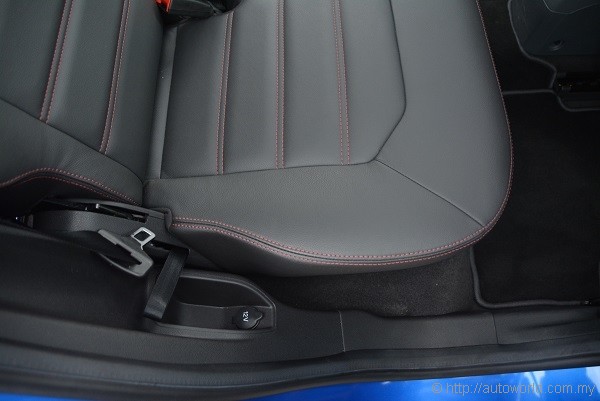 Rear power socket is mounted next to the driver side passenger.

Question marks on long term durability and lack of refinement at low speeds have made us wary of dry dual clutch transmissions in general, even if the performance and fuel economy of these gearboxes mean that they are here to stay for the long run. The EcoSport is fitted with such a transmission which, in context, behaved remarkably well, with the typical jerks in stop-and-go traffic very effectively subdued. Dual clutches typically shine under hard acceleration, and Ford's Getrag-sourced unit delivers largely smooth and seamless shifts.
Like its more recent models, the transmission provides manual overriding by means of a rocker switch as opposed to steering-mounted paddles or a parallel gate for the gear lever. We've criticized this setup enough times before, and we still argue against its inclusion, although we must admit that with familiarity, it is becoming increasingly less cumbersome to use.


Verdict
Two current prevailing trends in the motoring industry – downsizing vehicles and increasing popularity of crossover SUVs – meet in the EcoSport. In the European market, this is a growing segment, but here in Malaysia, it is relatively uncharted waters, although not for long, as strong rumours point to Honda studying a case for the Vezel it introduced in last year's Tokyo Motor Show.
On the global stage, the EcoSport is far from a pioneering product and we feel that it is a vehicle that is not without flaws. But by arriving in our market early, Ford for the moment gets to hoard the pent-up demand for lifestyle-oriented compact SUVs. The EcoSport's driving experience does not score the same high marks we typically give to Ford vehicles, but it has its clever moments; with its funky styling and affordable price tag, it is a decent choice to make.