Porsche Macan officially launched in Malaysia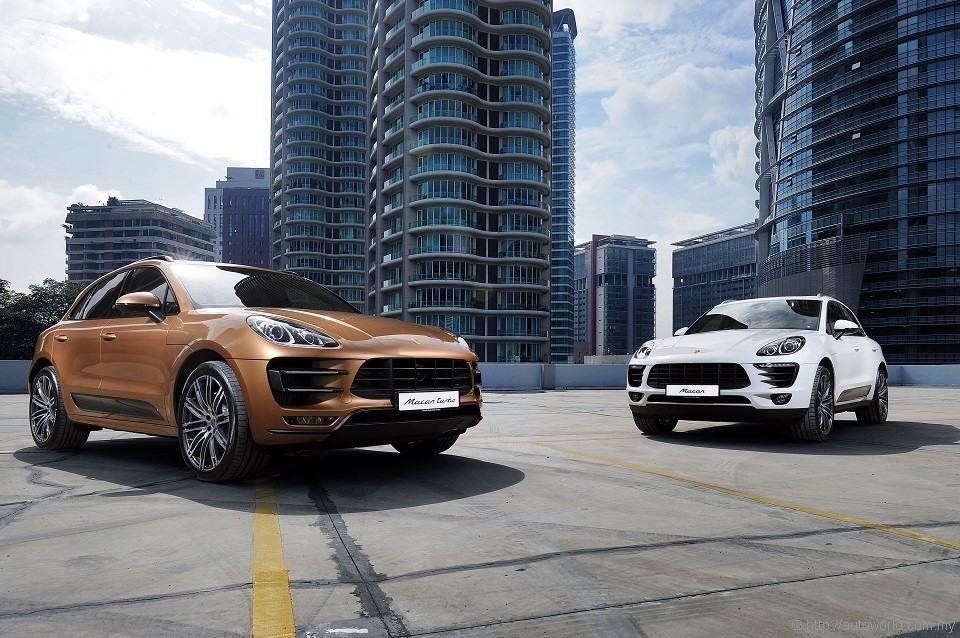 Porsche's launch of the Macan in Malaysia, promised for the fourth quarter of this year, came slightly earlier than expected with a complete range of four model variants available for booking at Porsche Centres in Damansara and Glenmarie.
Described by Porsche as the sports car alternative in the compact SUV segment that already counts the BMW X3 and X4, Range Rover Evoque, and Audi Q5, the Macan comes with a selection of powerful turbocharged mated with Porsche's seven-speed PDK dual clutch transmission and all-wheel drive as standard.
Entry into the Macan's ownership club starts at RM420,000 for the 2.0-litre turbo model which delivers a healthy 237hp to facilitate a century sprint time of 6.9 seconds and top speed of 223kph. Its official fuel consumption is rated at 7.2 l/100km, making it one of the more economical models within its segment.
Even more economical, however, is the RM545,000 Macan S Diesel, which sips fuel at a rate of 6.1-6.3 l/100km whilst still good for a rated 258hp from its 3.0-litre V6 engine. Emitting between 159 and 164 g/km of carbon dioxide, the Macan S Diesel is able to hit 100kph from rest in 6.3 seconds, and achieve a maximum speed of 230kph.
Buyers wanting additional performance can all upon the petrol-powered Macan S sitting slightly higher than the diesel at RM560,000. Its 3.0-litre bi-turbo V6 is rated at 340hp, good for 5.4-second century sprint and 254kph top speed, whilst returning a rated fuel consumption of 8.7-9.0 l/100km in the European combined cycle. Carbon dioxide emissions of this model breach the 200 mark, ranging between 204 and 212 g/km depending on specification.
Topping off the range is the Macan Turbo which, at RM785,000, features a 400hp 3.6-litre bi-turbo V6 that is capable of propelling the Macan to a top speed of 266kph whilst hitting 100kph from rest along the way in 4.8 seconds. Official consumption and emission figures are not far off the Macan S, being rated at 8.9-9.2 l/100km and 208-216 g/km respectively.
Standard equipment in the Macan includes multi-function steering wheel with paddle shifters, large alloy wheels with low-profile sport-biased tyres, high performance audio, and an electrically-operated tailgate. A choice of three sporty chassis setups are offered, one of which incorporates air suspension, a unique feature within its segment. Further options include adaptive headlights, torque vectoring, and premium-quality audio systems from Burmester and Bose.
Another notable add-on available for selection is the Sport Chrono package, offered with the Macan S, Macan S Diesel, Macan Turbo models. The package is characterised by the analogue and digital stopwatch on the dashboard, as well as the additional Sport Plus button in the centre console. Behind the scenes, it enables the chassis, engine and transmission to be adjusted to an even sportier level. The system also incorporates a launch control function that consistently reduces 0.2 seconds off the 0-100kph times for each variant.
All Macan models re equipped with 4-year factory warranty and a 4-year complimentary service, parts and maintenance package. Prices stated above include all applicable duties and excludes registration fee, road tax and insurance.
Pictures: Official Porsche release.