Ford Fiesta 1.0 EcoBoost Test Drive Review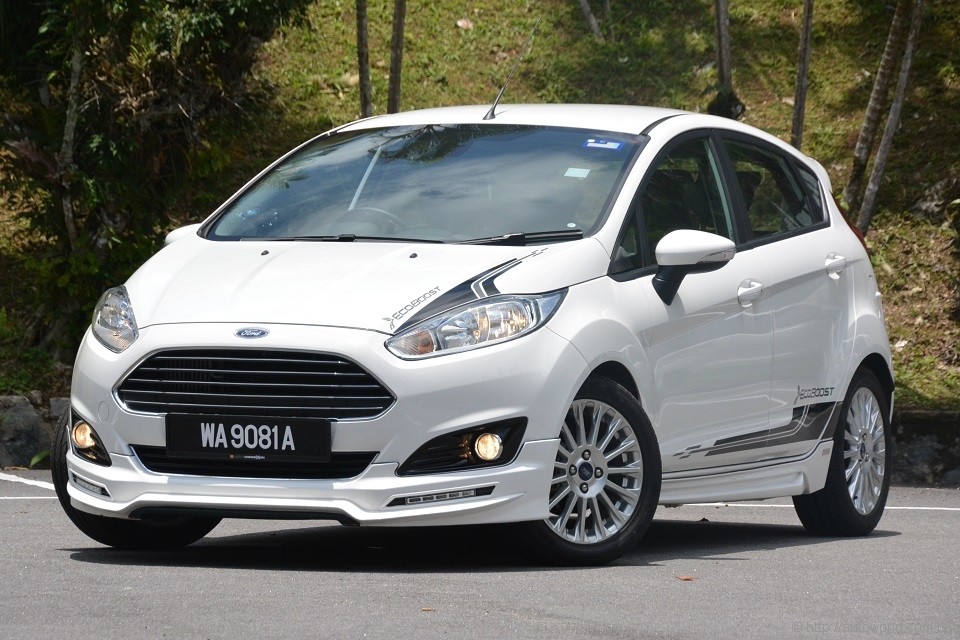 In traditional schools of thought, three-cylinder engines are typically reserved for roles in budget and entry-level models. But this is the age of turbocharging and direct injection, however, and with small capacity engines today routinely punching above their weight, the old adage of there being no replacement for displacement is in urgent need of reexamination.
Small engines are consistently making big headlines in recent years, and none perhaps have created quite a stir as Ford's 1.0-litre three-cylinder EcoBoost. Winner of three successive International Engine of the Year Awards from 2012 to 2014, first ever engine to accomplish such a feat, the little triple makes its much-awaited debut in Malaysia in the newly-facelifted Ford Fiesta.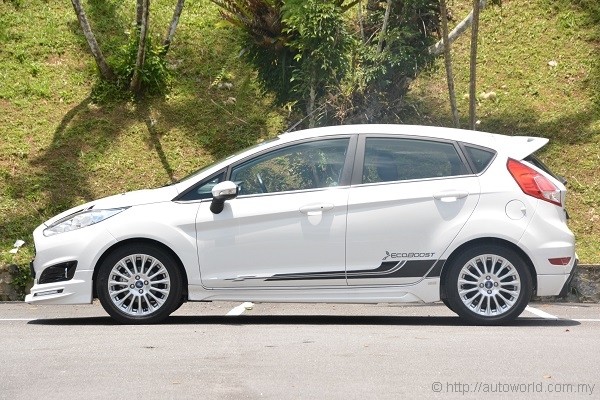 Locally-fitted bodykit and decals separate the 1.0 EcoBoost from the cheaper 1.5 Ti-VCT models.

Prices & Variants
Alongside the 1.5-litre Ti-VCT models, Ford positions the EcoBoost variant, which is only available as a five-door hatchback to us, slightly higher up in the food chain, its price tag accordingly reflecting the hierarchy with a premium of nearly RM10,000 separating the two engine variants. From RM87,001 for the 1.5 in both sedan and hatchback formats, it is a considerable jump to RM96,551 to have the newer engine plonked under the Fiesta's hood.
Despite its reduced capacity, there are plenty of reasons to like the new 1.0-litre engine, and embrace these reasons you must if you're to convincingly justify shelling out the extra money for this purchase over the 1.5. Other than the engine, the only extra item of note in the EcoBoost's arsenal is an increase of airbag count from two to seven.
Trim-wise, the 1.5 and the EcoBoost are shipped out from Thailand looking virtually identical to each other, with only the initiative of local distributors SDAC adding decals and an all-round bodykit with daytime running lights to create a visual separation that more accurately reflects the price difference between the two models.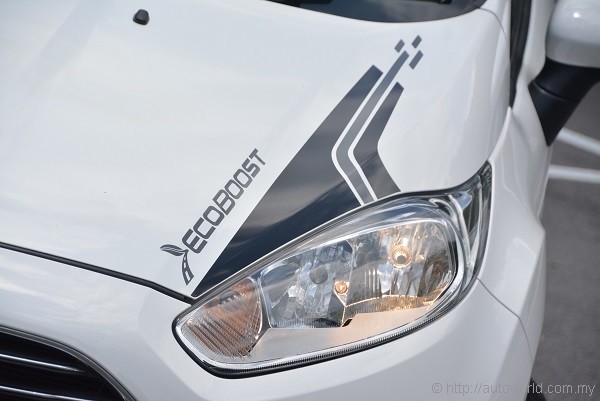 EcoBoost decal also cover the bonnet. Headlamps use halogen reflectors.

Specifications
Much has been written about the Fiesta and the three-time award-winning EcoBoost 1.0 engine that both should be intimately familiar subject matters to regular readers of this website. Much of the car carries on with familiar elements, its external design corresponding exactly to the new look introduced with last year's facelift. Inside, the cabin's architecture is unchanged from its original layout as introduced globally in 2008 and locally in 2010.
In the context of this review, the engine is naturally the subject of greater interest, and our enthusiasm for it is such that the task of reciting its extensive list of virtues is no chore. Displacing 999cc, the cast iron three-cylinder engine with direct injection is available in a number of setups, both naturally aspirated and turbocharged.
For Malaysia, the pint-sized three-pot arrives in its strongest configuration, pushing out 123hp and 170Nm. This is one of the highest specific outputs ever achieved by a Ford production engine, and it is good enough to comfortably eclipse the previous 1.6-litre mill, which was good for a not too shabby 118hp and 152Nm.


Delving into the details, there is much to admire in the engine's elegant engineering. It will be a challenge to choose one defining innovation of the engine, but take your pick from anyone of the following: methodically unbalanced crankshaft to cancel out vibrations, maintenance-free oil-immersed composite timing belt, low inertia turbocharger capable of spinning up to 250,000rpm, or its cylinder head-integrated exhaust manifold.
When it was first introduced across Ford's European line-up beginning 2012, the engine was only initially available in manual transmission. Successful integration of the engine with the now-familiar 6-speed dry dual clutch PowerShift transmission was only introduced at a later date. In our market, the PowerShift is offered as the default transmission of the Fiesta EcoBoost.


Driving Experience
The Fiesta is not a car without flaws, but if there's one thing that it consistently achieves is its ability to put smiles on our faces regardless of trim, bodystyle, or engine. Its first rate chassis is a central component to its driving appeal, giving all versions of the Fiesta a balance of ride suppleness and handling sharpness that is not only immensely satisfying but outright impressive.
What's truly remarkable about the Fiesta is the sheer breadth of abilities it packs under its chassis that enables its dynamic characteristics to be enjoyed by drivers of varying skills and demands. Those with a sedate disposition will find its pliant ride pleasing to live with, whilst driving enthusiast will find themselves enthralled by a chassis that oozes confidence and composure when pushed hard. Its electric-assisted steering ranks among the finer ones of its type for both responsiveness and communicativeness.
Such solid chassis fundamentals scream for the fitment of a right powertrain for maximum enjoyment, and in the 1.0-litre EcoBoost, Ford has given us perhaps the best Fiesta yet; quite an accomplishment considering the relative excellence of existing variants. With a smaller engine resting over its front axle, this latest iteration of the Fiesta is quick in responding to steering inputs and turns corners in an impressively neutral fashion. Indeed, there is a strong impression that the Fiesta's chassis feels tailored for the weight balance that this engine provides.


The engine itself is a fine piece of machinery and thoroughly enjoyable to use in most circumstances. Ford claims a rated consumption of 5.3 l/100km, but the trip computer on our test car never strayed far from 10.0 l/100km during our time with it. We are not the least bit displeased about this, however; the engine is such a delight to rev hard, we readily accept that we might have over-indulged ourselves on that part.
In most conditions, the engine serves sparkling performance. In exuberant driving however, hesitant kickdown of the 6-speed Powershift transmission, even in Sport mode, blunts responses somewhat, with the unintuitive rocker switch manual gear control adding further frustration. Under such circumstances, it's not difficult to imagine how a manual transmission would considerably add to the vehicle's overall dynamic enjoyment.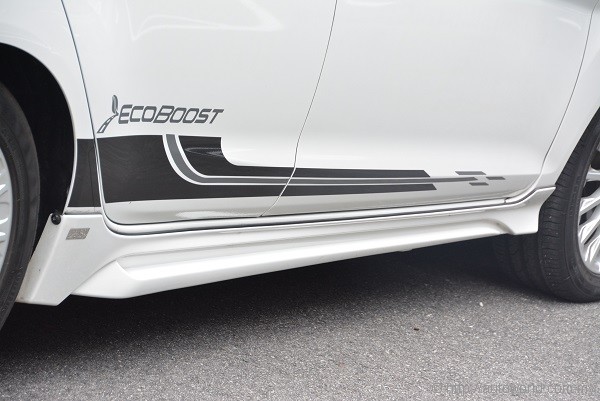 Side skirt and decals

Verdict
In terms of sheer driving enjoyment, the Fiesta is a car without equal amongst its peers. Ford's achievement in tuning the Fiesta's dynamics so spot on and so consistently good regardless of engine fitment is indeed very much worth admiring. In this 1.0-litre EcoBoost guise, the broad talents of the Fiesta's chassis is more than matched by the similarly wide-ranging abilities of its award-winning engine – together they form a combination that is potent on pleasure.
Problems with the Fiesta's case come in other areas, particularly its interior, which is both cramped and cluttered. Against similarly-priced hatchbacks, in particular the more efficiently-packaged Honda Jazz, the Fiesta is difficult to sell on the grounds of practicality. Ergonomics remain another Achilles heel of the Fiesta, its fancy-looking centre stack still not the last word in user-friendliness or intuitiveness of use. Once again, the Jazz shines it in a bad light.
Clearly then, the Fiesta is a right purchase if driving enjoyment trumps practicality in your list of priorities and less so vice-versa. With that decision settled, the next question that follows is whether the 1.0-litre EcoBoost model tested here justifies its considerable premium over the 1.5. We're telling you that it does, and we strongly encourage going for it if you can afford to do so.