Naza Quest Launches Chevrolet Malibu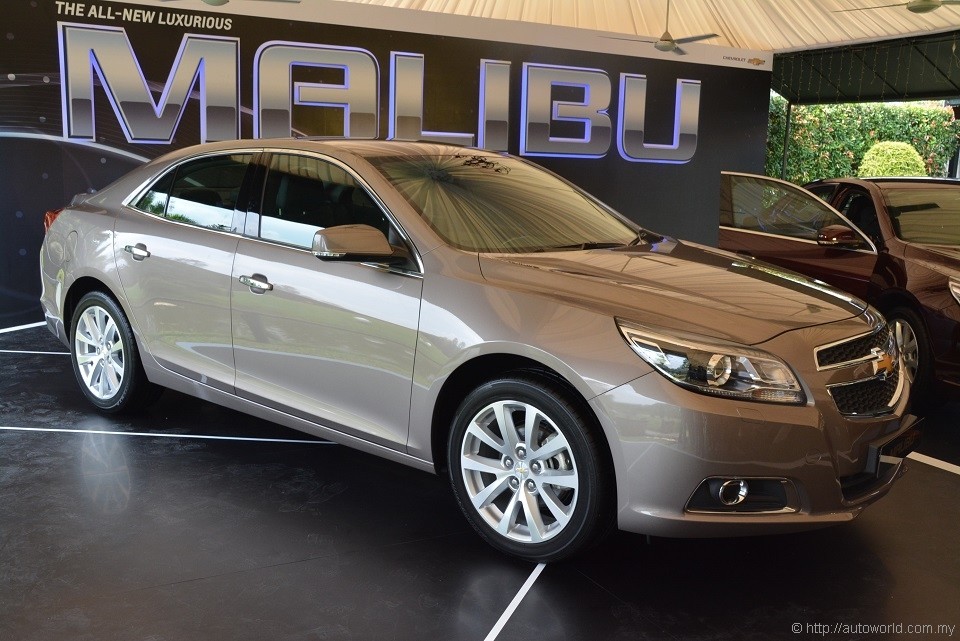 Kuala Lumpur, 02 September, 2014 – After a long delay, Naza Quest, official distributor of Chevrolet vehicles in Malaysia finally launched the D-segment Chevrolet Malibu sedan today.
Priced at RM153,888.00 (on-the-road without insurance), the Chevrolet Malibu is poised to battle against the Honda Accord, Toyota Camry, Mazda 6, VW Passat and others in an already crowded D-segment market. The main attraction is of course the very decent price tag, which offers a 2.4 litre car for the price of a 2.0.
A lower selling price does not equate to low specifications, and the Malibu actually comes in quite a good package. The power plant is a 2.4 litre, DOHC gasoline engine that delivers a decent 165 horsepower at 5,800 rpm, and 225 Nm of torque peaking at 4,600 rpm. Drive is to the front wheels via a 6-speed automatic transmission. Fuel consumption is rated at 7.8 litres per 100 kilometres (combined cycle), and a 73 litre fuel tank promises a long range of over 900 kilometres between refuels.
From an exterior viewpoint, the Malibu looks quite elegant – inspired by the Chevrolet Camaro, it has a long nose, a sleek, low-slung body and a majestic-looking front grille, and looks good from any angle.
The Malibu is 4,865 mm long, with a wheelbase of 2,737mm; overall width is 1,855mm while overall height is 1,465mm. Whilst it is a good 40mm longer than the Toyota Camry, its wheelbase is 38mm shorter, so interior legroom is a tad less than what one would find in the D-segment. Notwithstanding that, the Malibu interior is well appointed-leather seats with electric controls, a 7-inch full colour touch screen and connectivity, keyless entry and push-start button, a tyre pressure monitor system, and reverse camera are just some of the highlights. There is also one feature that Malaysians might find useful, and that is the remote start function – you can start the car remotely to allow the air-conditioner to cool the car down before you actually get in – hot seats after lunch will be a thing of the past with the Malibu.
The Malibu comes with four airbags, ABS and Electronic Stability Control and Brake Assist. Suspension is 4-wheel independent, with strut in front and a multi-link arrangement at the rear. Night illumination should be excellent with the standard HID headlights which come with self-levelling control, and headlight washers.
It will be interesting to see how the Malibu fares against the more established Japanese stalwarts in the segment. What it has going for it would be its high specification level and the competitive price. Now it is up to the buying public to bite.