2014 Nissan Sylphy receives Impul upgrades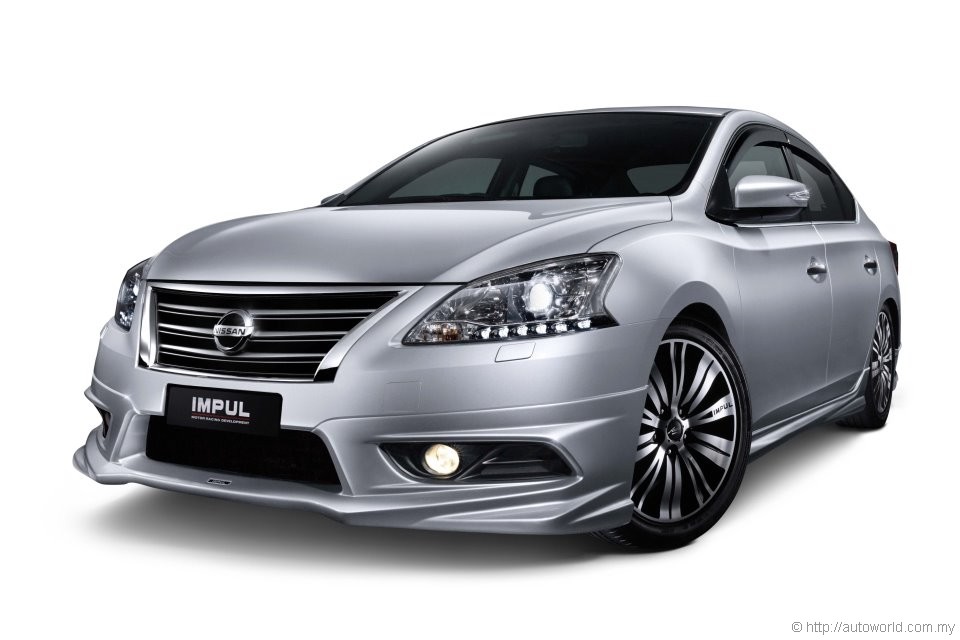 The all-new 2014 Nissan Sylphy is now available with customized accessories from Impul, the dedicated Japan-based Nissan tuning company that beyond its active participation in motorsports, has been diligently producing tuned specials of regular Nissan models for the Malaysian market.
Tuned by Impul kits are currently offered with the X-Gear, Grand Livina, and Almera, besides being once available with the previous-generation Sylphy. Sources in local Nissan distributor Edaran Tan Chong Motor (ETCM) tell us, and our casual observations concur, that take up rate for these kits are generally high amongst buyers, although majority of takers rarely go beyond aesthetic items.
For the new Sylphy, list of items start with the Aerokit, which includes front, rear, and side skirts. The base model 1.8E gets an additional boot lid spoiler which is not offered in the 1.8VL. This is because the 1.8VL already comes with a factory-fitted spoiler that incorporates a built-in third brake light. Because Impul accessories are locally-fitted by ETCM, it is understandable that the company will not want to tamper with the vehicle's original wiring. Owing to this difference, the Aerokit is priced at RM3,600 for the 1.8E and RM3,000 for the 1.8VL.
At the four corners, buyers can upgrade to 17-inch Impul Aura SX-20 wheels complemented by 205/50 R17 Continental CPC2 tyres. These two items are priced at RM4,500 per set and RM1,800 per set respectively. Take note that the tyre upgrade will not be necessary in the case of the 1.8VL as it already comes fitted with the CPC2 tyres at the same size as standard.
Last comes the cheapest item, which ironically may have the most profound impact on the vehicle's driving experience, namely the set of Impul sports springs, which come at a cost of RM1,000. We have yet to put this set up to the test, but expect a firmer ride with better body control. ETCM notes that the Impul springs lower the Sylphy by approximately 25mm.
The stainless steel exhaust offered with other models and also the previous Sylphy is notably absent here, and perhaps not for no reason. In our experience with the previous-generation Sylphy Impul, enhanced vocals of the sports muffler and stepless shift characteristics of CVTs do not make for a happy combination.
Besides being sold with new cars from the showroom, the abovementioned Impul upgrades are also available to existing customers. ETCM's Impul division are happy to take your queries at +603 4047 8776 or via email at impul@tanchong.com.my.
Customers who wish to check out the new Sylphy Tuned by Impul can do so at any Nissan dealership nationwide, or head to Desa Park City this weekend (16-17 Aug 2014) for a public customer event where it is available for test drives alongside regular variants of the Sylphy and Teana.
Pictures: Official ETCM release.
Update (18 Aug 2014): The full array of Impul kits mentioned above can be ordered as a package for RM6,000 in the 1.8VL and RM7,900 in the 1.8E.