BMW i8 tested in Milan, Italy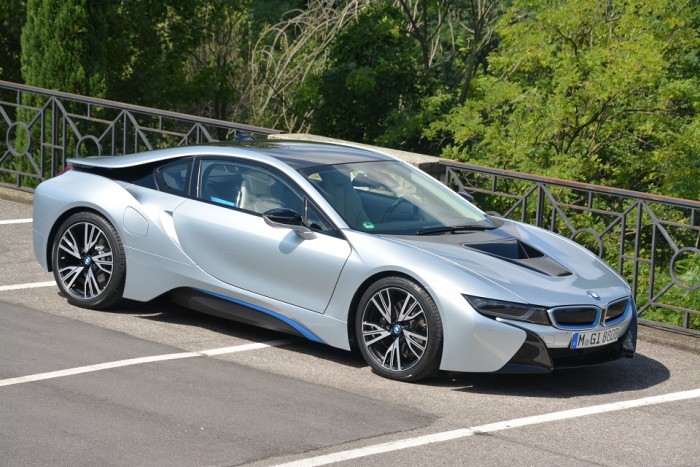 Traditional schools of thought maintain that performance and economy cannot go hand-in-hand; you either have one, or the other. Yet, when one bears in mind that the energy efficiency of an engine – described in layman's terms as how much of the energy contained in each drop of fuel that actually translates to the vehicle's kinetic energy – is in the region of 25 to 30 percent, we see there indeed is plenty of room for improvement.
The last ten years or so have witnessed unprecedented advancements in powertrain technology in which efficiency levels have been raised by leaps and bounds; not only is more energy being extracted out of each drop of fuel, innovations such as brake energy regeneration, electric power steering, and on-demand ancillaries are also in place to at least minimize if not outright recoup and recycle leakages of energy within the system that would have otherwise went to waste.
Hybrid engines take the recuperation of energy to the next level; in the simplest terms, hybrid engines convert excess kinetic energy into electricity, which in turn is used to power motors supplying additional drive to the wheel. Inline with traditional schools of thought separating efficiency from fun and performance, the default image in most of our minds when we think of hybrid vehicles is inevitably, the Toyota Prius.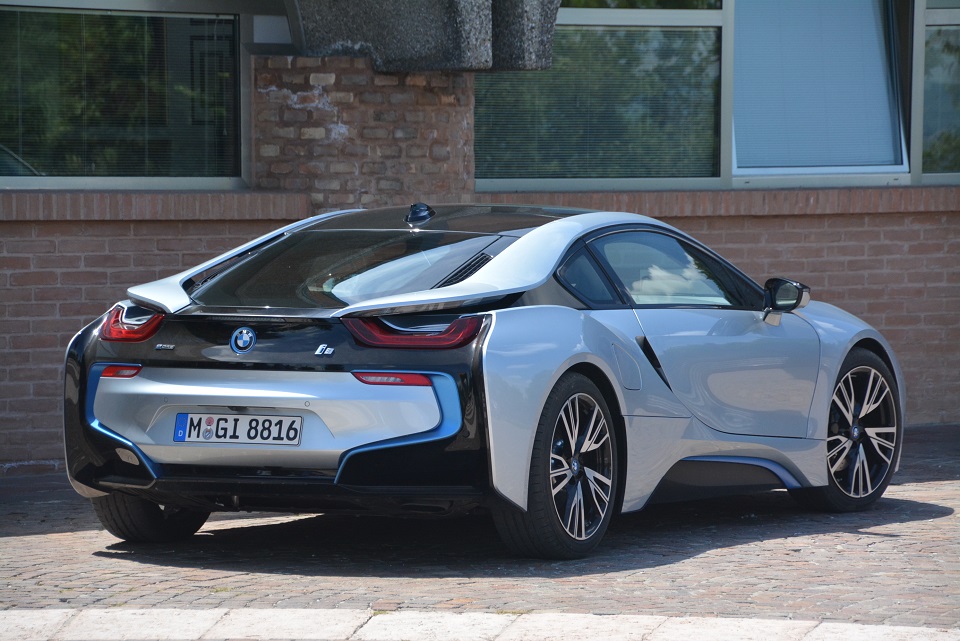 BMW thinks differently, however. Thanks to its impressive competency with diesel engines, BMW nonchalantly pitches diesel-powered regular models such as the 320d and 520d as its economy champions. Its foray into hybrid technology was a more recent development, and as we have seen with models such as the ActiveHybrid 3 and ActiveHybrid 5, the company evidently thinks of hybrids as high performance powertrains. On that back drop, we introduce the BMW i8, a plug-in hybrid vehicle with the performance of a Porsche 911 Carrera S and the fuel consumption of a regular B-segment sedan.
Like the i3 electric vehicle that came before it, the i8 is a product of BMW's i division, and it is manufactured exclusively at BMW i's purpose-built Leipzig plant together with the i3. In fact, the plant is specially configured for the unique assembly processes of the i3 and i8 that it is not readily duplicated in other BMW facilities around the world.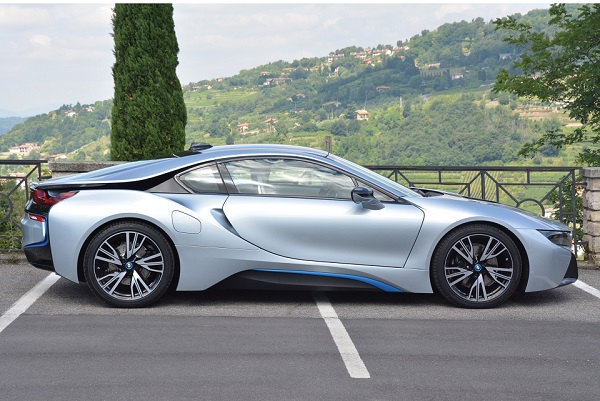 Specifications
Such is the amazing flexibility built into BMW i's revolutionary LifeDrive architecture that it is able to underpin models as incredibly diverse in both application and appearance as first the i3, and now the i8. Unlike the traditional monocoque design, the LifeDrive platform splits horizontally into two modules that are assembled in parallel – the Life module, which is the vehicle's carbon fibre reinforced plastic (CFRP) passenger cell and Drive module, which comprise of the vehicle's moving gear.
The powertrain setup driving the i8 is a highly-sophisticated plug-in hybrid system. Sitting amidships is the company's new 1.5-litre 3-cylinder turbo driving the rear wheels through a 6-speed automatic transmission. Its specific output is an impressively high 154hp per litre, giving rise to a maximum output of 231hp complemented by 320Nm of torque.
Up front lies a hybrid synchronous electric motor contributing 131hp and 250Nm to the cause through the front wheels via a two-speed transmission. Besides providing a boost to the petrol engine, the electric motor is able to propel the i8 up to speeds of 120kph in all-electric mode; driven more sedately, it is able to cover as much as 37km of ground without burning a single drop of fuel. Juice for the electric motor comes from a high-voltage lithium-ion battery, and to assuage reliability concerns, BMW covers the battery with an 8-year / 100,000km warranty.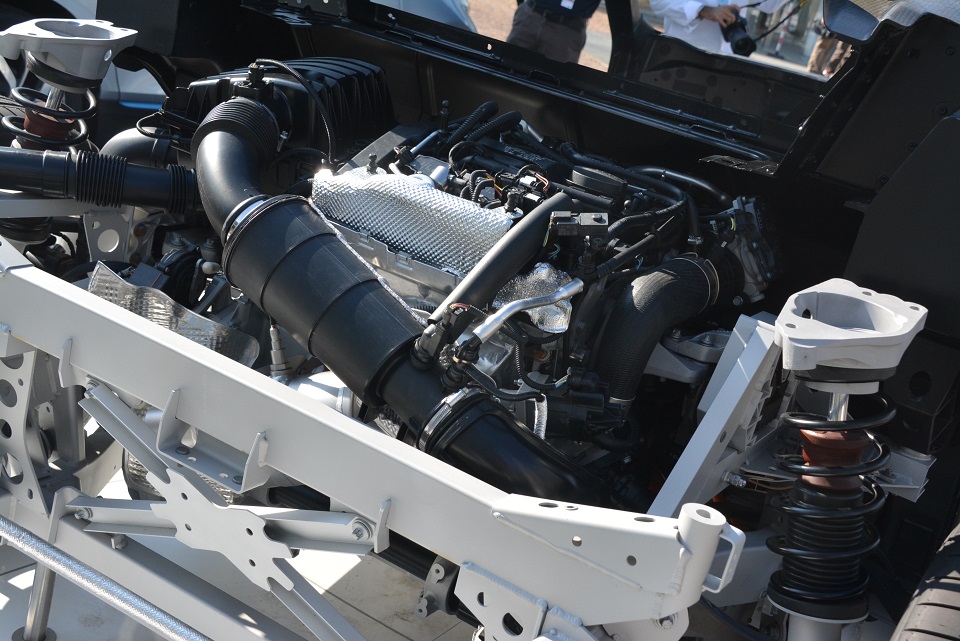 Combined efforts of the two powerplants yield a net output of 362hp, which enables the i8 to do the 0-100kph whack in 4.4 seconds. Bearing in mind that this is a plug-in hybrid (which means you can charge the battery off your mains), rated fuel consumption on the EU test cycle is an incredible 2.1 litres/100km – just to skip ahead, we saw in the region of 8.6 l/100km on the trip computer of our test car during the i8's international media drive held recently in Milan, way off the advertised figures admittedly, but still pretty damned impressive.
Drivers can choose to operate the i8 in several different driving modes. Through the now-familiar Driving Experience Control switch that is also widely found in garden variety BMWs, two modes are selectable, namely Eco Pro and Comfort. All-electric drive mode, which can be used in conjunction with either Eco Pro or Comfort, is activated at the press of a separate button; nudging the gear lever sideways, brings the fifth and final setting into play – Sport mode. These settings alter not only engine and transmission response, but also steering assist and rates of the adaptive dampers (standard fitment) as well.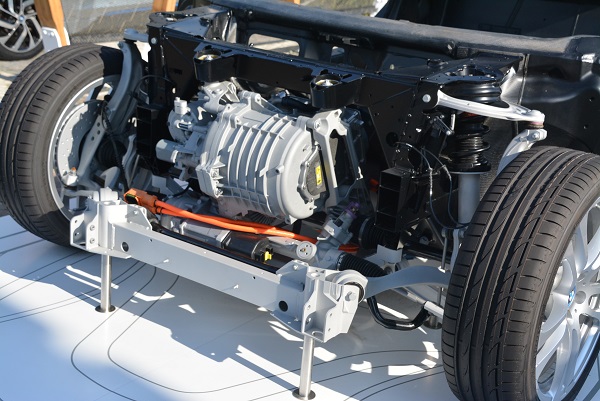 Exterior
If Captain Kirk was to have his own garage of cars in the 23rd century, the i8 would indeed not look terribly out of place in it. Much of the styling cues previewed first in the Vision EfficientDynamics Concept of 2009 and the subsequent i8 Concept two years later survived the transition to production presenting us with a futuristic and sleek-looking vehicle that is guaranteed to turn heads wherever you go. We got our share of thumbs up along our drive, and saw the occupants of more than a few cars following in our wake with their camera phones raised.
The i8's low-slung body measures 1.3 metres high, and with doors that open upwards, it creates impressions of super car aspirations. BMW's marketing team is careful to avoid that connotation however, being very clear in describing the i8 as 'just' a sports car. Like any good sports car, much of the i8's fancy body work are aerodynamically functional, and the result is slippery drag coefficient of 0.26.
Styling cues on the i8 is a meeting of BMW's past and future. Traditional BMW touches such as the kidney grille and Hofmeister kink are both present and true, and they intertwine with more modern features unique to BMW i cars such as the U-shaped light clusters and the 'black belt', which in the i8's case, emerges as a V-shape from the bonnet and wraps around the side window panels. For this writer, the floating roof pillars that extend over the tail lights are a particular design highlight.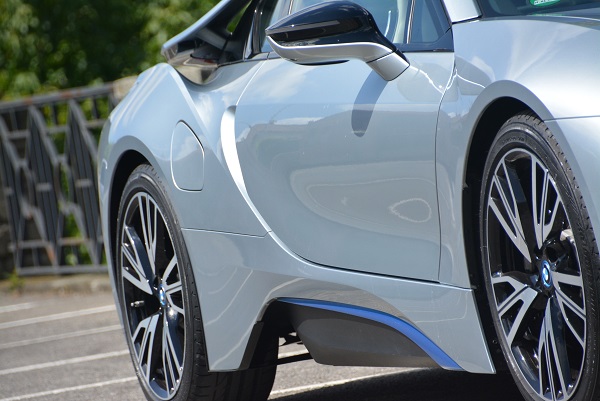 For lighting, BMW unsurprisingly equips the i8 with LED head and tail lamps as standard, with LEDs notable for their ability to deliver impressively bright illumination whilst being low on its energy consumption. It fits the i8's theme of energy efficiency. Alternatively, buyers can option the i8 with even more advanced laser headlights, which are said to be even more energy efficient and also have the benefit of being more compact in assembly. Our test cars in Milan came with the laser lights, but with the drive programme conducted entirely in daylight, we were unable to evaluate its added effectiveness.
BMW attributes much of the i8's impressive blend of strength and light weight to the extensive use of carbon fibre reinforced plastic (CFRP) in its construction. This being an unfamiliar material, BMW is evidently concerned in stemming concerns of unfeasibly high repair costs in the event of an accident. In the i8's official product release, BMW took deliberate effort to mention that accident repair costs are 'similar to conventional BMWs'. Unlike the case with metal body panels, CFRP panels do not dent due to fender benders, and paintwork damage also do not lead to corrosion. If the panels do require replacing, they are designed to be quickly and easily replaceable.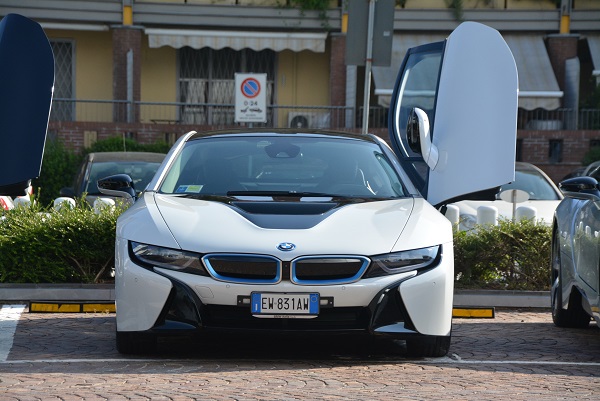 Interior
BMW calls the i8 a 2+2-seater, but predictably, the rear seats are likely to be useful as little more than as a supplementary storage area, which you would probably need to, since the rear hatch opens to only 154 litres of cargo space – a result of its mid-engine architecture. Unlike many mid-engine cars however, the i8's front bonnet is sealed, meaning there's no front luggage room.
Materials and layout of the dashboard are largely bespoke to the i8 and not seen elsewhere in the BMW line-up. Yet, the use of a few select switchgear from the parts bin (the gear lever and iDrive rotary knob to name two prominent but perfectly understandable examples) and the largely similar driver-oriented focus design philosophy as you would see in, say a 3 Series, make this look and feel intimately familiar to anyone who owns a BMW of modern vintage. From an ergonomic and build quality standpoint, there are no complaints, but if your expectations are to find a cabin that gives you something radically different from a regular BMW, you won't get it here.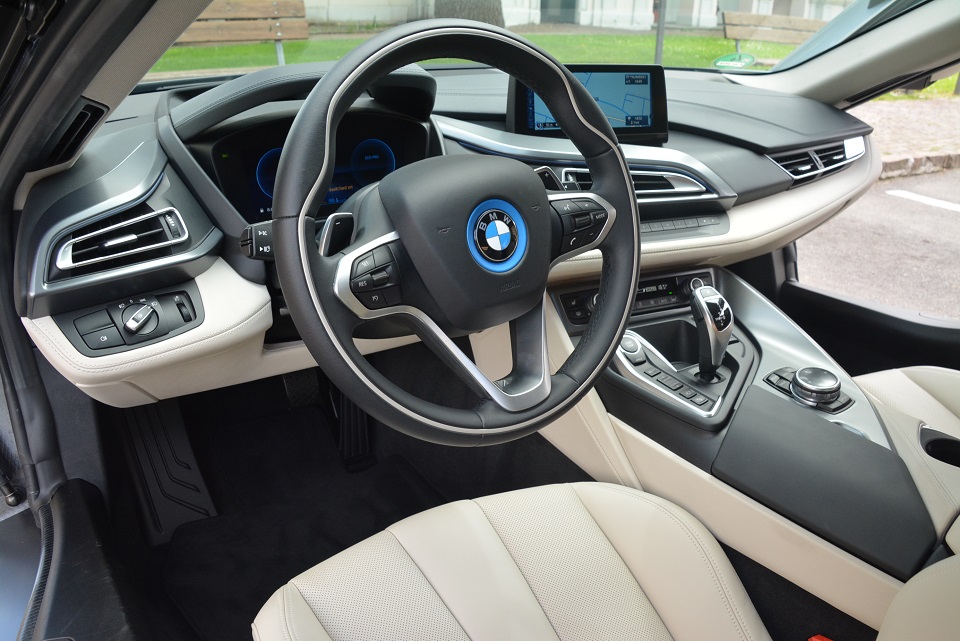 Driving Impressions
Even without driving it, it is immediately obvious that the i8 is a vehicle of exceptionally broad talents, even if you can't wield the full breadth of its abilities simultaneously. That's fair enough, we are thankful for BMW's accomplishment in melding an incisive sports car and economical tourer into one package, so the allowance that it can be allowed to play only one of those roles at a time is not an unreasonable compromise to make.
What's especially pleasing about the i8 is that it can be usefully fast at full pelt, but when situations require a lighter foot, it can be exceptionally economical. In this instance, fuel efficiency is delivered not by sacrificing speed, but by making every drop count and minimizing instances where it is burned unnecessarily. We find this concept highly agreeable.
Being a BMW, and one with a lower-than-normal centre-of-gravity, the i8 is unsurprisingly razor sharp around corners. The electric assisted steering is unfortunately not the last word in feel and feedback, but it turns quickly and it makes the i8 feel brilliantly agile and responsive on the turn. Less convincing is the ride quality, which surprisingly lacks compliance at low speeds. Whilst it may be unreasonable to expect the same kind of ride comfort you would find in a regular BMW model, the fact that this writer has tried M models that are more comfortable even in their hardest setting suggests room for improvement in the inevitable facelift a couple of years down the road.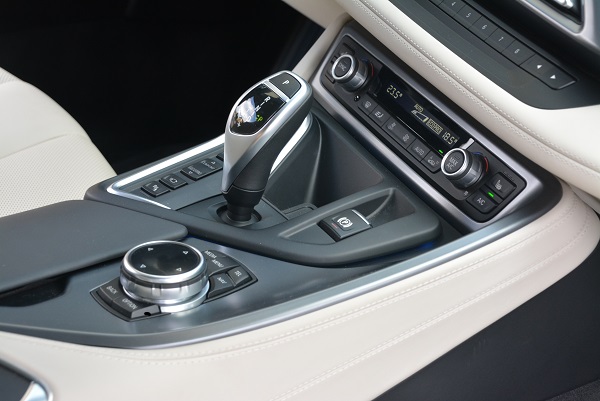 During the course of our drive programme, there was considerable debate on the acoustic properties of the i8's petrol three-pot. At full throttle, it treats the ears with an impressively visceral soundtrack entirely befitting of its stature as a sports car. A number journalists in our group (plus several reviews we've read from overseas) reckon it is a faked note; BMW naturally insists otherwise. Our opinion, we can believe that the engine note is not entirely artificial, but we would be very surprised if it wasn't at least enhanced in some way.
On the more pertinent business of delivering progress, the i8's powertrain setup is best described as effortless, and as you would expect of a well-polished hybrid system, transitions between the various drive modes are smooth and seamless. Availability of torque right from idle, thanks to contributions from the electric motor, followed by the petrol engine's wide power band ensures throttle response is always immediate. At full acceleration, physical sensations of motion curiously do not fully correspond with the engine's enhanced aural outputs – as mentioned earlier, a super car it is not, but make no mistake, this thing is properly quick.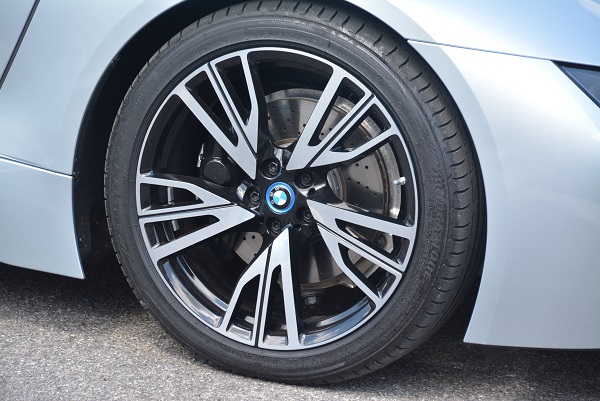 Verdict
For us, the ultimate question to address is not whether you should be buying this car, but whether you would even have the opportunity to consider its purchase at all. BMW is still weighing the case for the i8's inclusion in its Malaysia line-up, a case now made difficult by the restriction of energy efficient vehicle (EEV) incentives to only locally-assembled vehicles; without tax incentives, the price of owning this exquisite piece of equipment could well go into the millions.
The i8 is without question, a remarkable engineering feat by BMW. It is a car that seeks to accomplish much, and it is to BMW's immense credit that it achieves a vast majority of its objectives. We can argue that it is perhaps less than convincing at the pointed end of the performance spectrum, but considering the vast project brief that it has been handed, we believe it deserves to be cut a small amount of slack. Whether or not it comes to our shores, the i8 is at least assured of a place in the history books alongside some of the most important cars ever launched.