BMW 520d (F10 LCI) Test Drive Review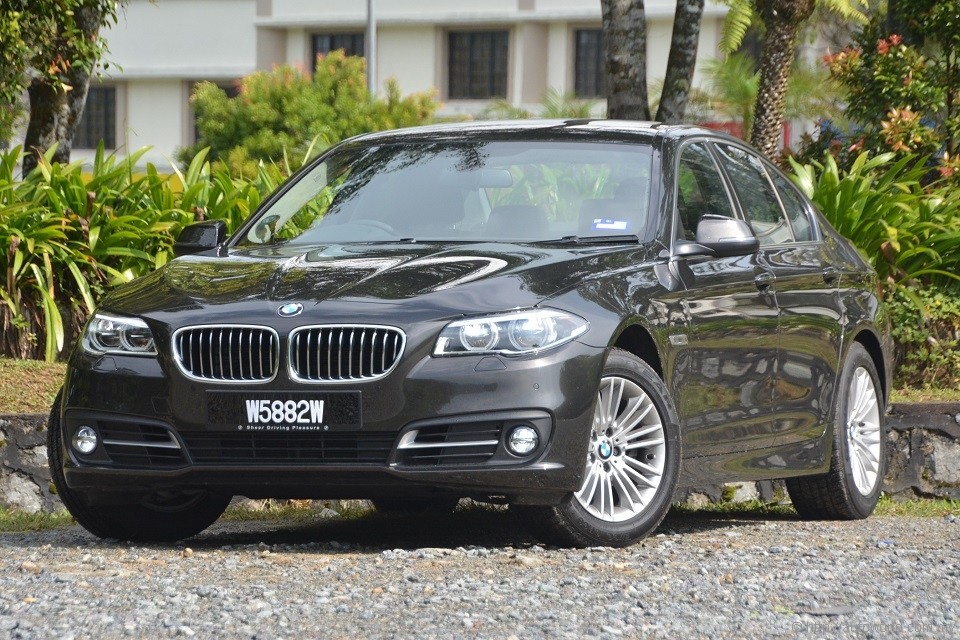 It wasn't too long ago that the default powerplant of a BMW 5 Series comes from a range of highly-strung naturally-aspirated six-cylinder engines. Yet, those days are firmly consigned to the past; after its mid-cycle facelift was introduced last year, the 5 Series is now being offered in Malaysia exclusively with inline-four engines, albeit enhanced by turbocharging and direct injection.
The 520d tested here forms the entry level offering of a three variant line-up with the petrol-powered 520i and 528i M Sport both sitting further up. All three variants receive price increases from their pre-facelift models, with the 520d getting the biggest hike of over RM20,000 from RM333,800 previously to RM354,800 on-the-road without insurance. The 520i and 528i are both up by about RM10,000 each, being priced at RM369,800 and RM419,800 respectively.
Meeting the price increases are commensurate increase in equipment levels for all variants, particularly the 520d, which improves its standing to become a highly respectable base model. All variants impressively get Adaptive LED headlights, an adaptive 10.25″ LCD screen virtual instrument panel, and an improved iDrive system which incorporates touch control embedded on its rotary knob. Keyless entry is unfortunately offered only in the petrol variants and reverse camera is sadly not available in any of the three models.


Specifications
Having been in our market since 2009 powering a variety of BMW models, including the previous-generation 520d, the N47 turbodiesel residing in the engine room of our test car is a very familiar mill to us. Originally rated at 177hp and 350Nm, more recent iterations pack a more potent punch with 184hp and 380Nm. Standard transmission is the now-familiar 8-speed automatic from ZF.
BMW actually offers the N47 engine in three different states of tune, but only the 184hp version is available in Malaysia as it is the only one that is specified with the engineering variation (DPF deletion) to cater for our low quality fuel. In Europe, BMW has begun phasing the cast iron N47 out to be replaced by the new-generation all-aluminium b47 turbodiesel; the 5 Series will receive the b47 in two states of tune – 150hp in the 518d and 190hp in the 520d. It will be interesting to see if a high sulphur fuel version of this engine will be made available for our market.
Beyond minor fine-tuning and adjustments, BMW kept the F10's chassis largely unchanged for the facelift, although the Malaysian context, the local office revised its selection of options. Rear-wheel steering, otherwise known as Integral Active Steer in BMW-speak, is no longer available in our market, but adaptive dampers have been made standard for all variants. Through the Driving Experience Control switch, drivers can select between five different settings that vary not only suspension firmness, but also engine and transmission response.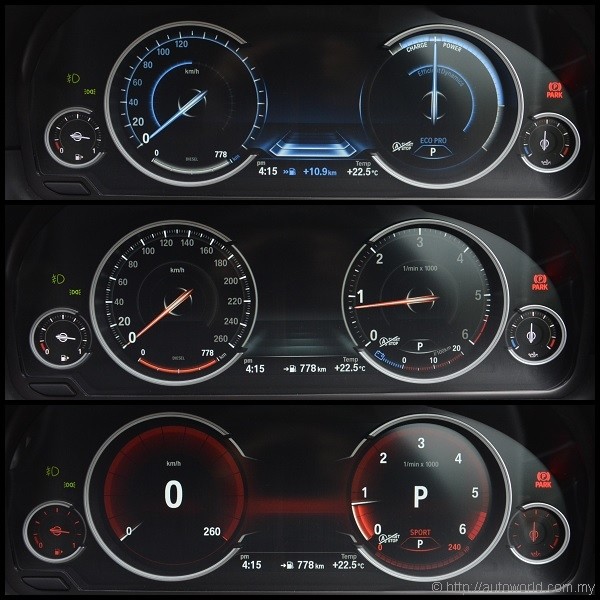 LCD screen instrument panel a key attraction of the new F10's interior.

Design
BMW facelifts usually make only subtle alterations from the original that are difficult to discern at one glance. Yet, they also have the uncanny habit of quickly rendering their pre-facelift counterparts look dated in appearance. The F10 LCI follows this template to the letter, sporting only minor appearance tweaks from the pre-facelift model, but all adding up to give the vehicle a thoroughly refreshed appearance.
Most notable alterations take place at the light clusters, which consist of Adaptive LED headlamps up front and a tail light cluster that retains looks largely similar to its predecessor but featuring thinner LED illumination strips for a more refined appearance. Side indicators that were previously mounted on the front fenders have migrated to the signal lamps in line with current styling trends. Front bumpers have also been subject to a minor retouch.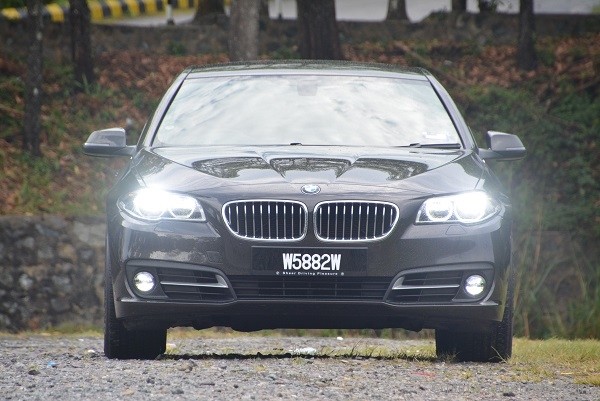 Refreshed appearance and uprated kit count make the 520d a very respectable entry model.

Driving Experience
Having driven virtually all versions of the F10 5 Series officially on sale in Malaysia, this writer is of the opinion that the 528i represents the dynamic sweet spot of the range, and that position has not changed in the aftermath of this review. This is not speaking lowly of the 520d's set up, but rather there is a prevailing sense that the F10's platform balance seem best optimized for the power and weight of the 528i's N20 petrol engine.
Compared to the M Sport-kitted but standard-sprung 528i we tested two years ago, our more recent 520d test car seemed less agile around corners – a surprising discovery, although one that can be easily explained by the engine's added weight over the nose; the absence of Integral Active Steer may have played a part as well. There also seemed to be less mechanical grip, but this can perhaps be attributed to tyre selection – our 520d test car wore 17-inch Goodyear Excellence rubber, whereas the 528i came to us wearing 18-inch Dunlop SP Sports.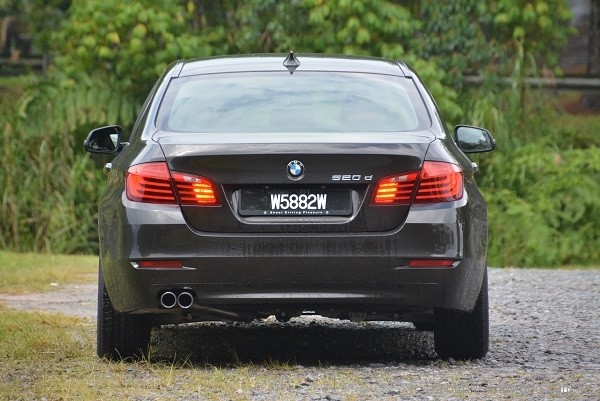 The 520d is evidently not set up to attack back roads as exuberantly as the 528i, but that is fine by us. A diesel engine is best enjoyed as a long-legged cruiser, exploiting its generous spread of torque to conjure effortless progress, and it is a task which the 520d performs well; being a diesel, it is also extremely economical – our trip computer was projecting estimated cruising ranges between 900 – 1,000km on its 70-litre tank based on a mixed urban driving style.
As usual with BMW, the standard ZF 8-speed automatic transmission turned up another flawless display with intuitively-timed shifts and smoothness that borders on the imperceptible. In all but the most extreme driving conditions, it leaves manual overriding of the transmission unnecessary, and the car is indeed best enjoyed with the gearbox left to its own devices. In Eco Pro mode, the transmission disengages when the throttle is lifted off, allowing the car to free wheel and keep fuel consumption down.
A much-welcomed improvement on our 520d test car is the increasingly refined operation of BMW's auto start/stop system. Although not imperceptible, vibrations of the engine cranking cycles are far more effectively contained than the company's earlier applications, which had a habit of sending violent judders across the cabin. As sampled in the 520d, BMW's auto start/stop has become a lot easier to live with, and we commend the improvement.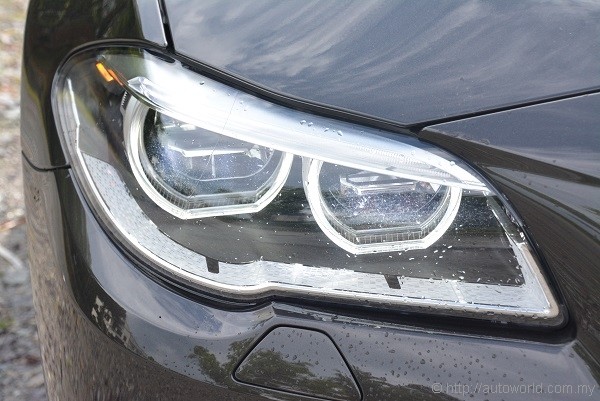 Adaptive LED headlights are standard in all variants of the F10.

Verdict
Uprated equipment and refined looks make the new F10 5 Series it an even more aspirational vehicle than it already was; as far as mid-life facelifts go, it is a smartly executed exercise – even if changes are not as extensive as what Mercedes did with the W212 E-Class, BMW checked all the right boxes presenting the new facelift as a genuinely improved product from the original.
Particularly worth praising is the fitment of high value items such as adaptive LED headlamps and the virtual instrument cluster as standard equipment in all variants. These items, it must be pointed out, are cost options overseas, and their inclusion in the 520d's manifest helps raise the overall baseline of the 5 Series range and ensures that rivals will not have an easy go surpassing it for equipment.
Despite not having the sharpest dynamics within the 5 Series range, the 520d has great merits for the incredible breadth of abilities possessed by its diesel engine in marrying respectable performance with genuinely frugal economy.