2014 Mitsubishi ASX CKD Test Drive Review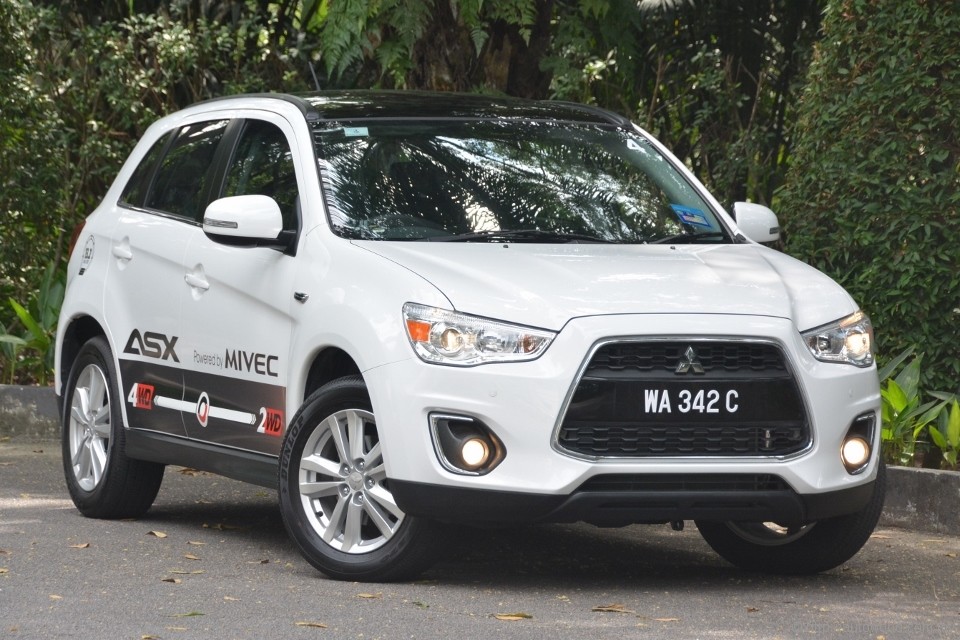 After initially exiting our country's passenger car market as a gesture of support towards its local partner Proton, Mitsubishi began plotting a return in the mid-2000s. The company has identified Malaysia as a key market in its 'New Stage 2016′ business strategy to strengthen the brand's overall presence in the ASEAN region.
Indeed, for a number of years, Mitsubishi has been actively seeking out partners to carry out local assembly operations of its models. Proton was for a long time strongly mooted as a potential partner, but with negotiations going nowhere, Mitsubishi tied up a deal with Tan Chong Motor Assemblies (TCMA) instead, and earlier this year the fledgling partnership bore its first fruit as the locally-assembled Mitsubishi ASX.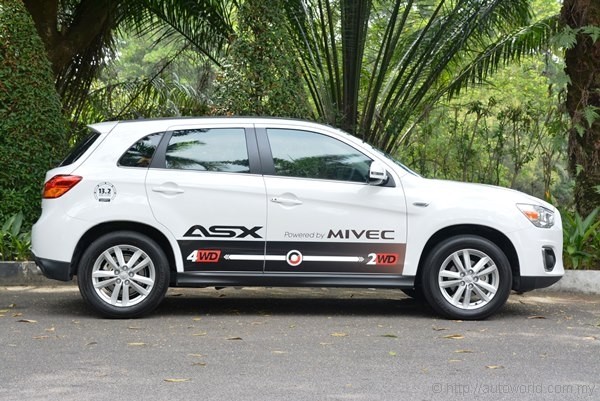 Size-wise, the ASX is comparatively smaller most mid-sized Japanese SUVs.

Differences from CBU model
When a model switches from import sourcing to local assembly, consumers typically expect either lower pricing, better equipment, or better still, a combination of both. In the ASX's case, we got both, pricing dropped from RM142k thereabouts previously to start off at just RM118,015.30 with insurance.
In terms of enhancements, Mitsubishi has added a whole new driveline option, meaning consumers can now choose between an entry-level 2WD model at the aforementioned price, or stump out a bit more for a 4WD variant, which is incidentally specced with a more comprehensive amenities package at RM132,515.30.
Equipment-wise, the 4WD version merely carries over what was already offered on the ASX as of its most recent update in mid-2013. The 2WD model, meanwhile, deletes a number of items, most notably the panoramic glass roof, cruise control, keyless entry with engine start button, stability control, traction control, and hill start assist.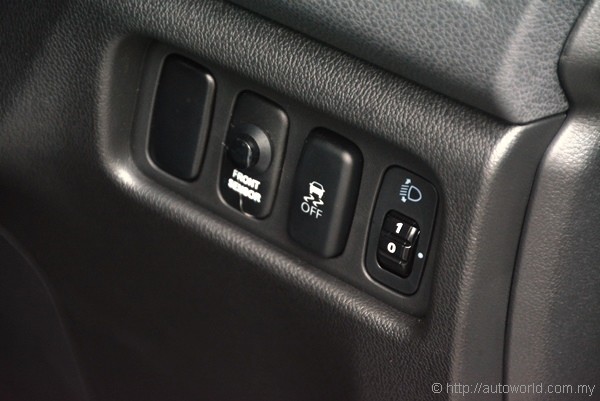 Stability control is also exclusive to the 4WD model.

Mechanically, the Tan Chong-built ASX is identical to the fully-imported model, retaining its proven all-aluminium 2.0-litre 4B11 MIVEC engine with rated outputs of 148hp and 197Nm mated to the INVECS-III CVT as standard. As before, the transmission sports six virtual ratios – in the 2WD model they are accessed by a good old fashioned tugging of the gear lever, whilst 4WD users have the luxury of paddle shifters.
The ASX's electronic on-demand 4WD system typically defaults to a FWD setting on normal driving. Drivers have the option of locking it in '2WD' mode, making it no different to the 2WD model on the move. At the press of a button, the driveline can be switched to '4WD Auto' or '4WD Lock' modes. Both modes route traction rearward on an on-demand basis only, sending up to 40% astern in 'Auto' mode or as much as 60% in 'Lock' mode. Unlike the case of SUVs built for off-road usage, there is actually no physical locking of the centre differential in the ASX's case even in '4WD Lock' mode, meaning this is an AWD system designed primarily for road use.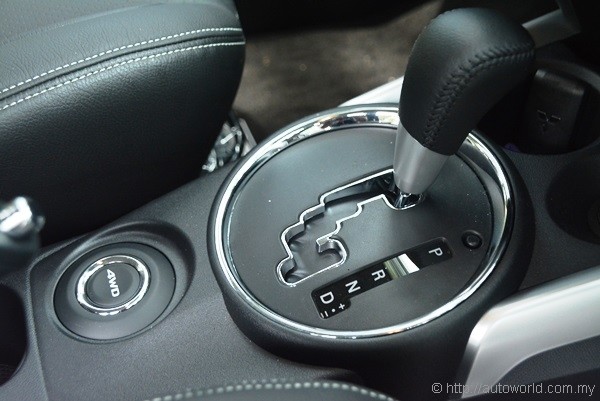 Both versions are fitted with INVECS-III CVT. 4WD is electronically activated.

Driving Experience
Having driven the ASX on two previous occasions, we are reasonably familiar with its dynamic behaviour. Yet, in the context of this review, two questions are pertinent – how do the locally-assembled versions compare with their CBU counterparts and how does the new 4WD version handle compared to the more familiar 2WD model.
To answer the first question, the new ASX CKD does not feel in anyway inferior to its CBU predecessors. If anything, the new car seems to feel quieter and more refined on the move. Whether this is down to the excellent processes of the TCMA Segambut plant or running improvements implemented by Mitsubishi on the product is anyone's guess. To be frank, our money is on the latter.
Subtle differences separate the 2WD and 4WD models on the move, but not sufficient to sway buying decisions either way. In most situations, the 2WD offers adequate traction, and without the additional drivetrain weight, it actually feels nimbler and more agile around tight spaces. Acceleration, as you would expect, feels sprightlier in the 2WD model. The 4WD system's additional traction really come into play during harsher weather and also fast sweeping bends – whether this is an advantage is dependent on your type of usage.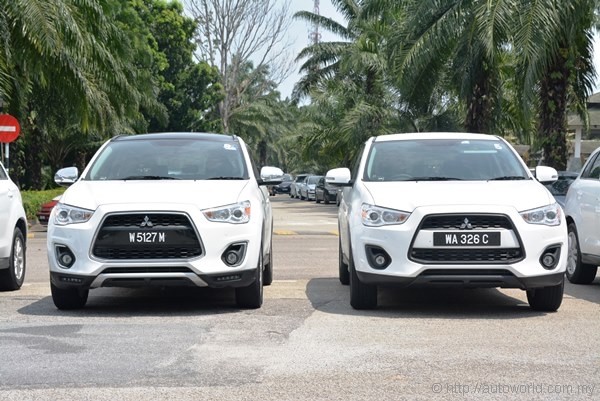 4WD has chrome surrounding an all-black grille, whilst 2WD has black surround with painted stripe.

Stand out quality of the ASX is its impeccable ride, Mitsubishi's well-calibrated suspension masterfully soaking up a variety of road imperfections with great aplomb whilst still able to keep body roll at manageable levels. The word for this is composure; it's a set up that is balanced – highly-usable on a day-to-day basis, yet able to deliver on driving fun if summoned. Worth noting is that the 4WD model, despite bigger 17-inch alloys, suffers no penalties in comfort.
Steering is worthy of praise too; the electric-assisted rack has pleasant weighting – substantial enough not to feel over-assisted, yet light enough to be painless. It steers with pleasing quickness and accuracy, whilst also impressively crisp with feedback, transmitting road conditions with the kind of clarity usually associated with hydraulic racks.


Verdict
If compared head on against the likes of the Honda CR-V and Mazda CX-5, the ASX is a bit of a difficult sell, its case hampered by limited interior packaging that whilst not short on quality, is severely constrained in space. Its once-impressive kit count today ranks as unremarkable at best and ordinary at worst; saving grace is that neither variants are spartan. For big families, it is difficult to justify.
Buyers with less urgent demand for space will find a more convincing preposition. In fact, for urban dwellers, the ASX's compact dimensions turns into an advantage when navigating the tight back roads of downtown KL. Its pleasantly balanced dynamics is a huge plus point, and its affordable sticker prices make this a purchase of great value if a compact urban crossover is what you're looking for.