Home
Motorsports
Shell Helix 'The Ultimate Ferrari Experience' at MidValley, 4-8 June 2014
Shell Helix 'The Ultimate Ferrari Experience' at MidValley, 4-8 June 2014
Next week from 4 to 8 June 2014, Shell Helix will be hosting 'The Ultimate Ferrari Experience' roadshow at the North Court of MidValley Megamall offering a range of prizes and promotions for visitors.
During the five-day roadshow from 10.00 am till 10.00 pm daily, visitors can take part in the Shell Helix Time Attack Challenge on 3D Motion Racing Simulators where winners from previous roadshows will compete in the finale showdown.
Other activities include the dive to search for buried engine parts, guessing the number of Shell Helix Ultra bottles in a car, and uploading a selfie or wefie in the #cleanmyengine Instagram contest.
Prizes on offer include the iPad Mini, holiday vouchers for two to Berjaya Tioman Resort worth RM1,500 and two years' supply of Shell Helix Ultra 5W-40 motor oil.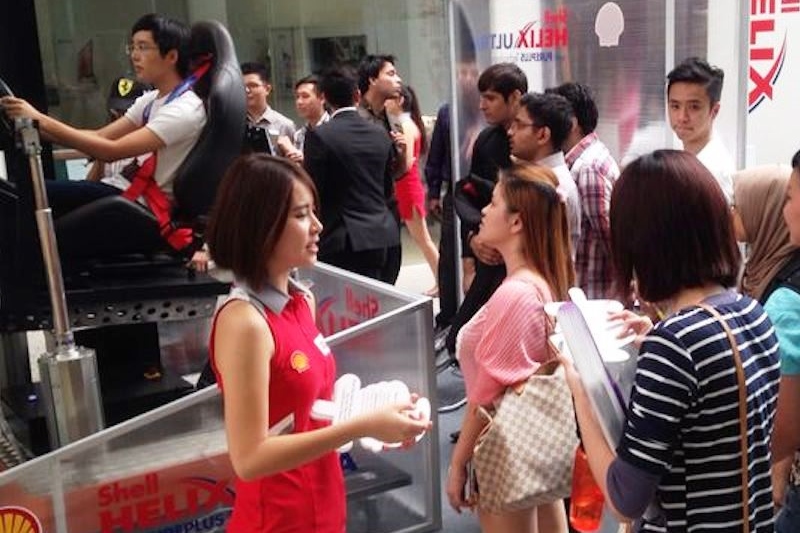 In addition, the roadshow also seeks to build awareness and promote public participation of the 2014 Shell Helix 'The Ultimate Ferrari Experience' global promotion features a two-tier contest from 1 April till 30 June and is open to customers who purchase a 4-litre pack of Shell Helix Ultra or any product from the HX7 range.
Tier One of the contest offers 10 First Prizes of RM1,500 cash each, 10 Second Prizes of RM1,000 in cash while 10 Third Prize winners will each take home RM500 cash. The 10 First Prize winners in Tier One will have the opportunity to compete in a special go-kart challenge in Tier Two to be among the five Grand Prize winners who will go to Belgium.
Pictures: Official Shell Helix release.