Home
Motorsports
Lamborghini Blancpain Super Trofeo flags off 2014 Asia Series season in Sepang
Lamborghini Blancpain Super Trofeo flags off 2014 Asia Series season in Sepang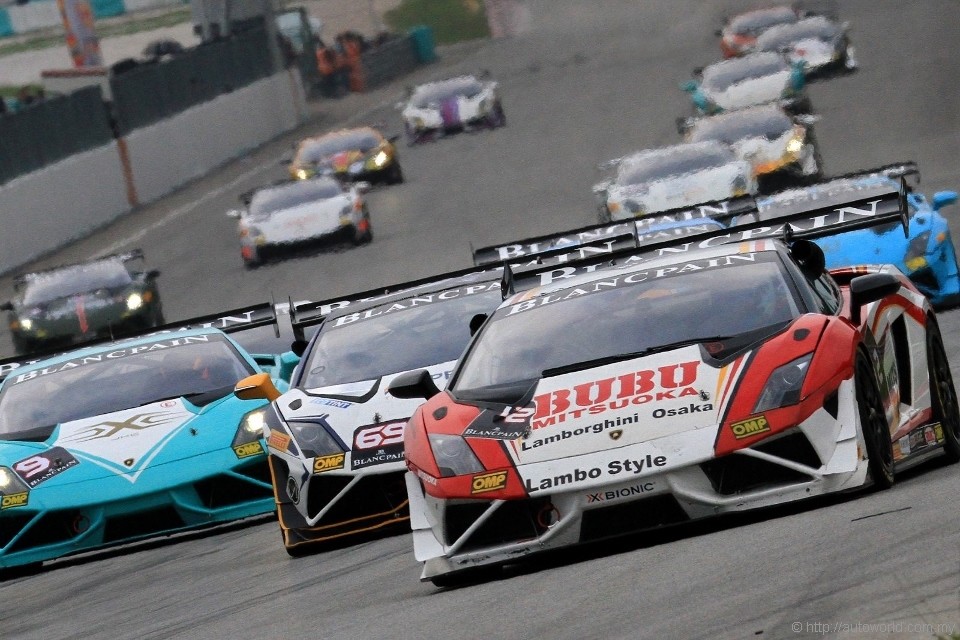 The Lamborghini Blancpain Super Trofeo Asia Series one-make race flagged off its 2014 season on our very own Sepang International Circuit with the year's first two races taking place last weekend.
In Asia for a third-consecutive season, Super Trofeo Asia Series in both Asia and around the world allows Lamborghini to provide its customers with the opportunity of a motorsports experience. Like all one-make series, Super Trofeo drivers compete in the same type of car with only some minor adjustments allowed.
Race 1 of the series concluded with local PRO-AM drivers Zen Low Suan Chuan and Dominic Ang making the podium. Finishing top in the PRO-AM class was the dynamic Chinese car driven by the duo Max Wiser and Jiang Xin. The AM class saw the unrelenting pair of Andrea Garbagnati (Monaco) and Bob Indrasasana (Indonesia) take the top prize.
As usual, besides its challenging corners and elevation changes, Sepang is a constant test of a motorsport driver's endurance due to its sweltering heat and the Super Trofeo drivers were certainly not spared the torture. Having already braved the heat of Race 1 that flagged off early in the evening of Saturday, drivers returned the next day for an even more grueling mid-day flag-off for Race 2, with temperatures soaring to almost agonizing levels.
The Chinese #9 car driven by Max Wiser and Jiang Xin made it two wins out of two in the PRO-AM class with car #24 driven by Dilantha Malagamuwa (Sri Lanka) and Manabu Orido (Japan) following behind in second. The Malaysian duo Zen Low and Dominic Ang narrowly missed out on a second successive podium finish, coming in fifth.
The series will make its next stop at Sentul, Indonesia, on 7-8 June. Later this year, the series will return to Malaysia for its Asia Final on 20-21 November followed by the World Final on 22-23 November, the first World Final to be held in Asia. Here, the finest drivers from around the world will challenge for the ultimate prize.
Picture: Official Lamborghini release.