New Vespa LXV 150 3V with fuel injection launched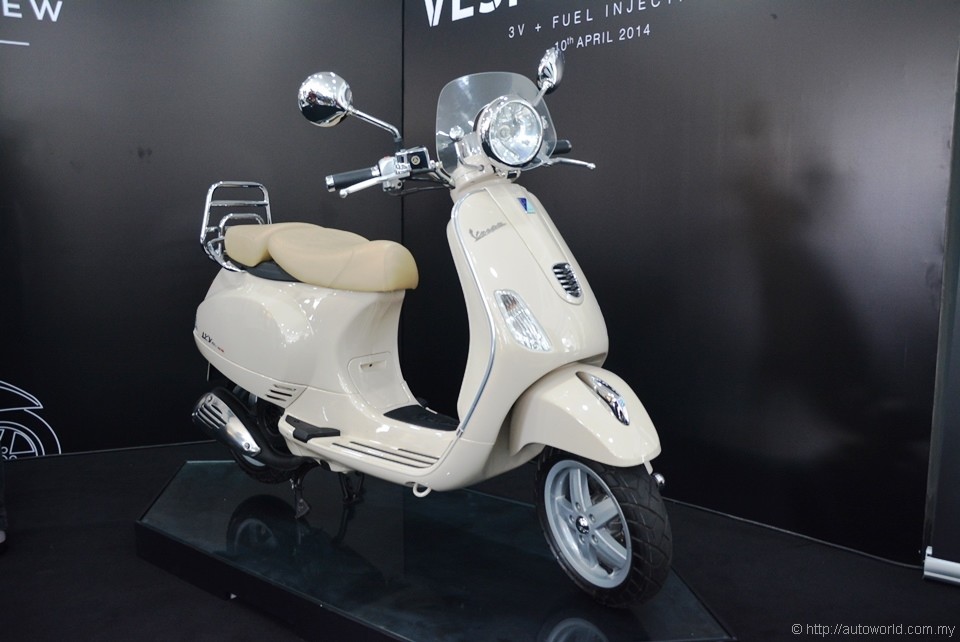 Naza Premira Sdn Bhd, official distributor of Vespa scooters in Malaysia, today expanded its Vespa LX range with the new LXV 150 3V variant powered by a new engine but clad in retro 1960's style design touches such as chrome handlebar finish, fly screen, round headlamp, and genuine leather double-module two-seat saddle.
At its heart is a new 150cc four-stroke three-valve air-cooled single-cylinder motor with electronic fuel injection. Designed in Vespa's Pontedera plant, the new engine is said to be lighter than its predecessor engine, with significant efforts put into the reduction of friction. Vespa claims a simultaneous improvement in both performance and fuel economy, the latter said to be as much as 30% better than earlier generation engines.
"In this model, Vespa has shrewdly combined the key elements of its popular classic designs with the latest Piaggio technology; creating a snazzy ride with low fuel consumption, smooth power delivery, and enhanced riding pleasure for scooting through the urban traffic or enjoying longer, laid-back journeys out of town," said Mr Nik Danial Nik Mahmood, Vice President of the Naza Two Wheels Division of the Naza Group of Companies.
The Vespa LXV 150 3V is available in 3 colours – Midnight Blue, Rossa Chianti, and Beige with a selling price of RM11,658.00.