Volkswagen Polo Sedan CKD Test Drive Review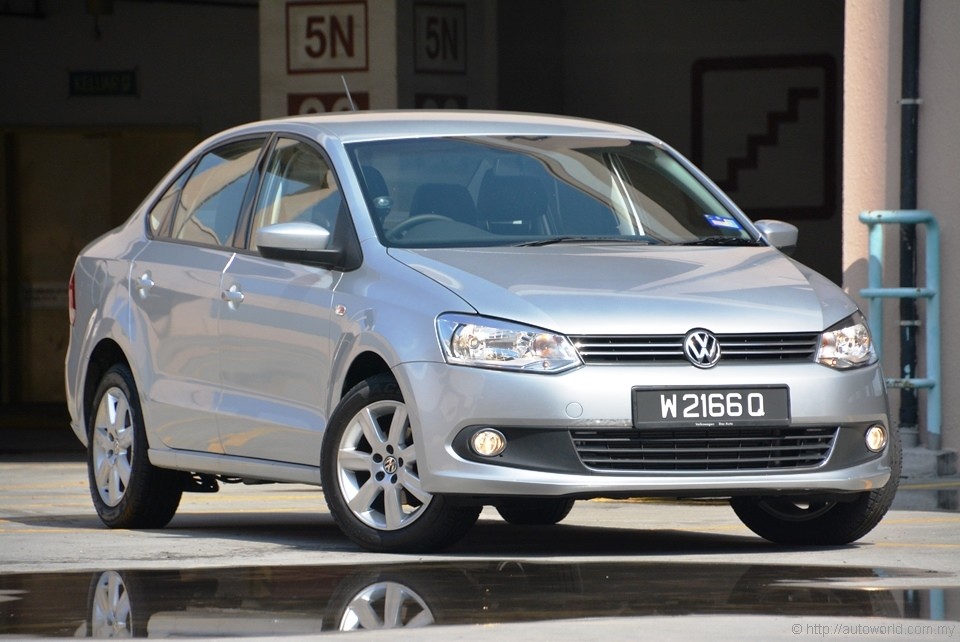 After successive years of robust growth, Volkswagen's fortunes took a sharp dive last year with a 26.6% sales contraction – a figure that would ring alarm bells in any business, especially one with aspirations of usurping Toyota's position as the world's number one car manufacturer.
The root cause of Volkswagen's problems lie with aftersales; there aren't enough service centres around to cope with servicing the burgeoning volume of VW vehicles on the road. Endless bad publicity of its DQ200 dry clutch DSG does the whole situation no favours either.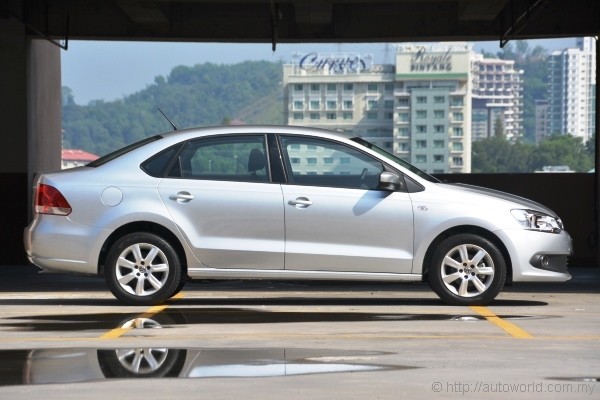 A lengthened version of the Polo's PQ25 platform underpins it, but there are no common body panels.

The situation of today is a far cry from the times when Volkswagen was synonymous with uncompromising rock solid quality. We believe modern VW cars are still engineered to high standards, but because the highly sophisticated VW cars of today are pushed a lot closer to their engineering limits than their forebears, it also increases the potential of failure – the higher you leap, the harder you fall.
While the boffins in Wolfsburg dissect the underlying issues that plague their cars, what Volkswagen needs now is a back-to-basics approach, going back to virtues that made the brand strong in the first place: producing reliable, good quality cars for the masses, and this is where cars like the humble and unpretentious Polo Sedan come in.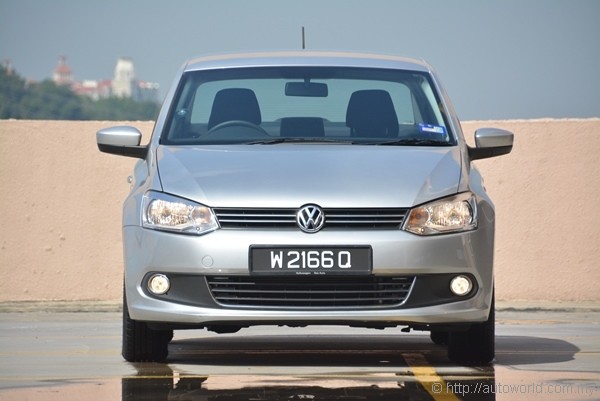 Fascia fits nicely into Volkswagen's family look.

Prices & Variants
Originally sold for over RM100,000 before insurance during its CBU days, Volkswagen slashed the Polo Sedan's price tag to a more attractive RM87,778 when introducing the CKD version last October. That was an introductory price, however, as the cost of ownership has since went back up to a smidgen over RM90k, with insurance adding in the region of RM2,600 to the price tag.
There are no change in mechanical specifications between the CBU and CKD versions, though Volkswagen beefed up the local version's kit count to include auto climate control, rear air-con blowers, an adjustable driver's arm-rest, and a dash-integrated RCD 320 audio unit that offers upgraded features from the CBU version's system.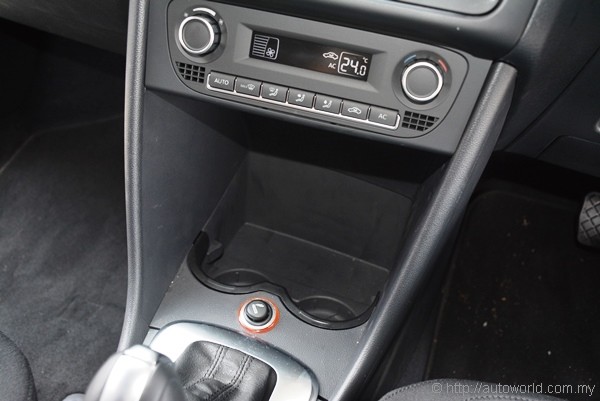 Deeper look at the front storage bin.

Specifications
Designed primarily for developing markets, the Polo Sedan is unsurprisingly a vehicle of simple mechanicals, and evident consideration is given to cost and reliability. Safety, to start with, is not as comprehensive as we have come to expect from Volkswagen vehicles, although quad airbags, ABS, brake assist, and ISOFIX mounts still make for a highly competitive manifest in its price range. Electronic stability control is absent, which must be regarded as a missed opportunity.
TSI and DSG are two acronyms that have become highly synonymous with modern-day Volkswagens, but the Polo Sedan shuns both these technologies. The engine room accommodates a tried and tested 1.6-litre four-cylinder MPI engine that dates back to the old Golf Mk IV. It does not even feature any variable timing enhancements, which makes its rated outputs of 103hp and 153Nm rather remarkable in context.
Sending the engine's power to the front axle is a regular 6-speed automatic tranmission from Aisin, and this being a conventional Japanese-built transmission, one can confidently bet on its bullet proof reliability. Paddle shifters are unsurprisingly not on the menu, but manual gear control is still available via the old-fashioned Tiptronic gear lever – an entirely acceptable solution for day-to-day driving.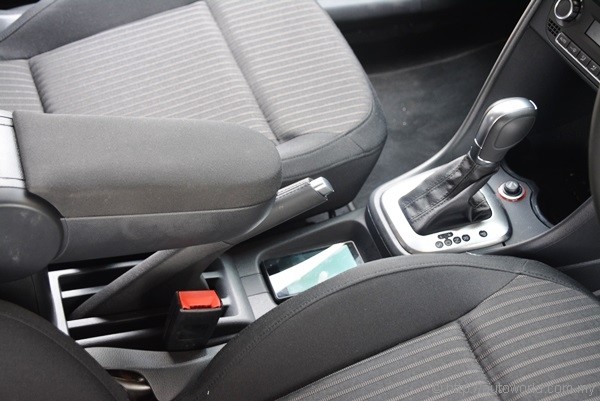 Centre console has good distribution of storage spaces. Front bin is usefully deep.

Design
The Polo Sedan's appearance retains a great degree of resemblance with its hatchback sibling despite the two cars sharing not a single piece of bodywork between them. The overall appearance fits well into the main Volkswagen lineage with a notable absence of fussy details. It is a design that blends seamlessly, perhaps even anonymously into its surroundings, but one that is also likely to stand the test of time.
Visual differentiation between the CBU and CKD versions is made easy by switching of the imported model's smoked headlamps with regular less-expensive-looking units. The bootlid features revised badging with the 'Volkswagen' name spelled out in typeface. These minor but very noticeable changes are all that separate the appearance of the Pekan-built Polo Sedan versus the earlier Indian-built models.

Headlamps now misses the smoked finish of the CBU models.

Just as its exterior carries the familiar VW family look, the Polo Sedan's cabin similarly features familiar themes that are native to all Volkswagen cabins. Function takes clear precedence over form in a dashboard that is notably devoid of flair but at the same time, and more importantly so, easy and painless to use. Controls are straight forward and intuitive, and there is no shortage of space to accommodate one's smart phones and keys. The adjustable driver's armrest is a bit of a nuisance though, for it gets in the way of our access to the handbrake.
One might argue that the plastics are harder than a Golf or Jetta, but within segment norms, they are entirely acceptable. Build quality as a whole is satisfactory – panels align with pleasing consistency and the absence of rattles of any kind communicate a reassuring sense of solidity that was once the hallmark of the Volkswagen brand.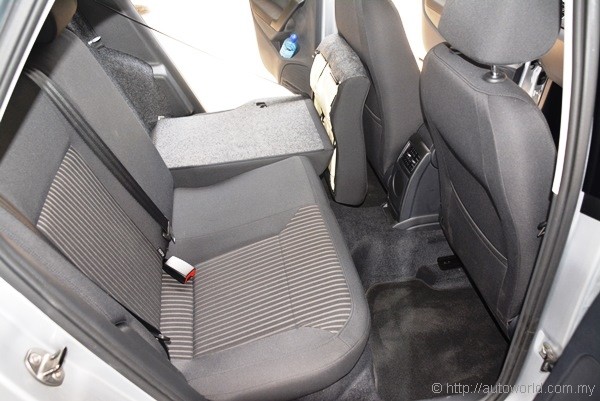 Legroom is within segment averages, but flat-folding seats are a plus.

Driving Experience
Enthusiasts accustomed to turbo and twincharged grunts of VW's advanced TSI engines will find the Polo Sedan's modest MPI mill underwhelming, but such unrealistic expectations overlook a number of virtues native to this admittedly simpleton of an engine. Progress is best described as refined and linear, adequate but unremarkable, although the engine note when pushed has a surprisingly satisfying deep-sounding growl.
More impressive is the ride quality, in which the Polo Sedan absorbs all sorts of surfaces with remarkable aplomb. This is one area where it is difficult to imagine any costs being cut and complementing this is a highly-effective sound insulation package. In this respect Volkswagen deserves praise for ensuring that even its budget vehicle retains the same high order of refinement that would not be out of place in models twice as expensive.
Handling is competent but unexciting, meaning you can cruise at high speeds and sweep fast corners with reasonable confidence. Body roll on cornering and nose-dive under braking are both well suppressed, but there isn't too much interaction from the helm. It lacks the communicativeness of a Ford Fiesta, or even a Proton Prevé for that matter, but those coming from a Japanese or Korean vehicle in this price range would find the Polo Sedan to be a vehicle with solid and confidence-inspiring dynamics.


Verdict
A simple no-nonsense vehicle, the Polo Sedan is a car that brings Volkswagen back to its roots, producing vehicles of peerless quality at affordable prices. It takes us back to an earlier era of the company where its cars were admittedly less slick and sophisticated, but highly robust and durable.
For buyers shopping at the upper end of the B-segment, the Polo Sedan comes highly-recommended. For Volkswagen, this humble model has also taken on renewed importance. Built on the secure foundations of proven technology, this is the perfect platform for Volkswagen to rebuild its battered reputation. Nothing like reliability to win over the masses. Just ask Toyota.