Ford EcoSport tested in Hua Hin, Thailand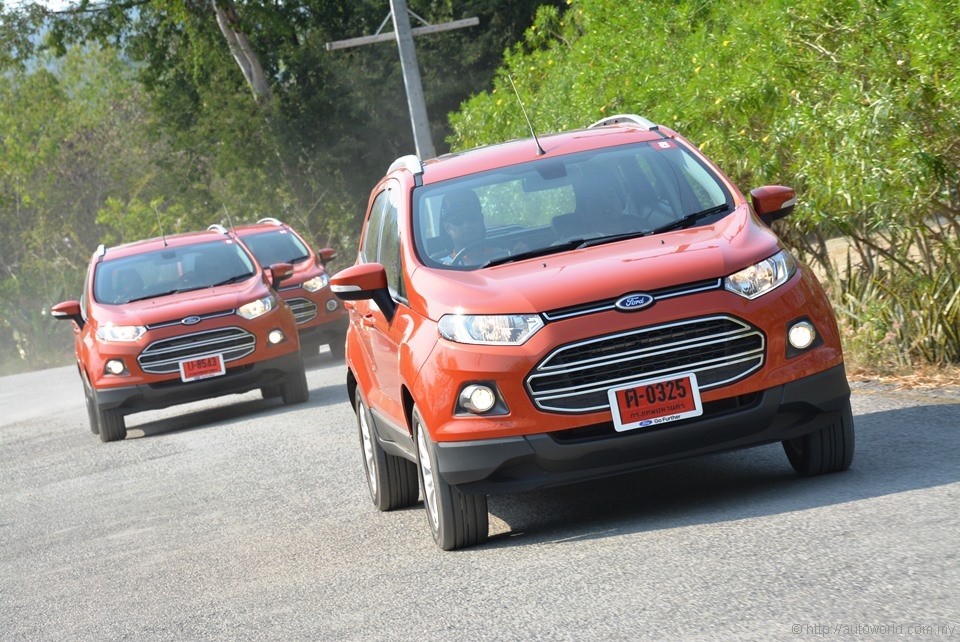 As SUVs gain increasing popularity, it is worth looking back at one particular model that defined the segment during a recent era. The model in question is the Perodua Kembara, a compact SUV which boasted a level of popularity that has never been successfully replicated, and this is despite continuous growth in the popularity of SUVs amongst Malaysians.
There hasn't been a lack of trying in the segment, mind you. Perodua unsuccessfully tried to revive its fortunes with the ill-fated Nautica, a rebadge of the Toyota Rush. The Rush itself has been ambling along during that time. Fact is that since the Kembara's heydey, SUV buyers moved on to bigger things like the Honda CR-V, but the downsizing trend in recent years has revived demand for compact SUVs which manufacturers are now scrambling to meet. We foresee the B-segment SUV market will grow to become a very crowded playing field, and opening it up will be the Ford EcoSport, scheduled for launch in Malaysia this coming July.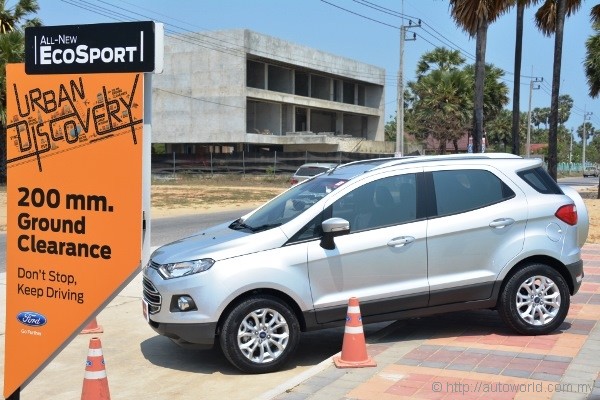 Raised suspension gives the EcoSport 200mm of ground clearance.

Prices & Variants
The EcoSport will launch with only one variant in Malaysia, powered by the atmo-breathing 1.5-litre Ti-VCT engine from the Fiesta and specified with Titanium level trim. A more basic version may follow at a later stage, and so might a higher-performance alternative featuring Ford's award-winning 1.0-litre EcoBoost engine that will debut in Malaysia soon also with the Fiesta.
Standard equipment commendably includes seven airbags, sunroof, stability control, keyless entry, push-start button, front and rear 12V power sockets, USB connectivity, Bluetooth, and voice command. Like the Fiesta, the EcoSport sends power to the front axles with the 6-speed dry dual clutch Powershift transmission. Some markets overseas get the option of AWD, but that's not in the pipeline for Malaysia.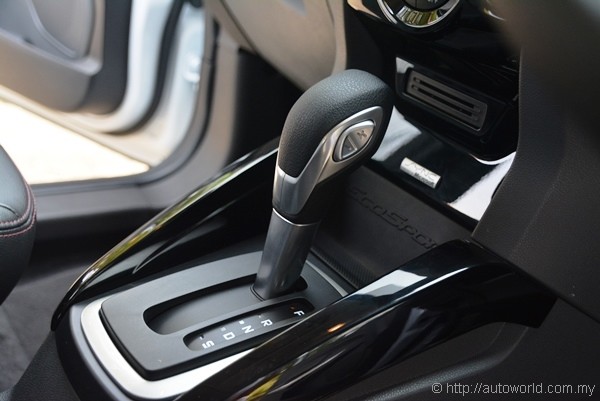 6-speed dry clutch Powershift transmission is standard.

Specifications
Based on a raised version of the Fiesta's platform, the EcoSport features many familiar mechanical elements. Being front-wheel driven, it retains the Fiesta's rear torsion beam, although AWD versions overseas get a re-engineered independent rear suspension. The EcoSport's raised ride height perches it 200mm off the ground, allowing it to convincingly clear many mini-obstacles, and despite not being built for the rigours of off-roading, it can wade through bodies of water as deep as 550mm – useful in flood-prone areas.
In the engine room, the 1.5-litre power unit is identical to the current Fiesta's but sporting a mildly revised state-of-tune that traded a couple of ponies for some additional torque, the result being peak outputs of 108hp and 142Nm as opposed to 110hp and 140Nm in the Fiesta. Official rated fuel consumption is claimed to be 15.4 km/l, interestingly better than the 15.3 km/l managed by manual versions offered overseas; CO2 emission is 154 g/km regardless of transmission.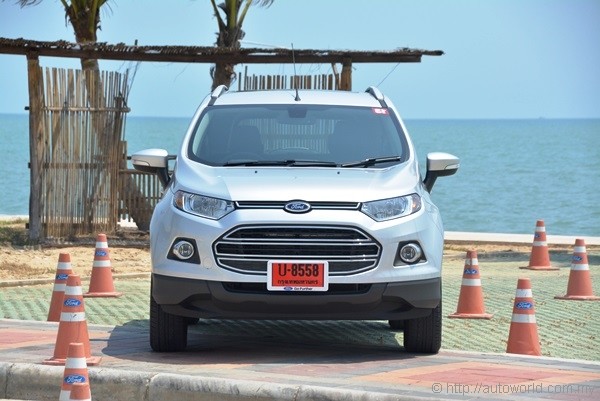 Fascia carries resemblance to other Ford SUVs, most notably the Aussie-built Territory.

Exterior
The EcoSport's raised posture combined with its tailgate-mounted spare tyre throws us back to an earlier era where SUVs are more rugged machines that were devoid of refinement. There are aesthetic and practical reasons for the externally-mounted spare tyre, and in the latter case, it is to ease packaging of the rear axle, fuel tank, and luggage capacity in that small confine of space.
Having to support the spare tyre's considerable weight, the EcoSport's tailgate is consequently of the side-hinged design opening from the right to left. A particularly neat design feature, which the folks at Ford are rightly proud of, is how the tailgate release (electronic button-operated) is flushed into the tail light assembly, creating a perfectly symmetrical-looking aft section.
Up front, the EcoSport carries a clear family resemblance to Ford's wide range of SUVs around the globe, especially uncanny with the Australia-built Territory. Unsurprising within its price range, lighting is provided by halogen reflector headlamps, but the position lamps add a touch of sophistication by sporting an Audi-style illumination signature, although this is rendered unnoticeable once the main headlights are switched on.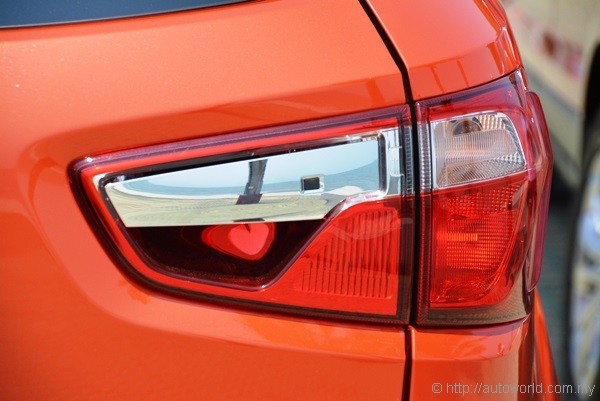 Tailgate handle flushes nicely into the right taillight assembly. Neat.

Interior
If the EcoSport's exterior reveals little of its Fiesta underpinnings, the interior all but confirms it as we step in to be greeted by a very familiar looking dashboard fascia. Whilst not strictly identical, the resemblance is close enough that a close inspection is needed to differentiate between the two. Being the later model, it is unsurprising that the EcoSport feels the better-resolved cabin, if only slightly so.
It's generally a well-packaged if less than spacious cabin, with fit and finish that comfortably tops class norms and storage spaces for small items are in abundance. The front door pockets are particularly notable for being deep enough to swallow a whole 1.5-litre bottle, and the two level glovebox is ventilated by the air conditioning system to keep drinks cool. The centre console was also well bored-out with usefully-shaped cup holders and cubby holes.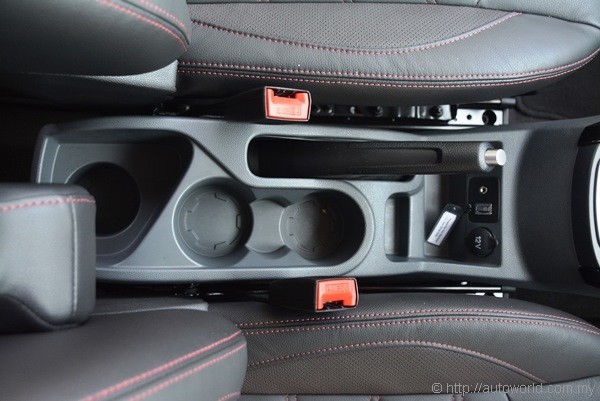 Small item storage on centre console is decent.

A rather noteworthy feature is the placement of a rear 12V socket on a recessed tray besides the right passenger, which has the benefit of allowing your mobile device to be tucked away while charged, although in our rain-heavy climate, it is a valid question whether the socket is adequately water-proofed, or at least water tight with its cover closed.
Cargo room measures at 362 litres, a figure which grows to 705 litres with the 60:40 rear seats tumbled down to give you a flattish floor that indents towards the middle of the vehicle. Not perfect, but more than adequate for, say, a washing machine or shoe cupboard. Biggest bugbear of the interior relates to its Fiesta-derived control layouts, which look aesthetically attractive, but far from intuitive to use, especially the crowded audio buttons area.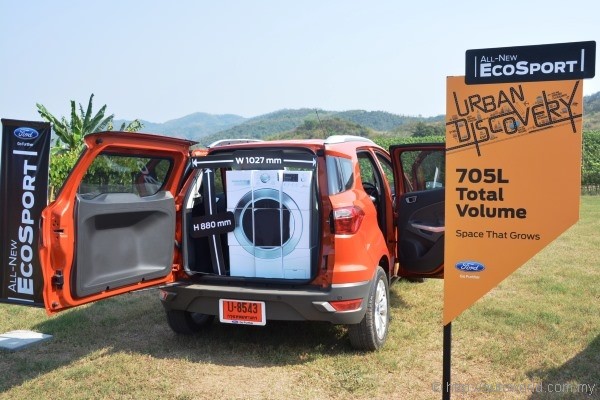 Tailgate swings sideways, opens to 705 litres of luggage space if seats folded down.

Driving Experience
There isn't a Ford we've tested in recent history that managed to disappoint us in the area of dynamics, and the EcoSport is no different, even if it falls slightly short of the exceptionally high standards we've come to expect from the Blue Oval. For all the inherent excellence of the Fiesta chassis, and plenty of its latent talent remain, make no mistake, the EcoSport occupies roughly the same footprint but with a higher centre of gravity – something had to give.
If Ford's dynamic brief was to retain the Fiesta's handling verve and agility in the EcoSport, they have largely succeeded, albeit with the caveat of a surprisingly firm ride. Whilst notably competent over road patchings and gravel, sharper disturbances such as potholes have the unfortunate habit of creating more profound effects in the cabin. As such, the EcoSport lacks the added degree of sophistication and finesse that we've come to expect of Ford vehicles even though the overall setup admittedly decent and unlikely to be surpassed by many in the segment.
The engine's modest outputs meant blistering performance was never on the cards, but its willingness to rev is a redeeming quality. Overall refinement of the all-aluminium powertrain is satisfactory and shifts of the 6-speed dry dual clutch transmission smooth. Just don't expect turbocharged progress when you bury the throttle. Noise levels are kept pleasingly low at high speeds, with wind and tyre roar both expertly isolated.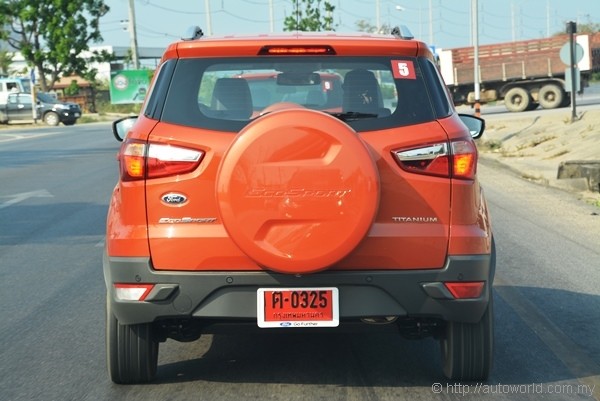 Tailgate-mounted spare tyre is reminiscent of old-school SUVs.

Verdict
The EcoSport may not have dazzled us dynamically like its stablemates, but its potential impact to the market cannot be underestimated. It blends just enough of the Fiesta's driving fun with its own blend of style, practicality, refinement, and the comfort of a raised driving position preferred by urban Malaysian drivers.
An estimated pricing of RM95k – RM103k was announced at the last KL Motor Show, making the EcoSport a highly affordable and attractive purchase for many buyers. Those limited by a sub-RM100k budget now have a SUV to consider again, even if it isn't one geared for off-roading. Ford set out to build the EcoSport as an urban warrior and they came up with a damned good one.