2013 Ford Fiesta Sport 1.5 Test Drive Review
In our review published on 29 November, we could not stop waxing lyrical on just how good the Ford Fiesta 1.0 EcoBoost was to drive. On its own, a lighter yet more powerful engine is almost a surefire recipe for dynamic success, and the natural talents of the Fiesta's chassis only served to further highlight the impressive abilities of this remarkable little engine. The verdict is simple, if you count patience among your virtues, the Fiesta EcoBoost is definitely worth waiting for.
But where does that leave the existing Fiesta 1.5 Ti-VCT variant which, let us all be reminded, was launched just over three months ago? We had a chance to drive this variant shortly before its launch here in Malaysia, and just before flying off to Chiang Mai to try the EcoBoost model, we spent a few extended kilometres with WYX 8289 pictured here to evaluate its merits and examine its case as an acceptable alternative to the superlative EcoBoost variant.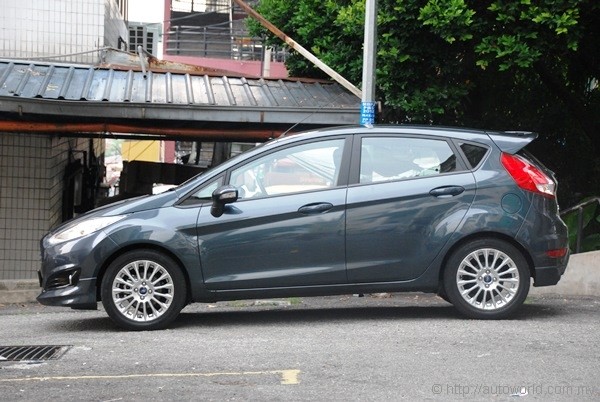 Compact silhouette remains the same, but multi-spoke rims give a more elegant appearance.

Prices & Variants
As mentioned in earlier coverages, the Fiesta 1.5 is offered in two body style variants of equal pricing and specifications. Depending on your tastes, you can choose between the four-door Titanium sedan or five-door Sport hatchback, the latter of which is the subject of our review today, both priced at RM86,988 with insurance.
In the engine room, the previous 1.4- and 1.6-litre naturally aspirated four-cylinder powerplants are both permanently dropped, with the 1.5-litre here holding the fort for the moment before the EcoBoost arrives as the range-topper next year.. It is worth noting, however, that the new Fiesta 1.5's price tag exceeds even the previous 1.6 Sport hatchback variant. Ford justifies this price increase with additional equipment, which we will get into later, and also the promise of improved fuel consumption of a downsized engine.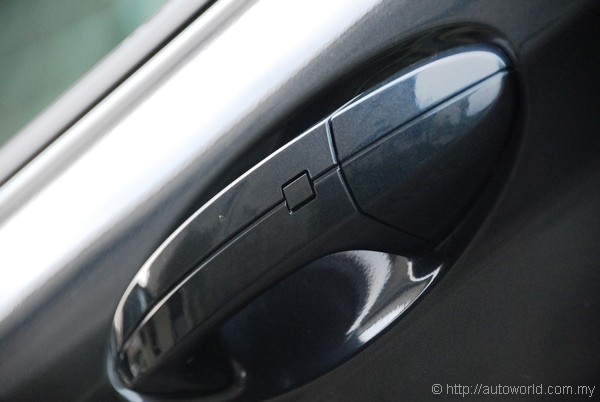 Keyless entry is a welcomed addition to the kit count.

Standard is a comprehensive active and passive safety package that includes ABS, EBD, stability control, hill-launch assist, seat-belt pre-tensioners, ISOFIX, and dual frontal airbags. Previously, Ford started off offering the range-topping Fiesta 1.6 Sport with dual frontal airbags and giving only single airbags for the 1.4 hatch and 1.6 sedan. A seven-airbag package was introduced as a running change, but bizarrely only for the two lower-specced variants – the 1.6 Sport hatch continued with only two airbags, which is carried on today.
In terms of amenities, however, the Fiesta 1.5 is most certainly better equipped than the old 1.6, with keyless entry and engine start/stop button being the most welcomed addition to the kit count. Ford SYNC infotainment is standard complete with USB/Bluetooth connectivity and Voice Command, although unlike the more expensive Focus and Kuga, the Fiesta gets a monochrome rather than colour screen – not really a big deal.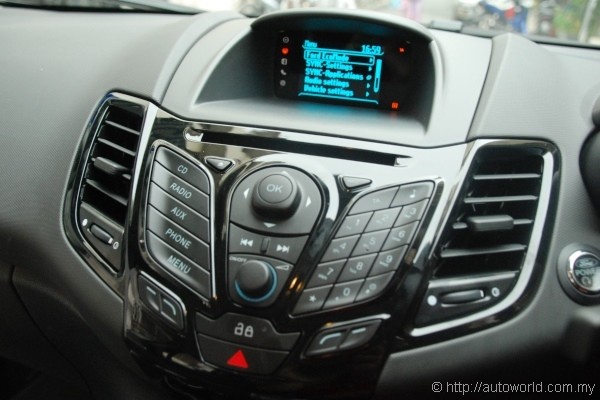 Nokia-inspired keypad remains a distinct feature of the Fiesta, but ease of use is so-so.

Specifications
Outputs of 110hp and 140Nm put the new Fiesta 1.5 nicely in the middle ground between its outgoing 1.4 and 1.6 forebears. The way we see it, this is a good product positioning strategy that puts Ford right in the thick of things amongst the B-segment's biggest volume players all of which are powered by 1.5-litre engines.
Whilst the deficit in outputs against the outgoing 1.6 is noticeable, the Fiesta is by no means outgunned by segment rivals, and it gives punters who want the tried and tested formula of natural aspiration a respectable option. To offset effects of the reduced outputs, the new Fiesta has smart regenerative charging that disengages the alternator under heavy throttle load – this has the two-pronged effect of reducing fuel consumption and freeing up all available power to facilitate maximum acceleration.
Together with the old engines, Ford also phased out the option of manual transmission with the Fiesta, leaving Malaysian buyers with the 6-speed PowerShift as the only transmission option. The stick shifter option is offered in other ASEAN markets, but either way, you're looking at identical rated fuel consumption and carbon dioxide emission numbers at 17.2 km/l and 137 g/km respectively, compared to 18.9 km/l and 121 g/km managed by the more powerful EcoBoost model.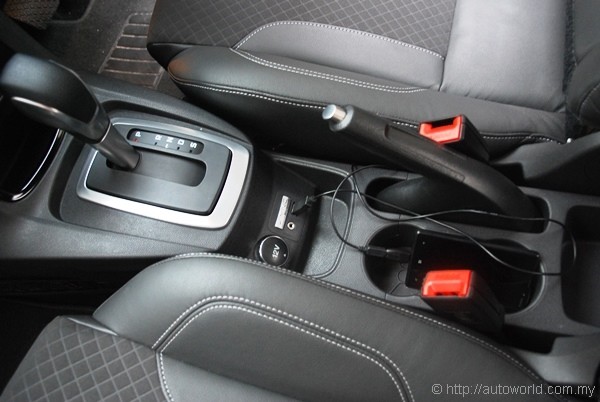 Powershift gearbox now has manual override. Generous storage along the centre console.

Driving Experience
Let's get one thing out of the way, if you must have the best of what the Fiesta has to offer, you have absolutely got to wait for the 1.0 EcoBoost's arrival; but if turbocharged power is not your thing, and your preference is for a more conventional power source, the 1.5 provides adequate thrust to suffice as a respectable alternative.
The naturally-aspirated all-aluminium engine lacks the mid-range grunt of its smaller turbocharged counterpart, but redeems itself with a willingness to rev and growling engine note that is not at all unpleasant. Owners of the current Fiesta 1.6 will naturally notice the deficit in outputs, particularly when powering out of corners, but those upgrading from other 1.5-litre models in the market should find what's on offer entirely satisfactory.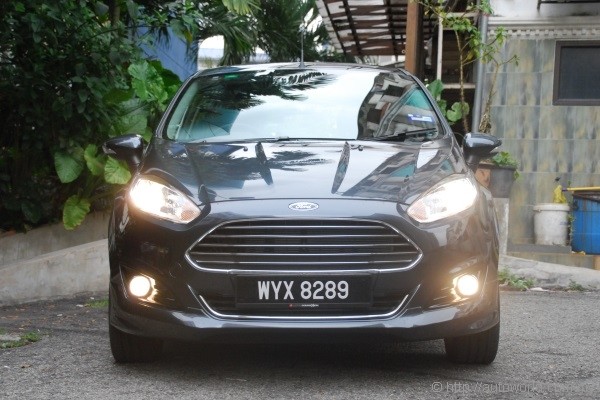 Aston Martin grille grafted into the Fiesta has split opinion amongst observers.

In line with the engine's modest outputs, the 6-speed PowerShift transmission fitted to the Fiesta 1.5 is the dry clutch version, which is known to be not particularly smooth at low speeds. Improved calibration has brought about smoother shifts, but Ford still has some way to go before matching the overall slickness of VW DSGs. One thing we can say for sure is that our Fiesta test car here swapped cogs a lot smoother than the Focus Titanium+ we reviewed in May.
Reduced power notwithstanding, you can nevertheless count on the Fiesta to deliver exceptional ride and handling characteristics, and this is valid regardless of your preferred variant. The 1.0-litre EcoBoost by virtue of having a smaller and lighter engine may benefit from a lighter nose, but don't dismiss the 1.5's ability to smoothly string a set of corners. There is a sense of directness in the chassis that makes driving it an engaging experience, and the suspension is impressively calibrated to keep body roll in check whilst convincingly isolating road harshness from the cabin.


Verdict
When it arrives next year, the 1.0 EcoBoost will clearly become the superior choice in the Fiesta line-up, and its case will only become more convincing should Ford spec it with even better equipment than what's currently being offered in the 1.5. For buyers who find the expected RM10k premium separating the two variants too much to surmount or those who simply prefer the more familiar 1.5-litre 4-cylinder formula, the Fiesta 1.5 then suffices as an entirely respectable alternative.
Despite not going to be the strongest variant in the Fiesta range, the 1.5 remains class-competitive in both equipment and performance against comparably priced Japanese models. Bear in mind that it packs standard equipment such as keyless entry and electronic stability control that are not entirely common features in its price range. Simply put, the Fiesta 1.5 will not be the best of what the Fiesta has to offer, but in the bigger picture of the B-segment, it's still better than most of what's out there.


Promo Alert!!
In conjunction with the Christmas festive season, Ford has announced the "New Ford Fiesta Christmas Deal" promotion. Under this promotion, new Fiesta owners can enjoy 1.38% interest rate per annum and free shopping vouchers. This promotion is valid now through 31 December 2013.