Audi Land of Quattro Experience 2013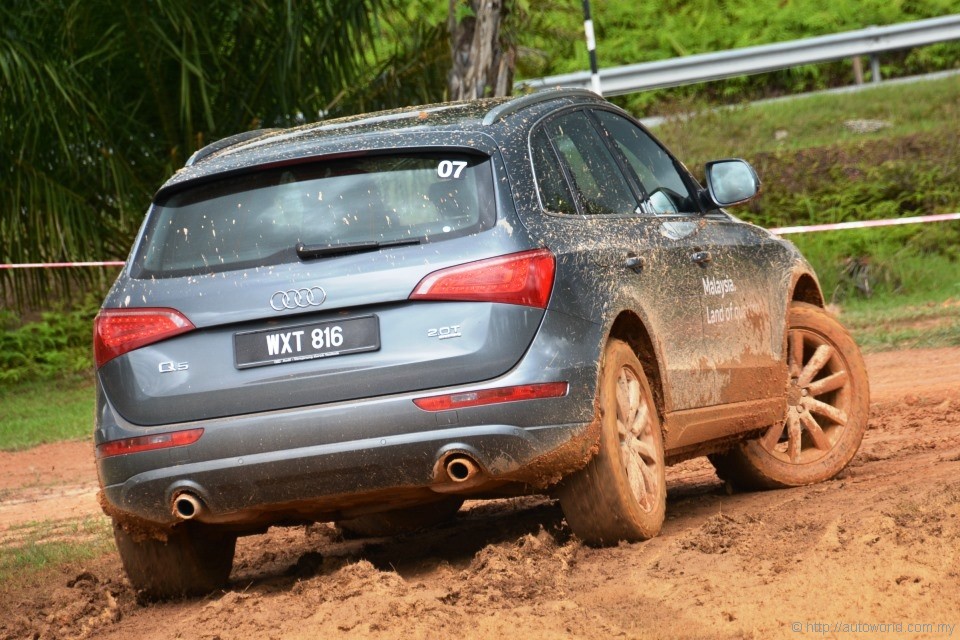 Most of us in the motoring journalism line treat driving experience events with mixed feelings. Because of familiarity, such events develop a routine nature about them and no longer captivate our interest the way they used to. Yet, these events also offer us the unique appeal of incorporating driving exercises that allow us to explore the upper limits of our driving skills in a safe and contained environment.
In recent years, driving experience events are becoming increasingly popular customer relationship activities organized by the various automotive brand owners. The activities served up in these events typically allow the participating cars to show off their dynamic ability to viewing customers and consequently cultivate their pride and confidence in the brand. It is rarely mentioned that these exercises are planned with the vehicle's abilities taken into account in the first place, but never mind that for now.
Amongst luxury car makers, Audi is unique with regards to its preferred drivetrain layouts. As opposed to its traditional rivals, all of which favour rear-wheel drive, Audi prefers front-wheel drive for its regular models and all-wheel drive for vehicles with higher outputs. Despite the perception that RWD equates to luxury and sportiness, Audi is opposed to its use on the grounds that rear-driven vehicles are more prone to oversteer and more likely to unsettle under braking.
Audi's development of all-wheel drive began with the original Audi Quattro that debuted in 1980 that took the rallying world by storm. The superior traction of all-wheel drive in grueling rally conditions give the Quattro an unsurmountable advantage against its 2WD rivals. It paved the way for the introduction of all-wheel driven Audi passenger cars, all of which carry the quattro (note the lower case 'q') designation in honour of the model that started it all.
The common 'quattro' nomenclature does not refer to a specific type of AWD system, but simply implies that the vehicle with the badge has AWD. Generally, models with transverse mounted engines use a Haldex system that distributes power with a front bias. The Q3 is currently the only Audi model sold in Malaysia that uses a Haldex AWD. Other Audi models with longitudinally mounted engines, meanwhile, use a Torsen differential with rearward bias.
Pragmatic motorists may regard AWD as an unnecessary expense which adds to the burden of fuel consumption, but in bad weather or other low grip driving conditions, the ability to channel drive to all four wheels gives drivers a precious advantage to safely negotiate treacherous conditions. The Audi Land of Quattro Experience, which was held over two days last weekend and will be held again on 14-15 December, gives participants the opportunity to experience the superior traction of quattro AWD in a different range of conditions.
A one-day programme organized free of charge to selected customers and prospects, the event starts early in the morning with breakfast at the newly-opened Audi Damansara outlet located in Sg Penchala before being flagged off on a leisurely drive in convoy to Port Dickson via the NKVE and the back roads of Sepang. Participants had their selection of almost the entire range of quattro-powered Audi vehicles from the Q3, Q5, and Q7 SUVs to the A5, A6, A7, and A8 passenger cars. The A4 was a noticeable omission.
The winding back roads near Sepang and Dengkil provided participants with a good opportunity to try out the cornering poise of these vehicles. Heavy traffic during the media session held on Saturday put a bit of a damper in our experience of the event, but we wish better luck to the next groups of participants. After feasting on a ten-course seafood lunch in Port Dickson, the convoy reversed course and headed to the Sepang International Circuit where the cars were split into two groups.
Passenger cars were taken to one of the SIC parking lots to attempt a series of routine tarmac-based exercises, which we have tried in one form or another in countless occasions. There was brake-steer-avoid, slalom, and the slippery corner. The last exercise was notable for its relative lack of drama in the Audi vehicles compared to past experience in other brands. Even with stability control switched off, the quattro-driven Audi vehicles required considerable effort and provocation to lose traction over the soap-sprayed surface. Not a lot of fun, but effective demonstration on the AWD system's high grip limits.
Things are a bit more amusing over at the SUV corner, where the likes of the Q3, Q5, and Q7 were made to go through a number of mild, but highly entertaining muddy challenges. We did not carry a lot of speed, but still had a ball of a time drifting the Q3 around in low speed but highly controllable slides, thanks to all the mud caking the tyres up. Obstacles in the off-road section consist of a water splash, side-slope (which ultimately proved too slippery to negotiate), and axle twist. In that last exercise, I was particularly impressed at how the Q3 (which has VW Golf Mk VI underpinnings) negotiated the series of deep ruts minimal fuss.
Participants will get to experience both sets of exercises before the convoy regroups and heads back to Audi Damansara for refreshments and debriefing. Despite the routine nature of such events to us, we strongly recommend the participation of such driving experience events to members of the public, for they offer a unique means of experiencing the abilities of a car in safe and contained environments.