Infiniti marks KLIMS13 debut with all-new Q50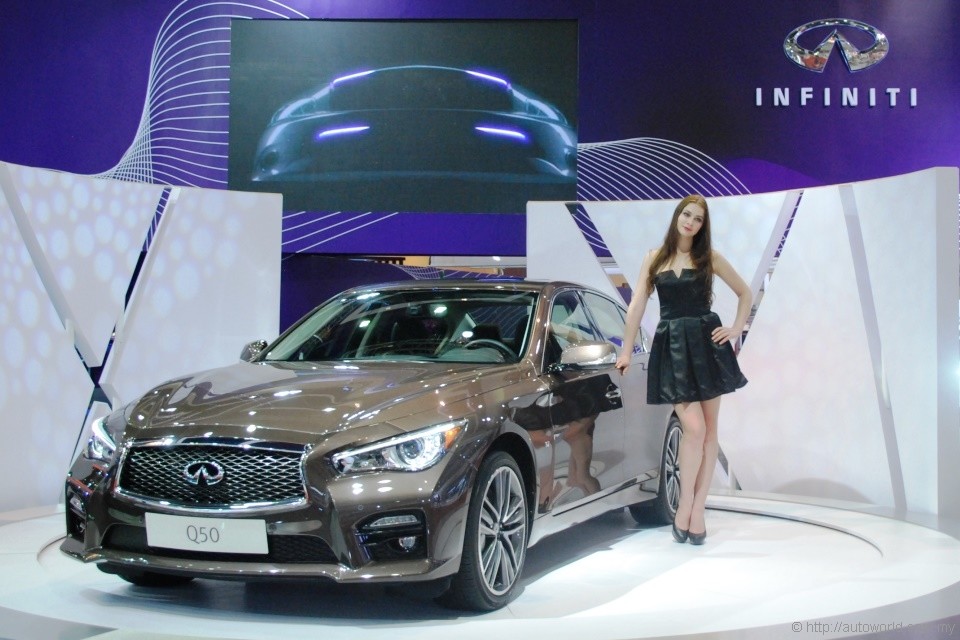 Infiniti, Nissan's luxury vehicle sister brand, makes its debut appearance in the Kuala Lumpur International Motor Show with some style by previewing its upcoming compact luxury sedan entry, the Q50, to Malaysians live for the first time. Joining the Q50 at the Infiniti booth are the M sedan and FX SUV, both models now renamed as the Q70 and QX70 respectively under Infiniti's new naming convention that will take effect for its 2014 model year vehicles.
The new naming convention, which Infiniti debuted internationally with the Q50 at the North American International Motor Show held earlier this year, will see all Infiniti sedans and coupes designated with a Q prefix, whilst SUVs and crossovers can be identified by badges with the QX prefix. A double digit number following the prefix identifies the model's position within range hierarchy.
Under the new system, models in the Infiniti range are more easily identifiable with respect to their market positioning. As Infiniti is not as established a luxury brand as, say Mercedes-Benz, it is difficult for casual observers to tell if Infiniti G or Infiniti M is the bigger car. The new number-based nomenclature system makes identification significantly more straight forward.
When it debuts, the Q50 will become the entry-level model into the Infiniti passenger car range, although it is unlikely to be a cheap preposition. The display car on show at KLIMS13 comes with a 3.7-litre direct injected V6 engine from the award-winning VQ family mated to a 7-speed automatic transmission and all-wheel drive to boot. This car will crucially mark the first commercial application of steer-by-wire in the automotive industry. Infiniti calls it Direct Adaptive Steering.
Internationally, Infiniti currently offers the Q50 only with the 3.7 V6 mentioned above and a 3.5 V6 petrol-electric hybrid. The European market will get an additional option in the form of a 2.1-litre turbodiesel engine sourced from Mercedes-Benz. According to our friends over at Live Life Drive, the newly-minted partnership between Daimler-Benz and the Renault-Nissan Alliance might yield a second Mercedes powertrain for the Q50 in the form of a petrol-driven 2.0-litre turbocharged four, which is significantly more in tune with Malaysian tastes then the menu available for now.
A central figure of the Q50's development is none other than four-time F1 World Champion Sebastian Vettel, who through his commitments to Infiniti's F1 partner Red Bull Racing, plays a role as Infiniti's Director of Performance. Cementing that connection, Vettel's Infiniti Red Bull Racing Q100 (RB9) car is also shown on display at the Infiniti booth.
Infiniti's booth in KLIMS13 is situated in Hall 1, adjacent to its sister brand Nissan.