Updated 2013 Nissan Navara tested in KK, Sabah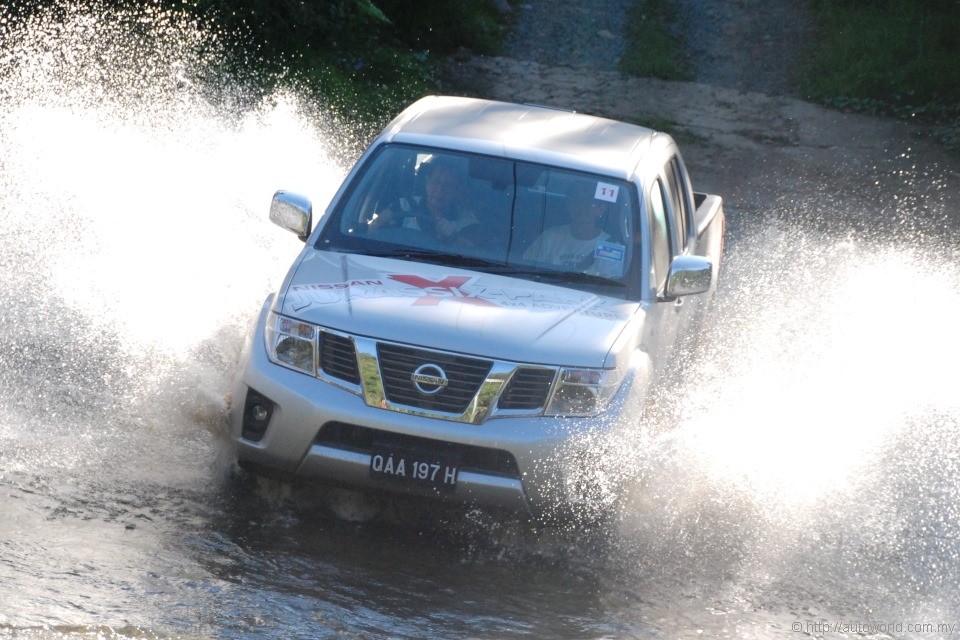 It has been a week of pick-up trucks. We started off with coverage of Isuzu's launch of a new single-cab D-Max on Monday, and in the afternoon, the press team from UMW Toyota Motor buzzed our email with news of an updated Toyota Hilux that was being launched in Kota Kinabalu, Sabah.
East Malaysia is big on pick-up trucks, and last week we were already there to have a close look at yet another updated pick-up, namely the 2013 Nissan Navara.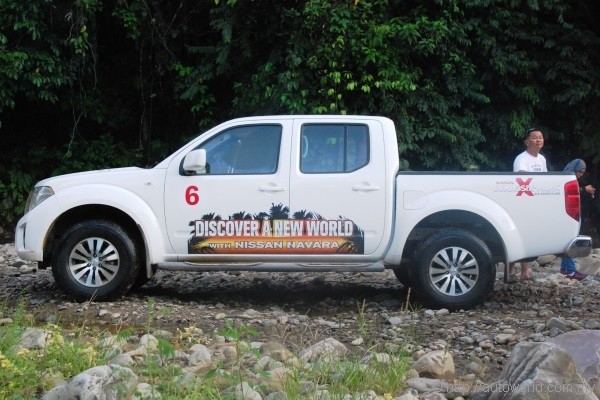 We spent half a day in the jungles of Sabah testing the Navara last week.

Prices & Variants
We can't really call this a facelift of the Navara, because, well, it isn't. The 2013 updates apply only to the two range-topping SE and LE models, whilst the remaining variants further down the food chain – the Single Cab, King Cab, Calibre 4×2 A/T, and Standard 4×4 M/T – remain as they were. All variants, new and old, retain unchanged prices – the manual SE going for RM94,834.20 with insurance and the automatic LE at RM105,834.20 under the same terms.
Besides the convenience of two-pedaled motoring, the LE also carries a slight kit advantage over the SE that helps justify the RM11,000 pricing gap that separate the two models. Items exclusive to the LE are xenon headlamps with manual leveling adjustment, leather trim, auto dimming rear view mirror, six speakers (as opposed to four in other variants), glove box lock, and silver finish on the centre console and power window switch panels.
Both variants additionally get the local TCAT-developed 2-DIN multimedia navigator fitted as standard. The unit usefully features an integrated reverse camera, although operation is sometimes clunky. The absence of steering-mounted controls also make operating it whilst driving a tricky preposition. The system is offered as a RM2,900 cost option for the Calibre 4×2 variant.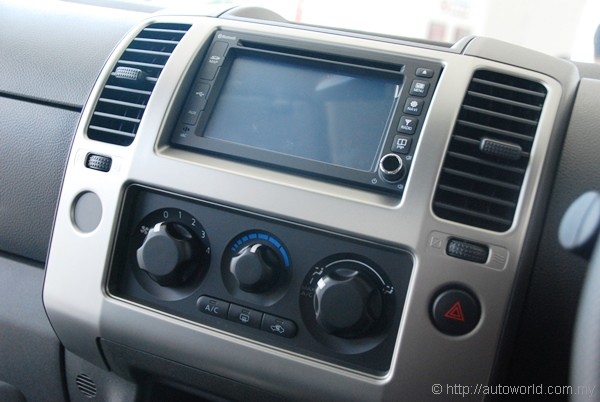 Locally-developed TCAT multimedia system is standard in the new variants.

Updates
Aside from the multimedia navigator mentioned above, updates received by the 2013 vintage Navara are restricted to the cosmetic variety. The front end has been touched up with a more expressive appearance. The original mesh-type grille has been replaced with horizontal slats, and more intricate details have been carved around the front fog lamp slots.
New 16-inch multi-spoke alloy rims replace the original five-spoke wheels. Make what you will of the catalog's description of them being 'symbols of resilience to take you above and beyond', but my personal opinion is that the rims are a poor fit to the Navara's brutish appearance. Pick-up trucks, because of their rugged nature, are typically better served by chunky looking rims with thicker spokes.
With no mechanical changes to report, the 2.5-litre YD25DDTi continues service under the hood in its highly-charged state, pumping out a brutal 172hp and 403Nm, enough to outmuscle even 3.0-litre engines. These outputs go to an electronic shift-on-the-fly 4×4 drivetrain fitted with either a 6-speed manual transmission in the SE or a 5-speed automatic in the LE.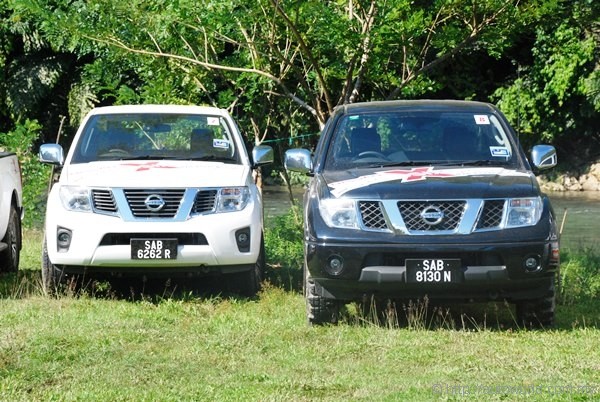 The old and new Navara side-by-side.

Driving Experience
From past experiences with the Navara in various guises, I have always found it to be unique amongst pick-up trucks in the sense that it probably is the only one that feels more accomplished on the road than off it. I've had a fair share of encounters with Navaras on the highways, and these things can sustain unfeasibly high speeds without breaking sweat, courtesy of its generous outputs.
For the regular highway-miler, there is indeed plenty to like in the Navara – it is a truck of impressive refinement, thanks to an excellent sound deadening package and well-judged ride comfort. Couple these with the engine's impressive power, the Mitsubishi Triton, but the Navara can certainly carry a greater turn of speed around corners than say, a Toyota Hilux or Isuzu D-Max.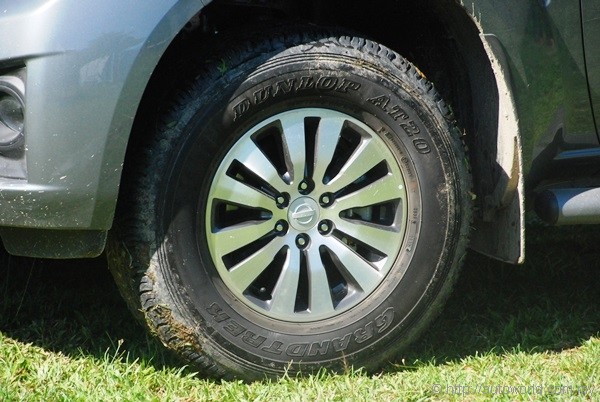 New 16-inch multi-spoke rims don't gel with the Navara's macho looks.

Off the beaten track however, the Navara becomes a less convincing preposition. With all of its torque coming in at a sudden surge at 2,000rpm, the mighty YD25 engine and its class-leading outputs suddenly become a liability on surfaces with poor grip, particularly if it is an upward slope. You can forget about scaling any gradients of note without at least 2,000rpm ticking on the tachometer. This also makes clutch balancing on slopes a tricky act, as a bootful of throttle is required to avoid stalling.
In this media drive, the luck of the draw got me a driving slot in the manual SE version, and aside from the tricky clutch balancing act mentioned above, shift quality in our test car's gear change felt notably improved over earlier units which this writer has reviewed. Throws feel sharper and more precise than they did my recollection, although it can't match the pleasing crispness found in the Mazda BT-50 2.2 M/T.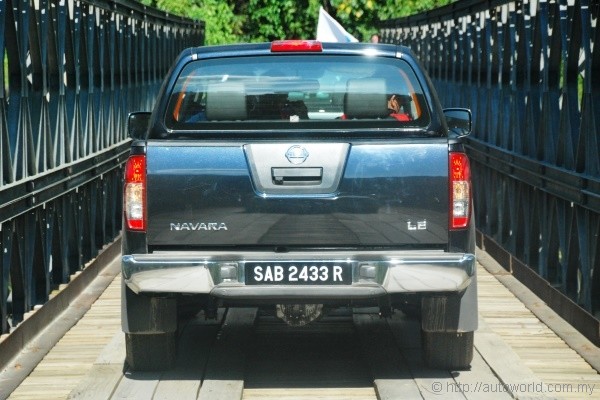 No visible changes to the rear…

Verdict
Overall changes to the new 2013 Navara are generally superficial, which means our opinion of the vehicle remain unchanged. We are typically unconcerned about cosmetic revisions, but addition of the multimedia unit and its integrate reverse camera at no increase in price is a noteworthy improvement. This is, in essence, less of a facelift but more of a value-add exercise for the range-topping SE and LE variants.
For buyers seeking a workhorse to rough it out, we recommend sticking to conventional choices such as the Hilux or D-Max, perhaps even the Ford Ranger. The Navara is better suited for urban and inter-state applications, where its better qualities, namely refinement and outright power come to the fore; the minor touches of this 2013 improvement gives the overall package added value.