Automotive Conference scheduled as prelude to KLIMS13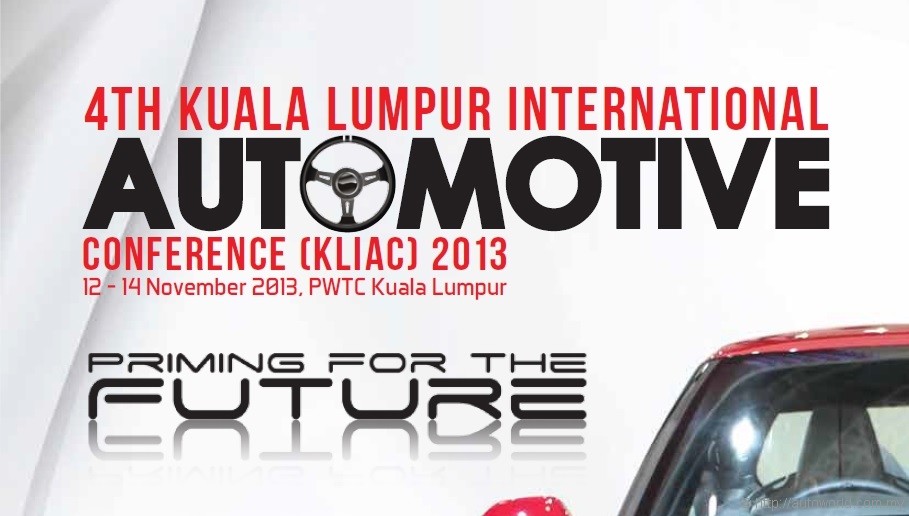 The upcoming Kuala Lumpur International Motor Show 2013 will take place from 15 to 24 November, but beginning three days before the start, the event's traditional venue, the Putra World Trade Centre (PWTC), will already be a busy place hosting the 4th Kuala Lumpur International Automotive Conference 2013 (KLIAC) that is being scheduled for 12 to 14 November.
Jointly organizing the KLIAC are the Malaysian Automotive Association (MAA) and the Asian Strategy and Leadership Institute (ASLI) supported by KLIMS13 show manager Interexpo (M) Sdn Bhd.
Datuk Aishah Ahmad, President of MAA said "The conference is organized to congregate the luminaries of the automotive industry to give the delegates valuable insights and mindshare the key issues and major forces that are shaping the future of the automotive industry, paving the way forward for a strategic and cohesive growth for the automotive industry players."
Registration fees for the conference are priced at RM1,800 for normal delegates; and RM1,500 for government, for MAA members and for those attending in a group (minimum 3 people). International delegates may register at USD460 for group (minimum 3 people) or the standard price of USD500 per delegate. Students are given a 50% discount from the standard rate of RM1,800 or USD 500.
Speakers being scheduled for the conference and their topics are as follows:
– Dato' Sri Mustapa Mohamed – "Transforming the Automotive Industry – The Way Forward"
– Tun Dr. Mahathir Mohamad – "Shaping a National Auto Industry: How National Cars can contribute towards Economic Development"
– Subash Bose Pillai, Director of Market Integration Directorate, ASEAN Secretariat
– P. Ravidran, Senior Director of ASEAN Economic Cooperation, Ministry of International Trade and Industry
– Muhamad Madani Sahari, Chief Executive Officer of the Malaysia Automotive Institute (MAI)
– Satoru Kumagai, Visiting Fellow of Malaysian Institute of Economic Research
– Alexander Stedtfeld, Executive Director of Malaysian-German Chamber of Commerce and Industry
– Professor Dr. Wong Shaw Voon, Director General of Malaysian Institute of Road Safety Research
– Dr. Hussain Hamid, the Head of the Road Safety Research Centre, Faculty of engineering, Universiti Putra Malaysia (UPM)
– Ahmed Ismail Hj Amin, Committee member head of Road Safety of Automobile Association of Malaysia
– Kavan Mukhtyar, Head of the Asia-Pacific Automotive & Transportation Practice and a Partner of Frost & Sullivan
– Rohana Ramly, Deputy Chief Executive Officer of SME Corp Malaysia
– Datuk Aishah Ahmad, President of MAA
– Yoshihiro Yano, Vice President of International Affairs, Japan Automobile Manufacturers Association, Inc
– K. Achana Limpaitoon, Senior Vice President of Thai Automotive Industry Association
– Vicente T. Mills Jr., President of Philippines Automotive Federation, Inc
– Dato' Ir Noor Azmi bin Jaafar, President of Proton Vendors Association
– Noraini Soltan Talib, President of Perodua Vendors Association
– Peter Lim Yoke Cheong, President of Malaysian Automotive Component Parts Manufacturers' Association
– Dato' Syed Mohamad Aidid Syed Murtaza, President of Motorcycle and Scooter Assemblers and Distributors Association of Malaysia.
– Tan Sri Asmat Kamaludin, Group Chairman of UMW Holdings Bhd
– Datuk Dr. Wan Mohamed W. E., Chairman and Chief Executive Officer of WSA Group
– Mustapha Kamal Zulkarnain, Founder of Kuala Lumpur Electric Vehicles Sdn Bhd
– Martin Hayes, President and Managing Director of Robert Bosch (SEA) Pte Ltd
– Toh Teong Hin, Manager Automotive OE Malaysia and Malaysian Sheet Glass Sdn Bhd
– Dr. Zeno Kerschbaumer, Managing Director of Volkswagen Group Malaysia
– Mats Nilsson, Managing Director of Volvo Malaysia
– Keith Schafer, Managing Director of Volvo Car Malaysia
– Yamin Vong, Editor of New Straits Times – Cars, Bikes & Truck.
Programmes for the conference include
– Regional roundtable on "Towards ASEAN Economic Community – Impact on the automotive industry"
– CEO roundtable on "The Future of Malaysia's Auto Industry: Where do we go from here?"
– "Economic Scenario of ASEAN",
– "The Global Automotive Industry"
– "Energy Efficient Vehicles: Smarter Mobility for an Energy Dependent World"
– "The Auto Components Industry: Deepening the Supply Chain"
– "The Safety Dimension: Auto Safety and Road Safety"
– "Focusing on the Motorcycles Segment: Trends and Opportunities".