New variants for Mitsubishi Triton VGT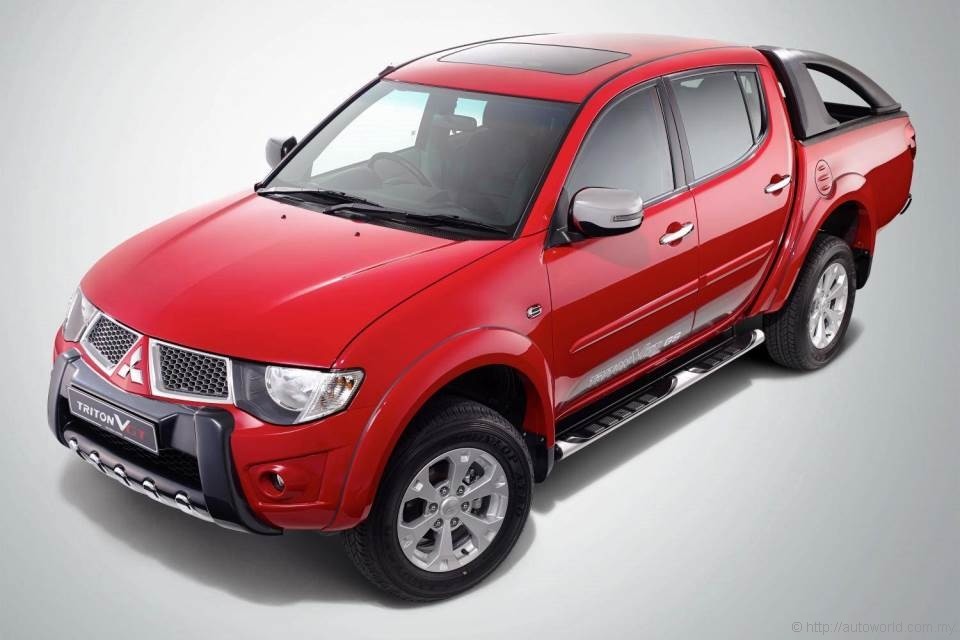 Mitsubishi Motors Malaysia (MMM) has once again updated its venerable Triton pick-up truck range with the introduction of two new variants of the VGT model. Buyers can now choose between the more affordable GL variant at RM102,488 (OTR with insurance) or the enhanced GS version with added equipment at RM109,888.
Mechanical specifications retain their status quo, with the 2.5-litre VGT diesel engine continuing its service under the hood, pumping out 176hp and 350Nm. A 5-speed automatic transmission remains standard, along with Mitsubishi's Easy Select 4WD with electronic shift on the fly. The sophisticated drivetrain also features a Hybrid LSD with speed- and torque-sensing capabilities.
Since it first appeared, Mitsubishi has alternated between offering the Triton with short and long cargo beds depending on variants; the new 2013 Triton VGT offers the option of both – long bed for the GL, short for the GS. The range-topping model justifies its pricing premium with features such as a power sunroof, power-operated rear vent window, and sporty 17-inch alloy wheels (vs 16″ in the GL).
Inside, the GS adds leather seats, a single-DIN Bluetooth audio player, and security tint film from Llumar. Both variants come standard with automatic climate control and the Triton's signature RV meter. The GS' equipment manifest is, in essence, very reminiscent of the limited 180-unit Triton VGT Euro that was released in October 2012.
The new Triton VGT GL is available with three colour choices – Cool Silver, White Solid, and Black Mica. The GS variant swaps Cool Silver with Red Solid but retains the other two colours. Both variants enjoy 3-year/100,000km warranties as well as Mitsubishi's 2-Years free maintenance package.
Pictures: Official Mitsubishi release.