A&P campaign for KLIMS13 officially launched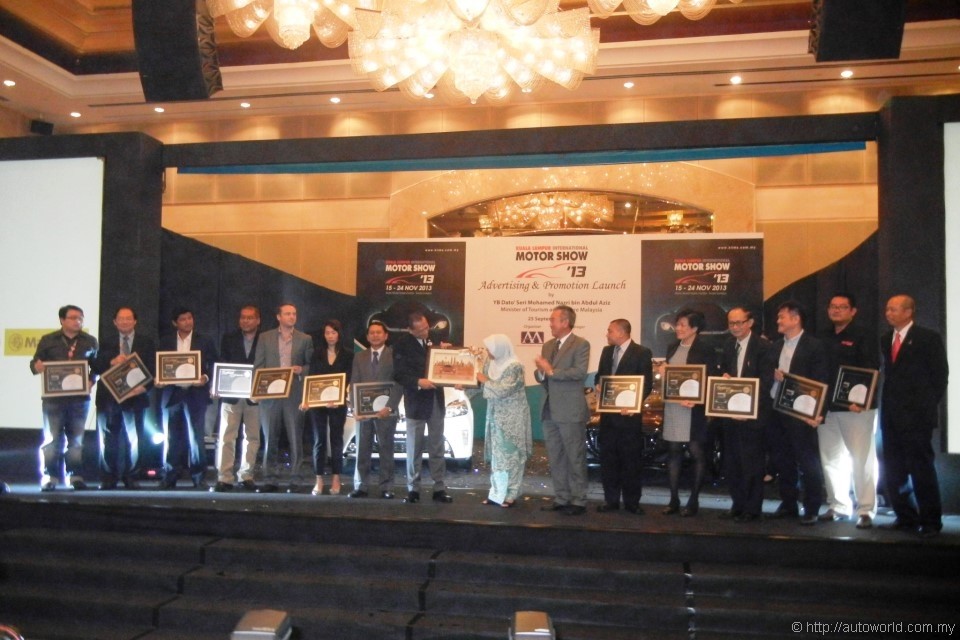 The Malaysian Automotive Association (MAA) today officially launched the advertising and promotion (A&P) campaign for the 13th Kuala Lumpur International Motor Show 2013 (KLIMS13) set to take place from 15 to 24 November at the Putra World Trade Centre (PWTC), the show's traditional venue.
Aiming to attract a crowd of 330,000 visitors over 10 days, MAA has allocated a budget of RM 7 million to promote the motor show both locally and abroad. The multimillion campaign will cover TV, radio, print, digital, outdoor, and social media platforms.
Datuk Aishah Ahmad, President of MAA said "KLIMS is back again this year to fuel the automotive industry as well as Malaysia's calendar of tourism events. To place KLIMS13 in the limelight of events to visit in Malaysia, it is necessary that we initiate a resounding advertising and promotion campaign that is driven to generate hype and reach."
She added "KLIMS13 is organized as an instrumental platform to support the exhibitors in promoting their products. We want to deliver an unprecedented crowd for KLIMS13 exhibitors who are making every effort to put up exhilarating showcases and aggressive sales campaigns. The KLIMS13 advertising and promotion campaign engages all possible mass media and stretches across a range of marketing communications channels."
A number of local media outlets have been named as Official Media Partners of the show, and they include Astro, Berita Harian, Malaysian Evo, Motor Trader, Nanyang Siang Pau, paultan.org, The Star, and Top Gear Malaysia. Exposure of the motor show will not come exclusively from these parties however, as other newspapers, magazines, broadcast channels, and web media locally and regionally will also be carrying the campaign in some capacity or another.
KLIMS13 partners are underway to boost promotion mileage. KLIMS13 Official Financial partner, Maybank will be promoting the motor show via ATM screens and marketing mailers to their customers. The Official Airline of KLIMS13, AirAsia will be rolling out KLIMS13 low fare promotion and electronic mailers to their subscribers in the region. KLIMS13 will also be promoted via Facebook and Twitter with contests in the pipeline to win KLIMS13 tickets.
MAA has maintained the entrance ticket prices for KLIMS13 as per previous editions of KLIMS. Entrance fares will be RM15 for adults on weekdays and RM20 on weekends; RM5 for children 12 years and below on weekdays and weekends. There is also a family package of RM30 on weekdays and RM40 on weekends for families with up to five children. It was also announced today that visitors stand to win a Toyota Prius or a Honda CR-Z from the show's lucky draw. Maybank customers additionally qualify for a Volkswagen Beetle 2.0 TSI.