Isuzu Malaysia launches new light and medium duty trucks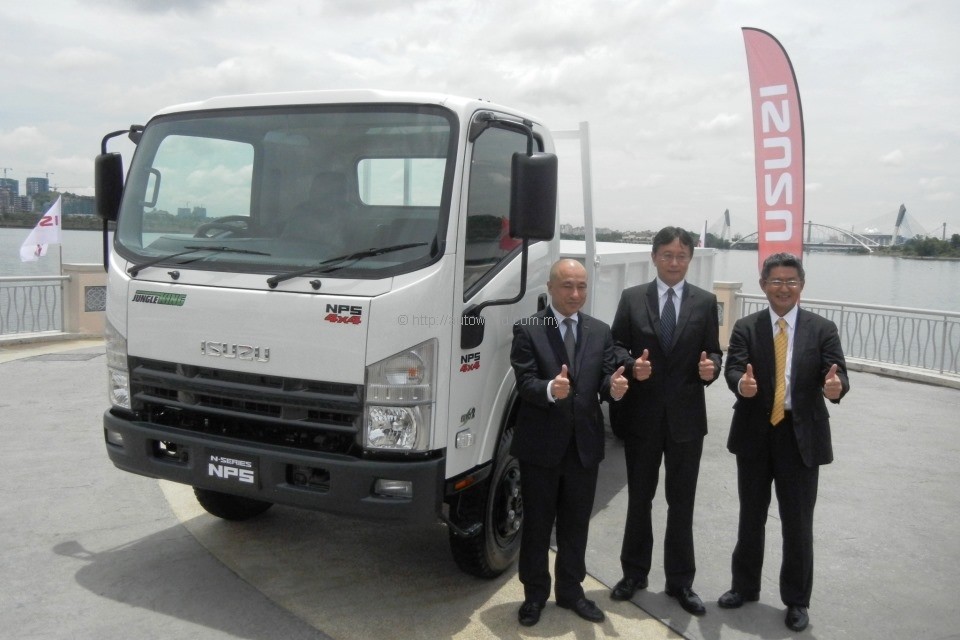 Isuzu Malaysia today expanded its range of commercial vehicles with the simultaneous launching of three new trucks in the light and medium sized segments. The new trucks are part of the current N-Series and F-Series line-up, both model ranges that have debuted within the last two years and are thus among the newest and most advanced trucks available in the market.
Each designed for different market applications, the new NPS71, FVZ PRO, and FVR 285 are designed based on considerable inputs and feedback from Malaysian buyers, taking as many aspects of our market condition as possible into account. The new models line-up alongside existing models of the N- and F-Series offering customers greater flexibility and choice.
All three new models are offered with commonrail turbodiesel engines that comply with Euro 2 emission standards. This may a serious oversight at a time when competitors are moving on to offer Euro 3 engines, but when even the best fuel at the pumps are no cleaner than Euro 2, going any higher than that becomes pointless. Besides, there are also cost considerations involved.
The NPS71 is a new addition to the light duty N-Series range designed to move goods and crops along narrow jungle and plantation tracks. It incorporates a switchable 4×4 drivetrain to tackle rough terrains. Selection of drive mode is done at the press of a dashboard-mounted button followed by engaging and disengaging the manually-operated free-wheeling hub.
Power is supplied by a 4.6-litre four-cylinder engine producing 123hp @ 2,850rpm and 325Nm @ 1,800rpm. According to Isuzu, this abundance of torque at low revs enables the NPS71 to effortless climb steep slopes without needing to charge one's way up at speed. Isuzu claims to have spent over two years intensively testing the NPS71 4×4 over a wide range of tasks in various locations across Malaysia.
The other two new models launched today are part of the F-Series family, with the FVZ PRO 6×4 catering for rugged terrain usage and the FVR 285 4×2 designed for long distance highway cruising. The different briefs of the respective trucks comes despite sharing similar mechanical components, notably its 7.8-litre 6HK1-TKS six-cylinder engine producing 281hp @ 2,400rpm and 883Nm @ 1,450rpm. Both models get a ZF-sourced 9-speed manual transmission with high/low selector.
The FVZ PRO has two rear-driven axles that enable it to confidently power its way through treacherous terrain, an ability complemented by its exceptional approach angle of 29 degrees allowing more effective negotiation of potential obstacles.
Meanwhile, the road-biased FVR 285 has a single driven rear axle, and to facilitate better fuel economy, its top gear is an overdrive ratio of 0.752. It has a gross weight of 18 tonnes and the rear axle alone is designed to support the weight of 13 tonnes over it. Without the need for an aggressive approach angle like the FVZ, Isuzu engineers thoughtfully incorporated under run protector under the bumper to minimize the likelihood of smaller vehicles going under the truck's body in the event of a collision.
Isuzu placed a great emphasis on cabin comfort in developing the F-Series trucks, believing that keeping the occupants fresh, particularly the driver, is an important aspect in safety. The cabin sits on silicone fluid mounts and the driver has a dedicated suspension built into his/her seat to better isolate vibrations. There is even room to house a bed at the cabin's aft section for a power nap at rest stops. Ease of regular maintenance is also taken into consideration, with a front lid enabling convenient access to fluid reservoirs and filters.
Backed by a 3-year / 100,000km warranty, the Isuzu N-Series NPS71 4×4 is priced at RM135,373 on-the-road without insurance for its chassis and cab only, with separate charges applicable for body works depending on application. The F-Series models, meanwhile, get a shorter 18-month / 80,000km warranty, being priced at RM224,507.00 for the FVR 285 and RM255,771.00 for the FVZ PRO, both prices also on-the-road without insurance for chassis and cab only.