ASEAN NCAP Phase 2 results announced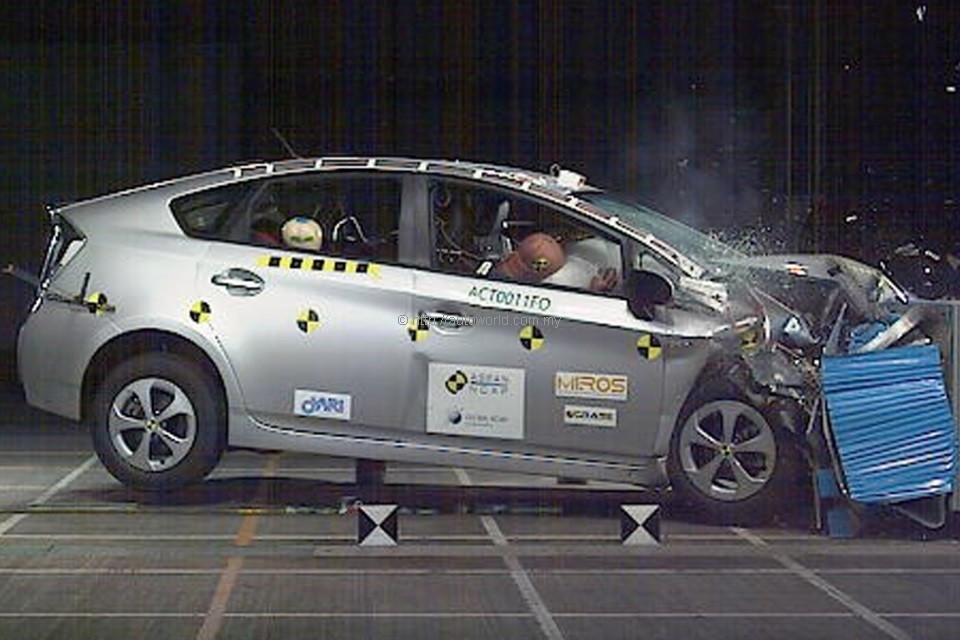 Efforts to promote increased vehicle safety in the region through a standardized crash testing programme continues to gain momentum, as the fledgling ASEAN NCAP completes its second phase with another 11 cars subject to crash tests at the Malaysia Institute of Road Safety Research (MIROS) PC2 lab in Malacca and the Japanese Automobile Research Institute (JARI) in Tsukuba, Tokyo, between May and July 2013.
The results of Phase 1 had been announced back in February this year, and the seven cars tested at that time were bought by ASEAN NCAP from official dealerships of the respective brands. For Phase 2, the organizers have switched to a sponsored testing system, where the test cars were provided by the manufacturers at no cost to ASEAN NCAP.
To ensure fair play and prevent special preparation of test cars, the vehicles used are selected at random by ASEAN NCAP from the manufacturer's stockyard from a batch of minimum 20 vehicles that has already been assembled. For future test phases, ASEAN NCAP plans to use a mixture of purchased and sponsored sourcing of test vehicles.
The eleven vehicles that make up Phase 2 are the Toyota Prius, Honda Civic, Subaru XV, Suzuki Swift, Mazda2, Mitsubishi Mirage, Perodua Alza, Nissan Almera, Mitsubishi Pajero Sport, Toyota Avanza, and Daihatsu Xenia. Majority of the vehicles were tested at the PC2 lab, except for the Prius, XV, and Pajero Sport, which were tested by JARI.
The Avanza and Xenia are actually vehicles of identical design though it is interesting to note that they did not net identical scores – both receive four stars for adult occupant protection, but their scores differ with Toyota scoring 12.98 points and Daihatsu 12.34 out of a maximum possible score of 16. The Avanza was also rated higher in child protection, scoring 38% against the Xenia's 33%.
Phase 2's high achiever was the Toyota Prius, with an adult occupant protection score of 15.30 getting it a full five star rating. For child protection, the Prius scored a commendable 86%. A fact worth noting and praising is that all variants of the Prius sold across Southeast Asia come equipped with the same level of safety specifications as standard – seven airbags, ABS, ESC, seatbelt pre-tensioners and load-limiters for both front seats, and three-point seat belts for all seats.
The same unfortunately cannot be said of the Honda Civic, otherwise a high achiever of the test. Its 14.63 adult protection score qualifies it for a five-star rating, which is nevertheless valid only for markets where the model is fitted with stability control. In Malaysia, all variants of the Civic come fitted with VSA as standard, but in Indonesia, the feature is found only in the 2.0-litre model. Interestingly, the Indonesia-spec 1.8 A/T model tested by ASEAN NCAP actually has paddle shifts.
The discrepancy in the Civic's safety equipment between markets highlights a big stumbling block in ASEAN NCAP's efforts to develop a crash testing standard that is relevant for the entire region. Unlike the more homogeneous European market, the ASEAN market is more fragmented with the various countries each in different levels of development, maturity, and tastes. Things that constitute basic requirements in one market can be regarded as a luxury in another. For example, I once boarded a Toyota Corolla Altis in Thailand that comes without rear seat belts.
A collaborative effort between MIROS and Global NCAP, the ASEAN NCAP is currently supported by automobile associations from Malaysia, Singapore, and the Philippines. The programme currently subjects cars to only one test – a front end collision against an offset deformable barrier at 64kph. Side impact testing is slated for future introduction.
Currently, in each test, two Hybrid III 50th percentile male dummies occupy the front seats and two child dummies (P3 and P1.5) occupy the rear seats; from these dummies, the vehicle's performance in adult and child occupant protection are assessed and scored. Adult occupant protection is scored on a scale of zero to 16.00, which will be converted to a rating from zero to five stars. Cars without ESC and seat belt reminders are however restricted to a maximum of four stars. Child protection score is calculated on a maximum score of 49, which is converted to a percentage.
Full results of ASEAN NCAP Phase 2 are summarized below: