VW Beetle to be won in KLIMS13 lucky draw for Maybank customers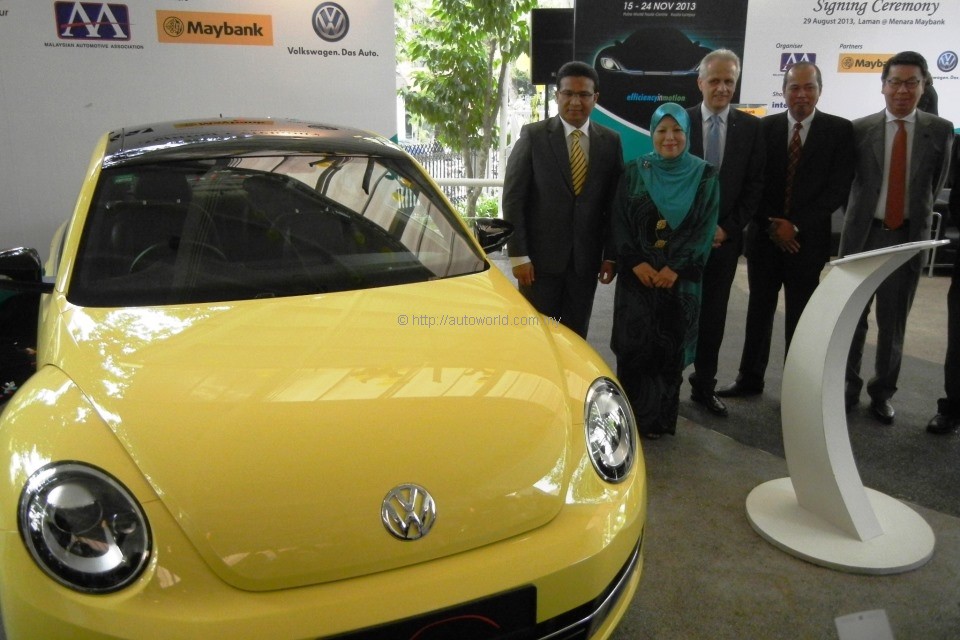 Organizers of the Kuala Lumpur International Motor Show 2013 (KLIMS13), the Malaysia Automotive Association (MAA), has announced the appointment of Maybank as the event's Official Financier during a signing ceremony held at Menara Maybank earlier today. At the event, it was also announced that Volkswagen Group Malaysia (VGM) had sponsored a Beetle 2.0 TSI to be offered as the grand prize for a lucky draw specifically for Maybank customers visiting the motor show.
Signatories present at the ceremony representing their respective organizations were Datuk Aishah Ahmad, President of MAA; En Hamirullah Boorhan, Head of Consumer Finance of Maybank; and Dr Zeno Kirschbaumer, Managing Director of VGM.
In her speech, Datuk Aishah said, "MAA is pleased to be working with Maybank and Volkswagen for KLIMS13. The terms of our collaboration are slated to bring more benefits for KLIMS13 exhibitors and visitors. As the country's most significant motor show, KLIMS13 is organized to deliver a conducive environment for auto players to pitch their products in the market. At the same time, KLIMS13 provides an invaluable opportunity for visitors to check out the latest vehicle models as well as prototypes of future models under one roof."
As official financier of KLIMS13, Maybank will be present at the event venue to offer visitors attractive financing packages and services on the spot should they choose to purchase a car there. Maybank will also promote the event and the lucky draw through its distribution channels and network, and will give out an allocation of complimentary tickets for selected customers.
En Hamirullah said, "Maybank is pleased to be associated with this international motor show which has grown to become the largest and one of the most acclaimed shows in Malaysia and the ASEAN region. Today's signing ceremony is a reflection of Maybank's commitment towards the sustained development and growth of the automotive industry in Malaysia."
For VGM, KLIMS13 represents Volkswagen's first ever participation in the motor show and the brand is seeking to make an impactful debut. On top of sponsoring the Beetle lucky draw grand prize, Volkswagen will also be among the biggest exhibitors of the show, with a 1,100m2 floor space to host the brand's complete product portfolio of models, technologies, and innovations.
Organized by the MAA and managed by Interexpo (M) Sdn Bhd, KLIMS13 will be held at its traditional venue in Putra World Trade Centre, Kuala Lumpur, from 15 to 24 November 2013.