Renault Clio RS 200 EDC previewed to Malaysians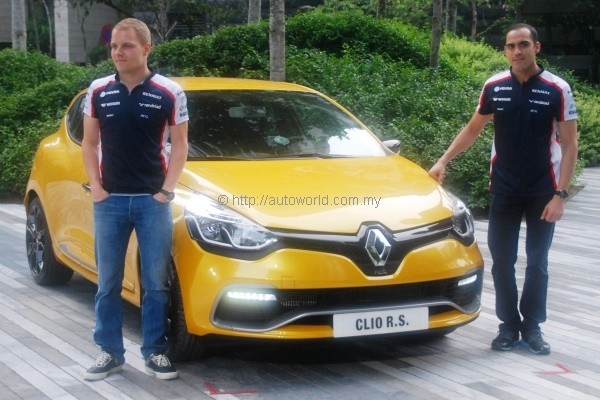 In conjunction with the coming Formula One weekend, Renault's official distributors in Malaysia, TC Euro Cars, has specially brought in a unit of the all-new Renault Clio RS 200 EDC to make its first Asian appearance right here in Kuala Lumpur. The car was unveiled by Williams F1 Drivers Pastor Maldonado and Valtteri Bottas to a special gathering of Renault Sport owners yesterday.
Based on the all-new fourth-generation Clio, the Clio RS 200 EDC debuted globally at the Paris Motor Show last year and it is a substantial deviation from the familiar formula that make up Renault Sport products. The engine is now turbocharged rather than naturally aspirated and only two pedals are to be found at the driver's footwell – the 6-speed manual being ditched for an Efficient Dual Clutch (EDC) transmission that is being offered as standard worldwide.
The predecessor's natural-breathing 2.0-litre four-pot has been downsized to 1.6 litres, but not unexpectedly, there are better numbers to report, thanks to the use of a turbocharger. Peak power has dropped by 3hp to 200hp, but torque has been bumped up substantially and spread over a wider window, up from 215Nm to 240Nm available from 1,750rpm all the way to 5,500rpm. What all this translates to on the road is 6.7 seconds to hit 100kph and 27.1 seconds needed to cover a kilometre of straight road starting from standstill. Top speed is claimed at 230kph.
Unprecedented in the Clio RS segment is the inclusion of Launch Control, a little toy that was once exclusive to supercars that pack more than twice the horsepower. When activated, the system holds engine revs at 2,500rpm to facilitate the cleanest possible getaway once the lights turn green…. on the race track, of course.
Launch Control is one of many systems in a comprehensive array of electronics loaded in the Clio RS. The vehicle's engine, transmission, and safety aid settings can be alternated between three distinct modes – Normal, Sport, and Race – by pressing the RS Drive button mounted along the centre console. Drivers also have access to a multitude of driving data which they can review through the RS Monitor 2.0 that features a built-in data logger. Useful to help improve your track times.
Many modern performance cars use sound generators or amplifiers to give an increased sense of sportiness, but the Clio RS takes the application of artificially generated sound to an all-new level. They actually pulled a pipe from the air intake to the cabin for the specific purpose of transmitting sound and to take things further, there is an application which Renault calls the R-Sound effect that is able to reproduce the sounds of pre-programmed high-performance engines through the car's own audio speakers. A choice of seven sounds is available, three of which are specific to the Clio RS (Alpine A110, R8 Gordini and Nissan GT-R).
Renault Sport engineers usually reserve their best work in the chassis department, and the Clio RS' dampers incorporate what's called Hydraulic Compression Control, where a secondary damper is featured inside the main damper. It is a setup that Renault claims to give the Clio RS a very progressive handling characteristics whilst also being comfortable over poor surfaces.
Further helping to reduce understeer is the electronic RS Diff which continuously monitors the relative speeds of all four wheels. Once slip is detected on a driven wheel, the system applies micro-braking on the wheel which it determines to be losing grip but without reducing engine torque. Renault Sport claims that the progressive nature of its intervention makes its operation barely perceptible to most drivers.
TC Euro Cars has yet to commit to a particular launch date, but the demo car shown to us yesterday will be on display display at the Renault Flagship Showroom in Section 13, Petaling Jaya, open to everyone who wishes to check it out up close. In the coming weeks and months, the car will also be on tour around key locations within the Klang Valley.