ASEAN NCAP refines organization structure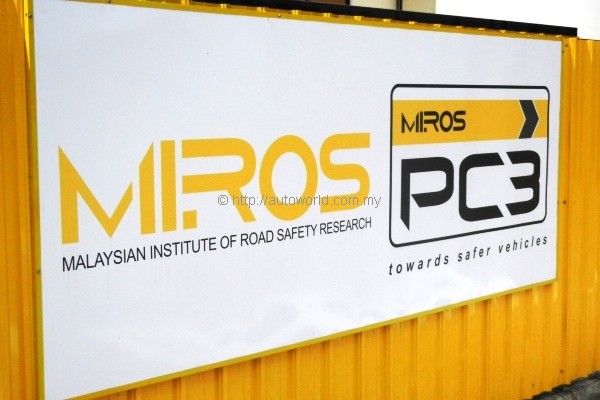 The fledgling New Car Assessement Programme for South East Asian Countries (ASEAN NCAP) takes another step to refine its assessment methodology by organizing its structure into four working groups (WG). This decision was made at the ASEAN NCAP Steering Committee (SC) meeting held in Malacca on 31 Jan.
The four working groups, which will focus on frontal impact, side impact, child restraint, and safety assist, will be gathered and introduced to representatives from industries, universities, research institutions, and government agencies in the inaugural ASEAN NCAP WG meeting scheduled on 18-19 March at the Malaysian Institute of Road Safety Research (MIROS) in Kajang, Malaysia.
Steering committee chairman, Prof Dr Wong Shaw Voon describes the ASEAN NCAP as a shared platform from which all vested parties support improvements to vehicle safety in the region. Prof Wong noted that ASEAN NCAP operates on the same parameters adopted from other NCAPs established worldwide and stressed on the importance of conveying to consumers not only test results but also the meaning behind this results.
Prof Wong also points out the importance of the NCAP programme despite the presence of existing safety legislation across the region. He said that, "In Malaysia, for example, we have now enforced the passive safety element in the Vehicle Type Approval (VTA) based on UN Regulation 94, or UN R94, for frontal impact but the similar test in ASEAN NCAP is of a greater impact. The impact speed alone in NCAP is 64 km/h as compared to 56 km/h in UN R94, and this shows the NCAP test is more robust."
Seven vehicles were evaluated in the first phase of testing for the ASEAN NCAP with the results having just been published last month. The programme will move into its second phase soon, and immediately upon conclusion of the aforementioned WG meeting next week, a briefing session will be held with representatives of car makers focusing on the relevant details of the ASEAN NCAP Phase 2 testing.
"This is the fifth meeting since the inception of ASEAN NCAP in December 2011, and we are consistently proving our commitment to make ASEAN NCAP belongs to everyone for the sake o safer vehicle environment in the region," said Mr. Khairil Anwar Abu Kassim, ASEAN NCAP's Technical Committee (TC) Chairman and also MIROS' NCAP Development Manager.