Nissan Teana receives minor spec enhancements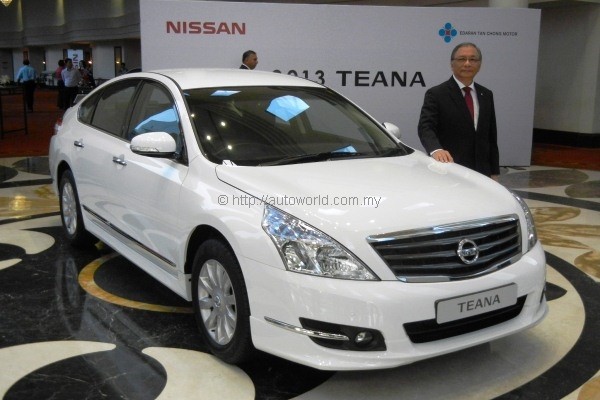 A little over two years since its launch, the Nissan Teana has received some minor spec enhancements going into its 2013 model year. Not really what you would call a facelift, what we have here would more accurately be described as running changes, as there are no mechanical alterations of any kind to report.
For aesthetics, the Teana now comes standard with a new factory-fitted aerokit that comprises of skirtings all-round and a mild duck-tail spoiler. The front grille is now lined in a darker smoked finish, as opposed to chrome finishing previously. Overall differences are very subtle, and to be frank, barely discernible. More noticeable however, is the new dark-trimmed interior for the 2.5 V6 model.
Perhaps the most useful enhancement to the 2013 Teana is the addition of a radar-based Blind Sport Warning System, which is standard fit on the 2.5, and a RM2,500 optional extra in the 2.0. Vehicle detection is facilitated by two 24GHz radar sensors mounted at the corners of the rear bumper. Warning is delivered by an LED light installed at the base of the side mirror, Volvo-style.
In its 2.5 guise, the 2013 Teana is priced at RM173,100 with insurance. Prices are unchanged for the 2.0-litre variants, but the 3.5 has been removed from the catalogue. In conjunction with the launch, customers who purchase their Teana before 31 March will be able to enjoy 0% hire purchase interest rate for 12 months with savings up till RM8,888.