Honda Malaysia aiming to double sales in 2013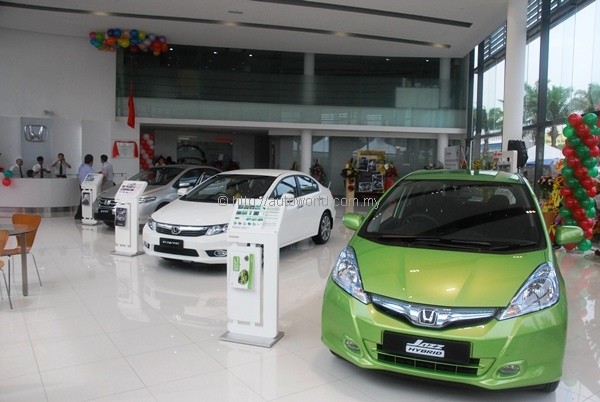 Having rebounded from a slow start, Honda Malaysia rallied to finish strongly in 2012, selling a total of 34,947 to sit fifth overall in the national sales charts behind Perodua, Proton, Toyota, and Nissan. This total accounted for 7.7% of 2012's total industry volume and backed by the momentum of this surge, Honda is aiming for almost double the sales in 2013.
A target of 64,000 units have been set for 2013, and the company's internal projections anticipate that volumes will reach 100,000 units by 2017. Even granting for usual business practices to always paint bullish outlooks to maintain investor confidence, Honda's bold prediction in almost doubling its sales is remarkably ambitious.
Fueling this seemingly audacious belief is that most of Honda's volumes in 2012 came in the second half of the year, where over 24,000 units were sold. The company sees the first half of 2012, in which production was severely impacted by the devastating Thai floods that wreaked havoc throughout the company's supply chain in the region, as a something of a missed opportunities as strong demand for its vehicles had to be left unfulfilled. Barring another natural disaster, Honda sees 2013 an opportunity to enjoy a full year of uninterrupted sales, hence the optimistic projections.
A major contributor of Honda's 2012 volumes is its line-up of hybrid models, which currently consists of the Jazz Hybrid, Insight, CR-Z, and Civic Hybrid. Together, these four models brought in 14,000 sales, and makes Honda the leading seller of hybrid vehicles in Malaysia. The country's top-selling model is amazingly, the CR-Z. In November 2012, Honda became the first car maker to assemble a hybrid vehicle locally, in this case, the Jazz Hybrid.
Mr. Yoichiro Ueno, Managing Director and Chief Executive Officer of Honda Malaysia said in his speech at the event, "2012 is a year where we strengthened our operations for the transition towards an even more competitive market. We are aggressively building a stronger brand image and maximizing all our efforts to improve ourselves for future growth. Honda Malaysia is aligning our focus with Honda Motor's global strategy and strengthening our sales volume. We will be introducing exciting new models every quarter, including 3 upcoming CKD models."
The three models, which we speculate to be the next generation models of the CR-V and Accord, plus an unspecified entry-level model below the City but denied to be the Brio. Honda expects these new models to sustain its bullish sales predictions, and supporting this growth would be the new No.2 line at the Malacca plant that will bring Honda Malaysia's total annual capacity to 100,000 units once completed.
Also being upgraded is the company's sales and service network, which will grow from the current 61 outlets nationwide to 90 over the next three years. Not just content with growing in quantity, Honda is also seeking to rationalize its network and offer added training to its personnel in order to raise service quality levels. Greater attention will be paid on improving after sales, to provide greater availability of in-demand services such as body and paint.
Commenting on Honda's 2013 plan, Mr. Ueno said, "Our direction for 2013 will contribute towards Honda Malaysia 2020 vision of having attained an unassailable leadership in environmental friendly technology. We envision implementing green technology locally as its acceptance would have picked up more pace by then. Honda Malaysia is also targeting at increased cost competitiveness to provide high brand value products at affordable prices."