Results: Autoworld Car of the Year 2012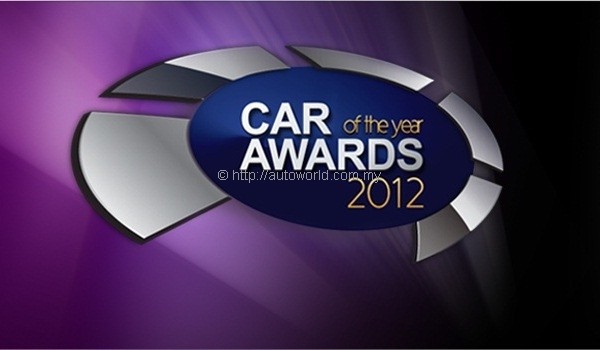 Results of the Autoworld Car of the Year 2012 are out, and we have just announced 17 winners from a pool of 31 cars launched between November 2011 and October 2012. As before, results of the Autoworld Car of the Year 2012 are determined by a combination of judges' scoring and online voting to deliver an outcome that is credible and also reflecting of general sentiment.
For the first time ever the Autoworld awards judging panel made the decision to give out an overall Car of the Year award, and the honour went to the facelifted Audi A4, who also won the Best Premium Compact Passenger Car category. Amongst all cars tested, the A4 had the highest overall score after the judges scores and online voting were tallied. Coming close behind the A4 were the Ford Ranger, Honda CR-Z, Lexus GS 250, and Range Rover Evoque.
On their own, judges and voters each had their own preferred choice of vehicles. Four cars were nominated for the Judges Choice Award, namely the Ford Focus, Honda CR-Z, Range Rover Evoque, and Volkswagen Polo Sedan, with the CR-Z emerging triumphant being the one picked by most judges. Surprise winner of the Members Choice Award is the all-new Ford Ranger edging out the Alfa Romeo Giulietta, Audi A4, Honda City, and Renault Clio RS 200.
There were three special mention 'Value-for-Money' titles awarded to cars that gave the best value for money preposition to the consumers. Nissan's popular new Almera was named Best Value-for-Money Passenger Car, and the CFE-powered Proton Exora Bold was selected as Best Value-for-Money MPV. Named Best Value-for-Money SUV/Crossover was the Chevrolet Captiva 2.0 VCDi.
The full line-up of winners are listed below:
Best Sub-Compact Passenger Car: Honda City
Best Premium Sub-Compact Passenger Car: Renault Clio RS 200
Best Compact Passenger Car: Ford Focus
Best Mid-Sized Passenger Car: Volkswagen Passat
Best Premium Compact Passenger Car: Audi A4
Best Premium Mid-Sized Passenger Car: Lexus GS 250
Best MPV: Volkswagen CrossTouran
Best SUV/Crossover: Mazda CX-5
Best Premium SUV/Crossover: Range Rover Evoque
Best Pick-Up Truck: Ford Ranger
Best Alternative Energy Vehicle: Honda CR-Z
Best Value for Money Passenger Car: Nissan Almera
Best Value for Money MPV: Proton Exora Bold
Best Value for Money SUV/Crossover: Chevrolet Captiva 2.0 VCDi
Judges' Choice Award:
Nominees: Ford Focus, Honda CR-Z, Range Rover Evoque, Volkswagen Polo Sedan
Winner: Honda CR-Z
Autoworld Members' Choice Award:
Nominees: Alfa Romeo Giulietta, Audi A4, Ford Ranger, Honda City, Renault Clio RS
Winner: Ford Ranger
Overall Car of the Year:
Nominees: Audi A4, Ford Ranger, Honda CR-Z, Lexus GS 250, Range Rover Evoque.
Winner: Audi A4