Toyota Hilux 2.5 VNT Test Drive Review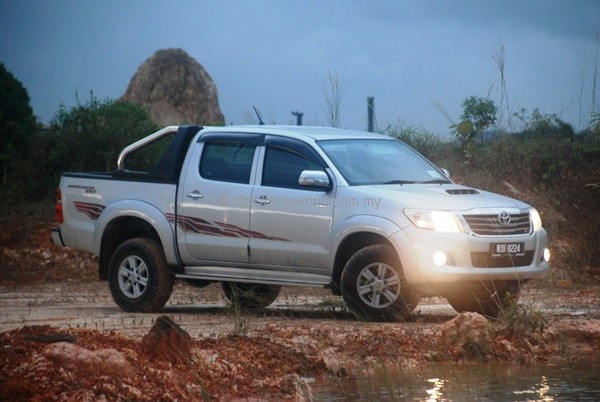 The Toyota Hilux often comes under fire from critics (us included) for being underpowered and poorly-equipped. Yet, these do not seem to be issues close to the heart of owners. Indeed, if power was that important to pick-up buyers, our streets would be flooded with Nissan Navaras. Time will tell how the glitzy new trio launched this year – Ford Ranger, Mazda BT-50, and Chevrolet Colorado – will fare.
Well, you can condemn the Hilux all you want, but the reality is that Toyota remains firmly perched at the top of pick-up truck sales charts, and one suspects it will take quite an effort to wrestle that particular crown. The Ranger now leads the charge, followed by the equally new Colorado, and with the Volkswagen Amarok due to arrive soon, the competition is piling on the pressure.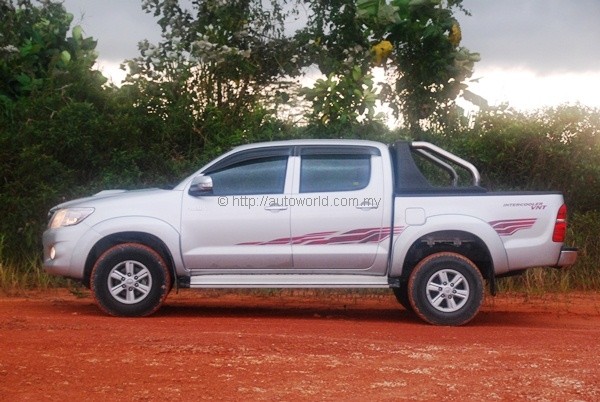 Hilux has better manners off road than on it.

It is likely that the Hilux will still continue to sell in droves even if Toyota left it as it was, but with rival trucks competing to outdo each other in the horsepower race, the Hilux's outputs of 101hp and 260Nm are getting increasingly embarrassing for its owners at the traffic lights. Most 2.5-litre trucks comfortably push out about 150hp and 350Nm these days, and the timing is therefore right for Toyota to dial the Hilux's game up a couple of notches.
The recently launched Hilux 2.5 VNT brings an additional 41hp and 83Nm to the table. At a premium of just RM3,000 variant-for-variant, it is an update of pretty decent value. A new intercooled variable nozzle turbocharger, hence the VNT nomenclature, is responsible for the improved outputs, although truth be told, this engine has been running around in Thailand for a number of years now. Interesting how competition motivates people, yes?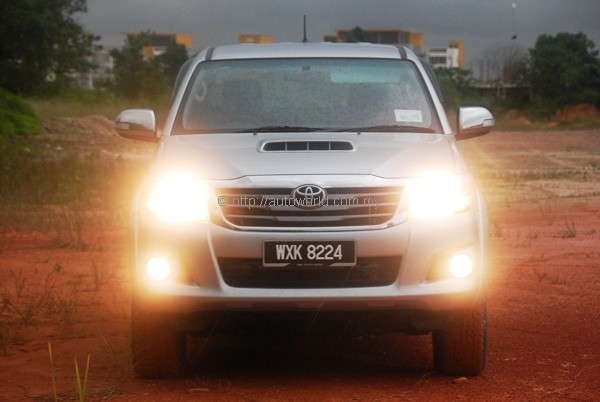 New front fascia was introduced in Hilux's facelift last year.

The final output figures of the Hilux 2.5 now read 142hp @ 3,400rpm and 343Nm @ 1,600 – 2,800rpm; not spectacular to be honest, but respectable nonetheless. As we have pointed out in our earlier launch and review story published in October, the Hilux's outputs are still deficient when stacked up against its rivals, but Toyota's conservative state of tune is to the benefit of fuel economy and long-term durability. It is not beyond Toyota's means to put a few extra ponies under the hood, but winning horsepower races was never listed in the engine's job description, and neither was Toyota ever tempted to do so.
In recent years, every other test car that comes our way is blown by a turbocharger or two, so the sensations of forced induction driving have grown increasingly familiar to us. There is that addictive plateau of mid-range torque responsible for the relentless acceleration these cars have come to be known for. The Hilux VNT benefits from this too, and with a few additional kilometres on the odo, our test car on this follow-up review felt notably more responsive than the fresh-from-factory units we tested in our media drive to Belum in October.


Another observation that I have personally gleaned from testing all those turbocharged cars is that deliberately under-tuned engines exude very pleasing sensations of smoothness and effortlessness when cruising. The 158hp Volkswagen 1.8 TSI and 184hp BMW 2.0 TwinPower Turbo engines are two notable examples where the respective manufacturers exercised restraint in the outputs which they decided to extract, and the results are powertrains of exceptional smoothness and refinement. While we are not suggesting for a moment that Toyota's truck engine should be compared to the two German masterpieces, the Hilux 2.5 VNT was in fact impressively smooth and refined for the type of engine it is.
On-road ride quality of the Hilux is just so-so – the Mitsubishi Triton can teach it a few lessons in this respect – but amazingly, the bumpy ride failed to obscure the vehicle's surprisingly high levels of overall mechanical polish and smoothness. Some may laugh at the 4-speed automatic transmission of our test car, but in truth, there was never an occasion where we found ourselves yearning for a fifth gear. Toyota chose its four ratios rather well, and as a whole, the Hilux's engine and transmission did what was asked of them with minimum fuss.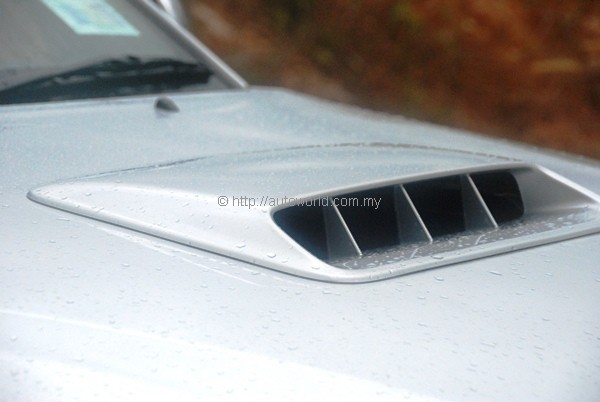 Characteristic bonnet scoop mark out VNT model.

If Toyota deserved praise for the new engine, it has remained stingy in terms of equipment. Next to the Ford Ranger with features as advanced as voice command, the absence of even a multi-function display makes the Hilux's interior seem archaic and it would be even more so had our test car not come equipped with the optional 2-DIN DVD-AVN touchscreen unit. We recommend checking this particular box along with the reverse camera. Steering-mounted controls is another lamentable absence, but standard Bluetooth integration for the 2.5G model is commendable.
The improved outputs is a welcomed and, in our opinion, much-needed boost to the Hilux's package as a vehicle. Although many rival trucks remain more powerful and offer more equipment, that has never dislodged Toyota from the pick-up segment throne. What we have here, is essentially the same Hilux that Malaysians have always loved but just boosted with a bit more power. Toyota raised its game at just the right time.