BMW 320i (F30) Test Drive Review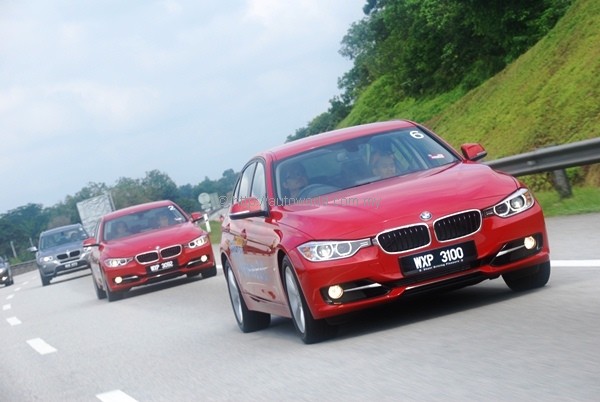 As we enter the tail end of 2012 and anticipate the arrival of 2013, the time has also come for us to sit down and review our activities for this year and plan for what's to come next. BMW had the honour of making the industry's first launch this year, and it was the introduction of its all-new 2.0-litre TwinPower Turbo engine in the F10 5 Series powering the 520i and 528i M Sport.
Designed to replace the naturally-aspirated inline-six engines that BMW has been renowned for since time immemorial, the new 1,995cc N20B20 engine features highly-advanced technology such as twin-scroll turbocharging, direct injection, Valvetronic, Double VANOS, auto start/stop, and brake energy regeneration to simultaneously push the envelope in both performance and economy.


Both locally and worldwide, BMW has been rolling out the N20 across its range in almost everything south of the 6 Series and X6. In its 184hp and 245hp states of tune, the N20 can now be found in the X1, X3, Z4, 3 Series, and 5 Series. This engine marks the start of a new era for BMW, and appropriately, it bookends BMW Group Malaysia's calendar for 2012.
Longtime readers of this website will remember the 'Drive to EfficientDynamics' trip we went for in 2009, where we drove from Kuala Terengganu to Penang via Port Dickson in the diesel-powered E90 320d and E60 520d. Three years on, with another new engine to highlight, we find ourselves in the sequel 'EfficientDynamics 2.0′ drive trying out the new N20 engine in its 184hp/270Nm guise.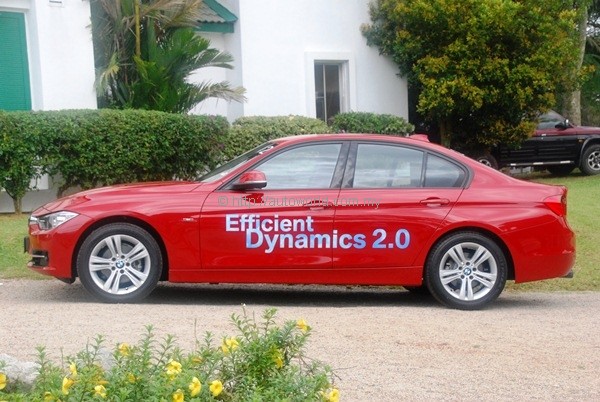 The 320i was amongst four models which we tested at BMW's EfficientDynamics 2.0 drive.

We sampled the engine in four different BMW models in a three-day two-night return journey from Cyberjaya to Desaru, Johor. Having already reviewed the X3 xDrive20i and 520i earlier this year, the focus of our story today will be on the 320i, latest addition to the F30 3 Series range. A separate review of the newly-facelifted X1 sDrive20i will follow at a later date.
Once upon a time, having a '320i' badge on your bootlid is no different than pasting a bumper sticker that reads 'I can't afford a 325i'. The 320i of today is significantly more pleasing as a prospect with more power and better equipment levels. It is still the entry-level 3 Series variant at RM238,800, but introduction of the new N20 turbocharged engine makes this a very big upgrade from its underpowered E90 predecessor which, to recap, pushed out a mere 156hp and 200Nm.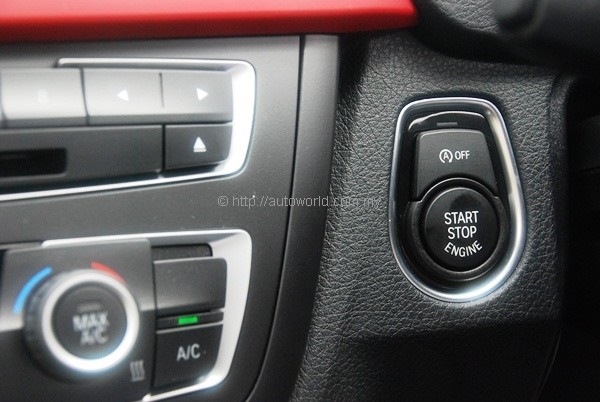 We have said enough about BMW's auto start/stop in previous reviews.

Equipment-wise, the 320i is on-par with the 320d, and it is offered with the option of Sport or Luxury line trim catering to a bigger range of tastes. Both our 320i test cars for this drive were bright red units specified in the more aggressive-looking Sport trim that is notably highlighted by extensive usage of high-gloss black finishing inside out. Its iDrive system is pretty basic, with only a 6.5″ inch central display and no built-in satellite navigation, but it does support connectivity via USB, Bluetooth, and Aux-In.
Items that do come with the money include cruise control, xenon headlights, auto wipers, auto headlights, front and rear fog lights, ISOFIX mounts, front and side airbags, a raft of safety electronics, dual zone climate control, and tyre pressure monitor just to highlight the properly useful stuff. A decent kit count overall, but we would have appreciated keyless access and may be a reverse camera; if BMW offers these items as cost options, they would be boxes that we recommend ticking. Truth be told, beyond the inconvenience of digging through my pockets for the key fob, the 320i has most of what I would need in a car.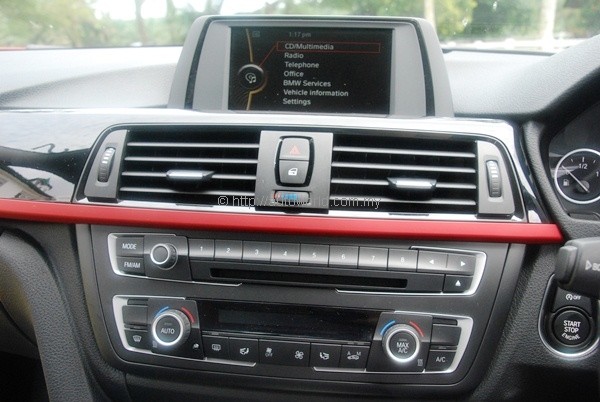 Basic iDrive with 6.5-in screen and no GPS.

Typical of a BMW, the 320i's driving experience is particularly worth highlighting, especially now that it is powered by an engine of considerable grunt. Never mind that this is not the engine's most potent state of tune, there is a pleasing balance in how the 320i behaves itself that we constantly found ourselves questioning if there is even a need for the 328i beyond bolstering our egos. In any case, if so many E90 320i owners can make do with 156hp, we are sure many would more than happy to step up to 184hp.
The 320i's onboard electronics are managed by a five-mode Driving Experience Control system that allows the driver to vary from tree-hugging Eco Pro mode to road-burning Sport+ mode, with Comfort+, Comfort, and Sport being the modes in between. There are no adaptive dampers in the 320i, so fiddling the switch only alters throttle response, engine and transmission settings, with Sport+ having the added function of activating a more aggressive setup for the traction and stability control systems.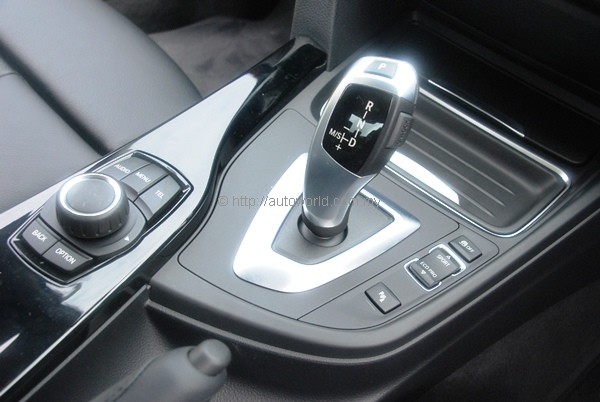 8-speed automatic transmission is lighter and more compact than the old 6-speeder.

The absence of adaptive dampers mean that BMW engineers only have one chance to get its suspension settings right, and thankfully, they did, at least as far as this writer is concerned. Consistent with our observations in other variants of the F30 we have reviewed, the 320i does not handle as sharply as its predecessor, but it is also significantly more pliant and easier to live with. An E90 with the same amount of power will probably outgun the F30 on track, but in the real world where there are potholes to avoid and undulations to iron out, our bets are on the F30 being more composed and consequently faster.
Reduced steering feedback compared to the E90 is another reality of the F30's driving experience, and this is a drawback that is a little more difficult to defend, although it is not unexpected considering BMW's shift to electric power steering, which is lighter, cheaper, easier to maintain, and easier to tune. The days of hydraulic power steering are numbered, and to be fair, BMW did a fine job to tune the F30's rack to be as communicative as it is. No problem with steering response though, the 320i steers quickly and sharply enough for our tastes.
The 320i excels as a supremely well-balanced package, and BMW did such a fine job of it that almost renders models at the upper end of the 3 Series spectrum a little redundant, although those who swear by diesel power can still make a convincing case for the 320d. What's genuinely pleasing about the 320i is how it no longer feels like the poor relation of the 3 Series range. Owners of the previous 320i in particular, should seriously consider this for an upgrade. Nobody will laugh at you for not being able to afford a 328i this time.