Nissan Leaf Ambassador Interview Part 2 – Mr & Mrs Tan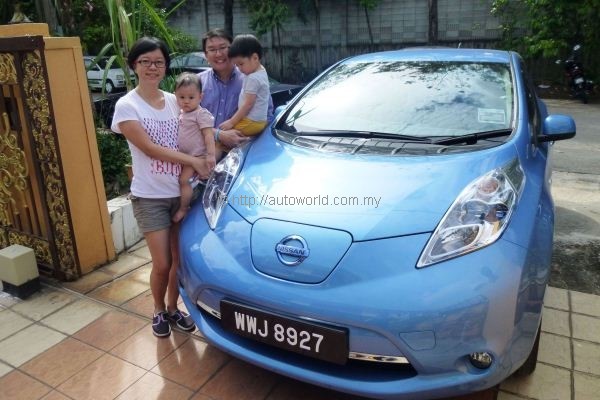 The Nissan Journey to Zero Emissions programme continues apace with the second batch of four ambassadors arriving at the end of their six-week stint with the all-electric Nissan Leaf. Midway through the six weeks, we spoke with Mr Suresh Thiru on his experience with the Leaf, and now we hear the thoughts of Mr & Mrs Tan Thiam Chye on their time with the car.
Mr Tan, also known by his English name David, describes the couple's daily traveling patterns as consisting of a lot of short drives with no more than 20km per trip averaging four destinations a day for meetings and work. Time with his wife Jenny usually involves going to the the family's fitness club and shopping with the kids in the evening. The couple has a Nissan Sentra and Proton Iswara at home.
Describe your experience in general of the Nissan Leaf – how well did it fit into your daily lives?
David: We drove the Nissan leaf exclusively without touching both our cars except when we had to travel separately. The car can meet our day to day demands and even our short trips on weekends.
(Ed: When we caught up with them again shortly after the interview, David mentioned that they did use their own cars for very short commutes around the neighbourhood just to 'keep the engine running'.)
Did you experience any nervous moments with regards to range anxiety?
David: We'd be lying if we didn't, but in retrospect, most of the times, which was only 3 times, both of which we arrive back with 2 bars to spare. We were in that situation because there weren't any other charging station at where we were going. However there is a small fear in the back of my mind, that if we do return home with low power and we are suddenly faced with an emergency that requires us to travel immediately, there is currently no quick fix for this.
Jenny: A week ago, we drove up to Klang for Bak Kut Teh session and although there was enough charge in the battery to last our trip back to PJ, we did experience some near scary moments as we had originally planned to visit an old friend of our parents and had to postpone the idea when we realized we are not sure of their house directions and we saw the upcoming traffic deadlock ahead. Just before the traffic queue, we U-turned and headed home.
You must have received a lot of attention during your time with the Leaf. How did your friends and family react to the car?
David: Yes the car has been a real big magnet. Malaysians being typically shy, we still get the odd few who come up to us and chat and enquire about the car. Most of our friends and family are pretty much sold by the driving andriding experience. The car pretty much speaks for itself, its shape and color is often the first positive comment, followed by the ooohs and aaahs about how spacious it actually is. Then comes the shock and disbelief, even telling them it's an EV car, that this car does not need petrol or black oil. Most of the time, halfway thru our conversations, the topic of price will come up – as if they were about to pull out their cheque books, hahaha!! – of which we had to tell them that there is no price set as of yet, which then leads to a whole bunch of theories and speculation of the possibility of the price. I'm glad to report that the perceived price of this car is between RM130-180k. But most agree that it will be likely same or cheaper than the Prius.
Jenny: They all love the car and among their reactions are 'Very quiet', 'Love the torque!', 'Like aeroplane!', 'Very spacious, deceiving as it looks small from outside!'. My hubby would be able to share more awesome moments as he drives the car more often than me and he often shared with us how easy it is for him to overtake other cars such as the MR2 and Mazda 5, and almost one time with a Nissan Fairlady that took those drivers by surprise as they never thought an EV car will be able to speed up so easily!
Time to hand the keys over, any unwillingness to part ways, or are you looking forward to life with the petrol engine again?
David: We dread it every day. The savings are very significant for us. And once you tried the EV way.. It's very hard to turn back.
Jenny: Definitely reluctant to give back the EV car as it has been a big part of our lives in this 7 weeks! Will definitely look forward to it being sold in Malaysia market! Hopefully the price is affordable enough and that Nissan retains all the features in the EV.
Did you learn anything new about electric vehicles during your time with the Leaf?
David: We did some research on EVs when the Leaf debuted in the US. But I have to say that reading and knowing is one thing, experiencing it is totally something else! What we have learned indirectly how much energy we actually waste with petrol, seeing that the leaf only uses about 18-20kwh per day for about 80-90kms
Jenny: My time with the EV opened up my eyes as everything is run by electric. Everything. With that said, people are still very much dependent on petrol and it will take a long time and lots of effort to get them to have confidence in EV. It is very much appreciated to know Nissan's efforts in moving towards zero emission and every little bit of effort definitely helps!
Do you see the Leaf as an attractive long-term ownership prospect? And why?
David: I see the leaf as a prime candidate as a daily running car in many families as it is really viable alternative for city driving. But we will still need to have at least 1 other car that we use for the long trips. For our family we used to envision a small sedan for the daily running and a 7-seater / MPV for when the family gets bigger. The Leaf can definitely be our daily running car.
Jenny: Yes, definitely cost saving not to mention lots of awesome features in the EV that is family-friendly and user-friendly as well!
Pictures: David & Jenny