UMW Toyota Motor celebrates 30th anniversary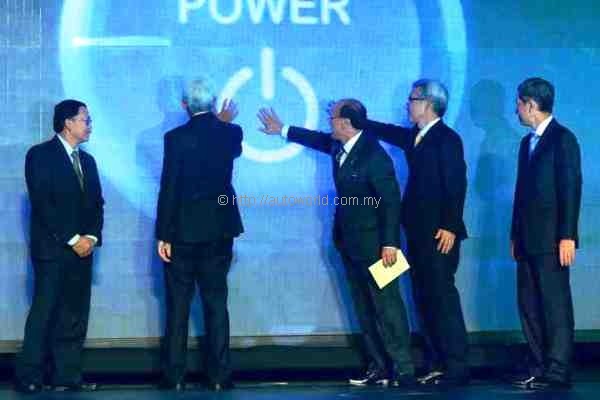 Earlier this week, UMW Toyota Motor Sdn Bhd marked the 30th anniversary of its formation as a joint venture between UMW Corporation and Toyota Motor Corporation back in 1982. Now the largest non-national car company in Malaysia, UMW Toyota has created over 100,000 job opportunities for the Malaysian workforce in its 30 years of operation.
A gala dinner themed 'Growing Together in Harmony' was held at Mandarin Oriental hotel in Kuala Lumpur to celebrate the occasion attended by over 500 guests including former stalwarts of the company who were honoured on stage. Notable guests include Mr. Shigeru Nakamura, the Japanese Ambassador to Malaysia, Mr. Yukitoshi Funo, Executive Vice President of Toyota Motor Corporation, Datuk Takashi Hibi, Deputy Chairman, UMW Toyota Motor, Datuk Syed Hisham Syed Wazir, President and Group CEO of UMW Holdings Bhd, Datuk Ismet Suki, President of UMW Toyota Motor.
From models such as the Corolla KE70 and Corolla AE101 to the likes of the Corona and Camry 2.2GX, and now the Vios, Corolla Altis, Hilux, and the latest Camry XV50, UMW Toyota Motor's products have cemented themselves as important elements in the Malaysian motoring landscape. Building formidable reputations of quality and reliability, one can still find many examples of the Corolla AE101 and even older models plying the streets of Malaysia in pristine condition.
At the gala dinner, Tan Sri Asmat Kamaludin, Chairman of UMW Toyota Motor, spoke of UMW Toyota Motor's contributions to the country's economy through network expansion and enhancement, localization of products that requires upgraded manufacturing of facility and vendor development.
"Our strong resource base and productive capacity have become one of the main factors that we have contributed to driving the national economy. We are pleased to announce that we invested and will be investing up to RM 1 billion from 2011 to 2013 that includes further development of our manufacturing facility Assembly Services Sdn Bhd (ASSB), expanding our network and concentrating on developing and support our local suppliers so they will be more competitive in this region," said Tan Sri Asmat.
On the aspect of personnel development, Tan Sri Asmat noted that, "UMW Toyota Motor believes human capital development is crucial for long-term growth and success of the company. Thus, we have also introduced the Inter Company Transfer (ICT) programme to enable our employees undergo one to two years of work and training in other Toyota companies in Japan, Thailand and Singapore. The programme is set to improve their skills and experience through exposure at the global level."
In addition to selling cars, UMW Toyota Motor also actively conducts Corporate Social Responsibility (CSR) programmes organized into three core pillars. One such programme is the Toyota Classics series of orchestras, which in this year's edition featured the Vienna Chamber Orchestra and raised RM310,000 for two bodies, namely the Persatuan Pemulihan Orang-orang Cacat Selangor & Wilayah Persekutuan (PPOC) and the Malaysia-Japan International Institute of Technology (MJIIT). In addition to cash donations, PPOC received a unit of the Toyota Hiace, whilst MJIIT receved a Toyota Prius.
"Since the inception of the Toyota Classics in 1990 we have raised RM6.6 million to benefit 50 organisations, through ticket sales and corporate donations. This is substantial fundraising for charity and speaks volumes on the generosity of Toyota"s business partners and the people of Malaysia," said Datuk Ismet Suki.
Other activities include a Road Safety programme which targets preschool and primary school children with the aim to raise better and considerate road users in the future. As part of its long term commitment towards the environment, UMW Toyota Motor has also introduced the Toyota Eco Youth programme to cultivate awareness and encourage respect for the environment among youth in secondary school and their surrounding community using problem solving methodology.
Pictures: Official UMW Toyota Motor release.