Honda Civic 2.0S Test Drive Review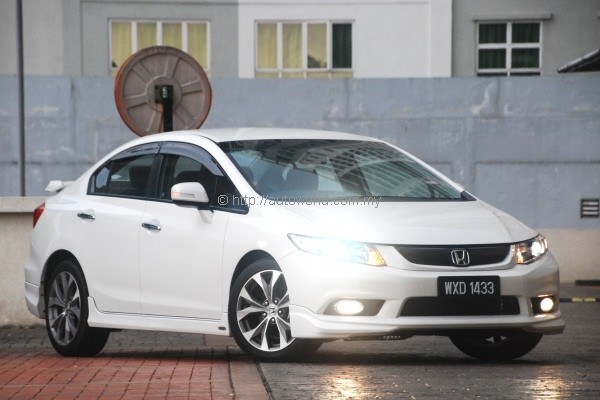 The Honda Civic is a car with steep history, starting from its humble origins as an entry-level model in 1973 to its gradual transition becoming a key segment player. When the eighth generation model debuted in 2005, it shifted the segment goal posts by such a margin that rivals are just only beginning to catch up in the last couple of years.
Glossed with futuristic looks inside out, the eighth generation Civic FD was an incredibly well-balanced package, and it was rightly regarded as the C-segment's benchmark car. Honda's greatest success with the Civic FD was the incredible leaps in improvements that it made when compared to the seventh-generation predecessor. To put it short, the eighth-generation Civic took the market by storm.


The Civic FD's incredible success has created a big problem for Honda, because now, seven years later as we look at the ninth-generation Civic FB, my first response was, "That's it?" The FB's problem is that although it is not a regression from its predecessor, it did not advance the game by the same margins which the FD did seven years ago.
Having said that, can you blame Honda? When a product sells as well as the Civic FD did, chances are you don't want to mess about that formula too much, and the result is that the Civic FB retains a lot of cues from its predecessor. This is most certainly an evolution, rather than a revolution from the FD. Current FD owners will find many familiar elements in the FB, notably its two-tiered dashboard and overall design silhouette.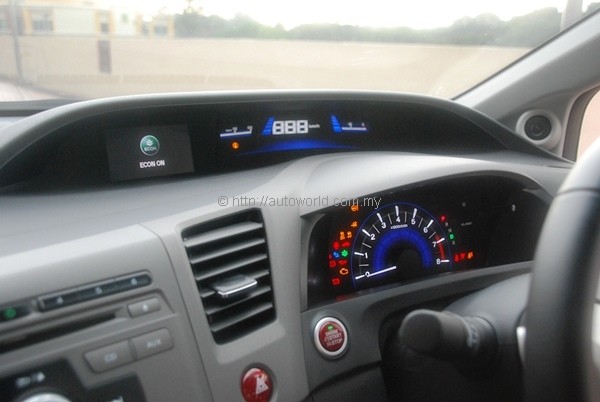 Two-tiered instrument panel now includes a useful multi-info display.

Mechanical underpinnings are similarly reworked from the predecessor, and examining the specs sheet, one is tempted to conclude that Honda has subjected the Civic to a number of cost-driven alterations. The rear double wishbones, for example, are ditched in favour of a simpler, but still independent, multi-link setup; and for 2.0-litre models like our test car pictured here, the K20Z2 twin cam engine has been dropped in favour of the single-cam R20A that we also find the Accord and CR-V.
While we won't be surprised if Honda did indeed save a few bucks per car from these changes, it is equally important to note that the driving experience did not suffer as a result. In fact, in some areas it is even improved from the FD, especially with regards to ride comfort. Where the FD can be unbearably stiff at times, our test car's suspension was noticeably more pliant without being too soft.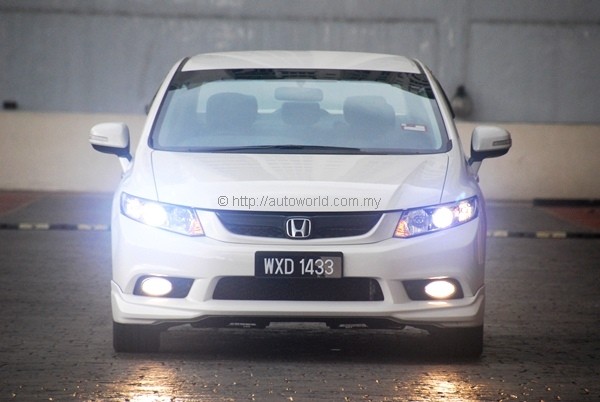 The new Civic is good, even if it is no longer a segment-defining product like the FD.

Driving dynamics remain a strong point of the new Civic, even if the R20 does not rev with the same lustre as the old K20 did. Honda quotes outputs of 153hp and 190Nm for the new car – same horsepower as the old model, but a 2Nm increase in torque. Paired to it is Honda's tried and tested 5-speed automatic transmission with paddle shifters. These specifications are no longer class-leading by today's standards, but it is nevertheless adequate to handle the Civic's 1,270kg kerb weight without any struggle.
There is little doubt that the Civic remains one of the better-to-drive alternatives of the segment. The new and glitzy Korean cars, for example, are still no match for the Civic's dynamic prowess, and it is still more engaging to drive than its key Japanese rivals, namely the Corolla and Sylphy. It just about matches the Mitsubishi Lancer and Mazda3, though the Ford Focus will provide a very stern examination.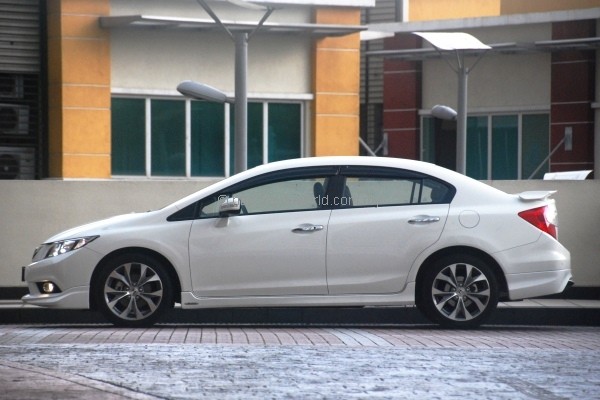 Optional Modulo bodykit adds RM4,670 to the price of our test car.

Mechanical refinement is well-honed, with no unpleasant noises from the engine room or suspension on the move, but the overall NVH package can be further refined. Insulation of external noise can use further improvement, and on a wet day, the roof sounds shockingly hollow when pounded by rain drops.
My test car for this review is the middle 2.0S variant without satellite navigation. On-the-road price is RM131,980, though there are RM7,840 worth of accessories, most of them Modulo bodykits tacked on. I recommend that you give these accessories a miss, and specify the 2.0 Navi model instead, which is a more worthwhile RM5,000 premium. The reverse camera that comes with the built-in multimedia unit will certainly prove useful, as the Civic's rear visibility, particularly when fitted with the rear wing spoiler (stay away), is rather poor.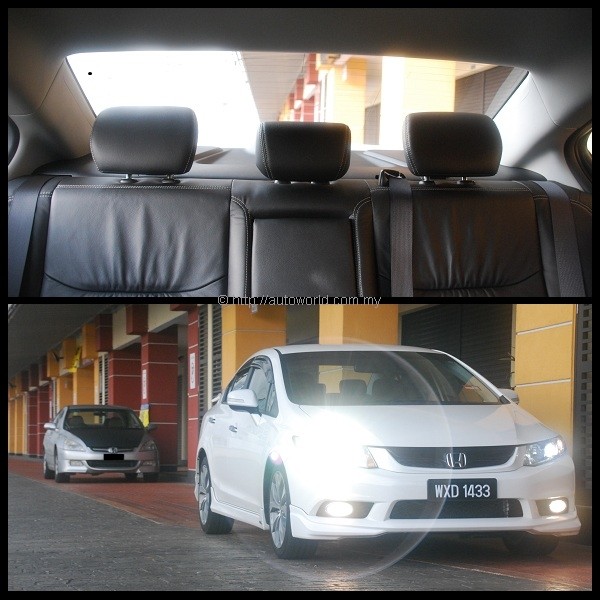 Rear visibility is not a strong point of the Civic.

Standard equipment on our test car include auto HID headlights with auto-leveling, front fog lights, side mirror-mounted indicators, leather upholstery, keyless entry and push button start, electric driver seat adjustment, reach and rake steering adjust, trip computer with multifunction display, ISOFIX, front and side airbags, and stability control. Once upon a time, these would have been class-leading, but although it still does not feel impoverished, many rivals have gained ground and achieved a level footing with Honda on this front.
Compared to the Civic FD's time when only the Toyota Corolla provided a stern challenge to Honda in the C-segment, the new Civic FB enters a market that has become significantly more competitive. Not only are there more rivals to contend with, many of them are in fact rather good. Honda played it safe by choosing not to tinker too much with what was a winning formula. The result is a product that is still competitive, make no mistake about that, but choosing a Civic is no longer the no-brainer of a decision that it once was. The Civic still holds its own, but rivals have gained ground.