Volkswagen CC 1.8 TSI Test Drive Review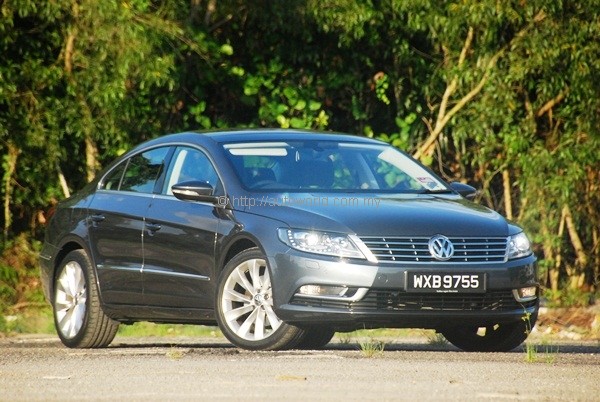 Once upon a time, Volkswagen introduced the stylish Passat CC in Malaysia, and it sold like hot cakes. A price tag of RM245k before insurance for the sole 2.0 TSI variant proved too attractive for many to resist, and batch after batch were snapped up by eager buyers. The honeymoon period lasted only two years when dubious revisions of the car's duties forced an upward price revision of RM11k in 2011.
This unfortunate development is the key reason why the facelifted model, now known as just the Volkswagen CC, comes with a smaller 1.8 TSI engine which it shares with the Passat. Although the 2.0 TSI remains available for selection in the global catalogue, it is quite obvious that Volkswagen Group Malaysia's decision to pick the 1.8 as the CC's sole variant is to allow its return to a more attractive price point.


You can now get your hands on a brand new CC at RM226,967.20 before insurance, a sum that gets you equipment such as electronic stability control, Adaptive Chassis Control (DCC), bi-xenon headlights with dynamic range adjustment, dynamic bending lights, LED daytime running lights, dual-zone 'Climatronic' climate control, dual frontal and curtain airbags, and electric seat adjustment as standard.
Topping in an additional RM18,000 gets you the CC in Sport spec as tested here, and for that extra money, you get upsized alloy rims (from 17″ to 18″), keyless entry and start, reverse camera, panoramic glass roof, and a 600W Dynaudio sound system with 10 speakers. The keyless system and reverse camera are the only items of that list that genuinely moves us.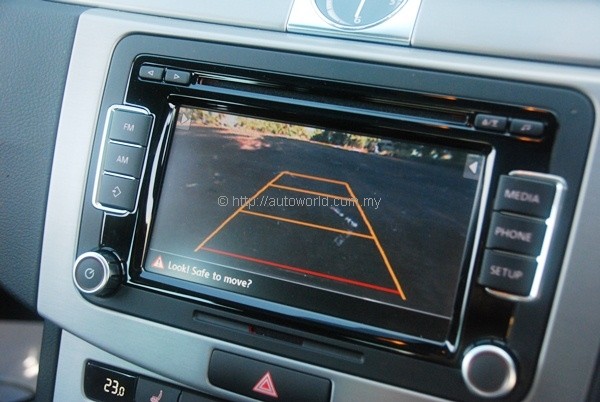 Multimedia touchscreen features reverse camera, but no GPS.

Despite its change in nomenclature, alterations to the CC are largely aesthetic, as Volkswagen grafts its current-generation corporate look onto the vehicle's svelte dimensions. Under the sleek panels, however, the Passat's highly-polished and refined mechanicals continue to run the show, despite VW's conscious attempts to distance the two models from each other.
The interior is similarly cut from the Passat's cloth as well, but additional features such as contoured sport seats and start-stop button remind you of this model's more upmarket positioning. Rear accommodation is impressively uncompromised despite the raking rear roof, but the absence of roof-mounted grab handles is bemusing. It is worth noting, though no less shocking, that the Passat does without them as well.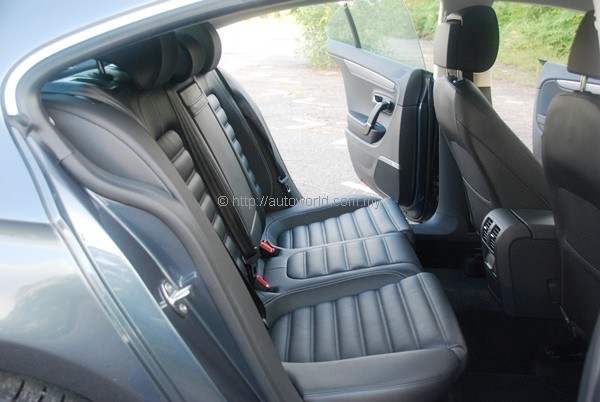 Rear takes three passengers.

The CC retains most of the standard Passat's driving characteristics, especially now that the engine being used is identical. While 158hp and 250Nm are hardly scorching figures these days, the engine's delivery of that grunt is pleasingly smooth and refined, with impressive fuel economy being another much-welcomed trait. Hence, like the Passat, the CC makes for a very relaxing and capable long-distance cruiser.
The adaptive dampers allow some variation in driving characteristics, but even in its most aggressive Sport setting, the CC clearly demonstrates a comfort-bias setup. Comfort mode gives an exceptionally smooth ride but with more noticeable body roll, and Sport remains decently supple for most roads. The middle ground Normal setting is a well-judged compromise and would be the recommended mode for day-to-day usage.
Evaluated from a purely empirical standpoint, there is little reason to justify dumping the extra money on the CC when the mechanically-identical Passat does the same job just as effectively. What the CC delivers and the Passat doesn't is an added dose of style (one of the Passat's prevailing criticisms is its boring looks) and superior levels of equipment. It is also worth noting that the CC compromises little on the Passat's practicality, so it is just as easy to live with.