Radio DJs team up with fans in Shell FuelSave Challenge 2012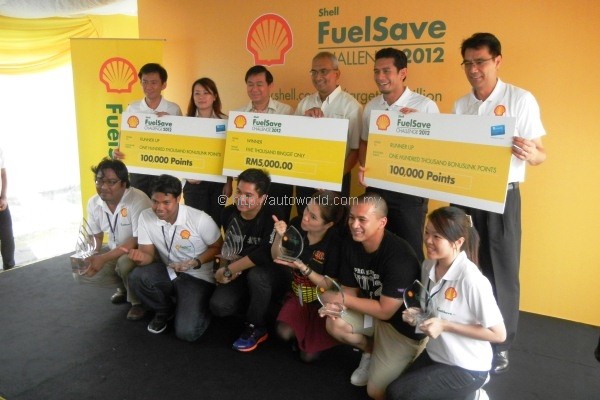 The Shell FuelSave Challenge returned for the fourth consecutive year with a twist, pairing famous local radio DJs with fans in two-person teams as they aimed to traverse a 97km course in a Hyundai Elantra 1.8 (watch out for our test drive review on that soon, by the way) using as little fuel as possible whilst completing a couple of challenges along the way.
Winning the 2012 challenge was Ahmad Adlyn, who found himself paired with Adifashla of Era FM, and proceeded to clock a calculated consumption of 19.69 km/l, measured using the good old-fashioned brim-to-brim method. Ahmad Adlyn won a cash prize of RM5,000 for his troubles. The other two teams had Ean Nasrun of Hitz.FM and Wan Wai Fun of My FM each paired with one fan respectively.
Ecstatic of his win, Ahmad Adlyn, who claimed to be pleasantly surprised with his result, enthused, "This once-in-a-lifetime experience was even more thrilling as I got to team up with my favourite radio DJ, Adi. Thank you Shell for giving me this opportunity.
Also present at the Challenge and giving out tips to participants was Shell FuelSave Ambassador Fahrin Ahmad, who said, "I'm proud to have been part of the Shell FuelSave journey in the past 4 years. Shell constantly hosts interesting activities in living up to its fuel efficiency commitment."
The Shell FuelSave Challenge 2012 was held in conjunction with the launch of Shell's global online campaign 'Target One Million', which aims to educate a million motorists globally to be more fuel efficient using a series of six online games to be released in the coming months. First of the six games is the Shell FuelSave Challenge which requires players to drive a virtual car in the most fuel efficient way possible using Shell FuelSave Tips.
Next mini-game to be launched, scheduled for October 2012, will be the Shell FuelSave Bootloader, which challenges players to remove unnecessary items in their virtual car boots that add weight to the vehicle and thus affecting fuel efficiency.
Thus far, the campaign has attracted a total participation of 100,000 consumers worldwide from 26 countries. Malaysian participants are currently ranked 2nd in the global leader board, the folks in Shell Malaysia is aiming to make Malaysians claim top spot.