Caltex Jalan Larkin celebrates 50 years in business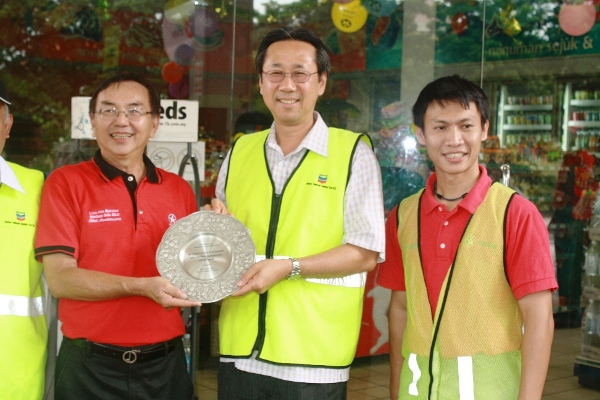 The Caltex station in Jalan Larkin, Johor Bahru, celebrated its 50th anniversary last weekend by hosting the launch of the Caltex Spot My Journey Sticker Contest with radio partners Era FM, My FM, and Hitz.FM.
The fun carnival-like atmosphere had well-wishers vying for prizes in activities fit for the family, with appreciation hampers awarded to a lucky motorist every 50 minutes from 10:50am.
Retailer Lee Poi Khim, 60, recalled, "When my father and uncle started the business in 1962, they instilled a culture of upholding service excellence. Thanks to dedicated staff, I have kept this customer promise since taking over in 1974."
Lee operates the station with a staff complement of 20, some of them having worked at the station for as long as 40 years. He values such loyalty and strives to ensure employee satisfaction and welfare.
"Satisfied employees help fulfill our commitment towards delivering quality fuel and value-added service. This in turn earns customer satisfaction and return visits for, hopefully, generations to come," Lee noted.
The Caltex Spot My Journey Sticker Contest runs until September 30, offering prizes of up to RM100,000 in Caltex StarCard Debit and 15 Samsung Galaxy SIII smart phones. No purchase is necessary, however to participate, motorists must collect the contest's 'Make way. I'm on a JRNY 2 W1N' decal stickers from participating Caltex stations and partner radio station cruisers.
Prominently placed contest decal stickers act as exclusive passes to participate in activities with radio cruisers at selected Caltex stations nationwide via Get My StarCard Games offering RM150, RM100 and RM50 in Caltex StarCard Debit. Random Caltex Spot MY Journey Sticker Contest weekend spotting also occurs at participating stations, where participants must correctly answer questions related to Caltex to win RM500 in Caltex StarCard Debit. They will then be eligible to contribute their best interpretation of "Nikmatilah Perjalananmu" to take home one of 15 Samsung Galaxy S III smart phones.
A new Caltex Malaysia Facebook contest also awards RM100 in Caltex StarCard Debit to the top 50 creative photos posted featuring Caltex fans with the contest decal stickers.
The Caltex StarCard Debit accesses a prepaid account that can be used for purchases at Caltex stations nationwide. For more information on the Caltex Spot My Journey Sticker Contest, visit www.caltex.com.my.