Perodua Alza AV2 Test Drive Review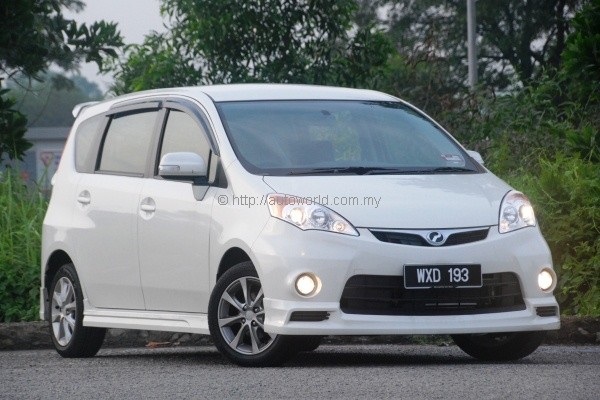 Aesthetics and equipment are important factors that make or break a car purchase in Malaysia. Of course, when we say aesthetics, we are not exactly talking about Giugiaro or Pininfarina-inspired designs, but rather the addition of spoilers and skirtings all-round to give their cars a more garang look. As the saying goes, the important thing is to 'look fast and sound fast'.
Car makers know this and the more enterprising ones are happily rolling out optional bodykit upgrades with the hopes you will sign off an extra few thousand ringgit with your car purchase. Perodua are experts in this practice and it explains why despite minimal spec differences, it is able to churn out a grand total of 23 variants from a line-up of just three models.


The Alza MPV range, which only has a 1.5-litre engine on offer with the option of manual or automatic transmission, actually has seven variants with prices starting from RM53,013.50 for the basic SR variant with manual transmission, impressive value for a vehicle that seats seven, though the one to go for would be the Premium EZi automatic variant at RM64,003.50 (with metallic paint and insurance).
Top of the Alza range is the recently refreshed Advanced Version (AV2) at RM70,003.50. Available exclusively in automatic transmission, the flagship variant adds skirtings all-round, a built-in touchscreen multimedia unit with GPS and reverse camera, and leather upholstery to its list of equipment on top of dual airbags, ABS, EBD, and seat-belt pre-tensioners already offered in the EZi.


Bodykits never quite move me, and my recommendation is always to drop this option if you're being asked to pay more money for it. To Perodua's credit, however, they did not overdo the AV2's skirtings like they did with the Myvi Extreme. It appears tasteful, though that alone won't move me to spend an additional RM6k on the car. However, the interior's leather trim is of surprisingly good quality, with pseudo Alcantara bits added for good measure.
The multimedia unit too, is a worthwhile addition, and its user-friendliness is rather good. Audio functions are easy to access, and the integrated reverse camera proved useful, especially with the parking lines added to the display. The GPS function, however, was clunky to use, and suffers from severe lag when registering vehicle motion. I gave up on it after just a day with the test car.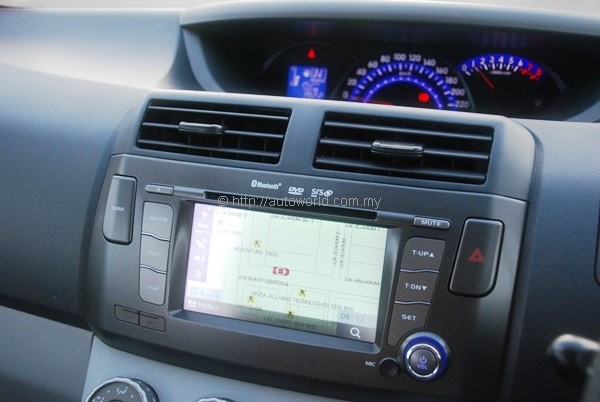 Aside from its hopeless GPS system, the multimedia unit is sufficiently user-friendly.

Perodua's success in recent years have been built on pragmatic values, not unlike those embraced by Toyota. Its cars may be unexciting to drive, but they are easy to live with and the Alza epitomizes this fact. Its dynamics are uninspiring, and the engine feels barely sufficient in shifting its frame about. Straight-line performance is adequate in an urban context, but things can get a little strained on an outstation cruise.
That an MPV does not have bags of pace to burn is entirely forgivable, but what Perodua really needs to improve on the Alza are its brakes, which on our test car, lacked both bite and pedal feedback. Handling similarly gives us little to write home about, but then again, how many seven-seaters out there have exciting dynamics anyway? On the other hand, ride comfort is excellent – the suspension is pleasingly supple in ironing out surface imperfections.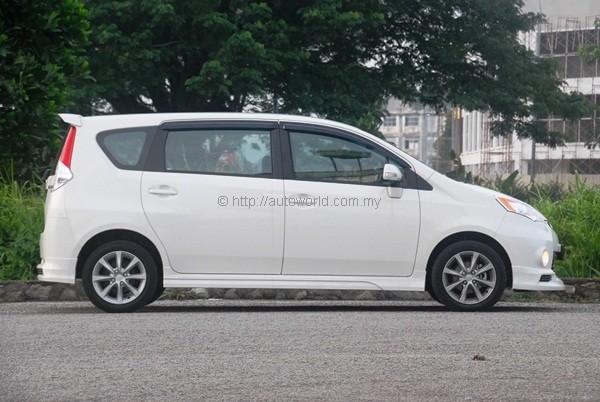 The Alza AV2 caters to the needs of Malaysians to visually enhance their vehicles.

Inside, the cabin is an effective exercise in simplicity. It's not much to look at, but it gets the job done. The storage bin behind the steering wheel is particularly useful, and controls are straight forward, well-placed, and easy to use. The Alza comes with different dashboard designs based on transmission choices, and in our auto test car, it is a bench-type front seating with dash-mounted gear-lever, and foot-operated parking brake.
The dash-mounted lever and foot parking brake are useful in freeing up space, but standard seats with a centre console lined with storage cubby holes like what's given in the Myvi would probably have been more useful instead. As it was, I had nowhere to park my mobile phones other than slipping them in the front pocket of the foldable centre armrest.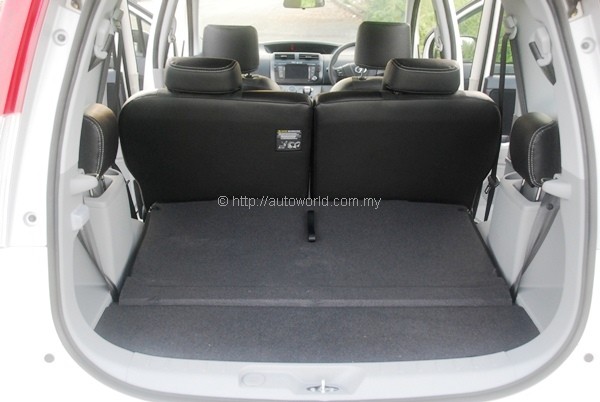 Decent space for luggage only if you sacrifice the third row of seats.

The Alza serves its role well as an affordable compact people carrier, and Perodua's insistence that it is a 5+2 seater rather than outright seven is worth noting when you make your purchasing decision. Bigger MPVs will serve your needs better on long-distance trips, but in an urban setting, the Alza's compact dimensions and maneuverability is a useful plus point.
Our pick of the range continues to be the mid-spec Premium EZi automatic model, which offers the best balance in terms of price and features. The Advanced Version swings some votes back in its favour with its reverse camera being a particularly useful addition (too bad about the GPS function though). Those who prefer sitting on leather compared to fabric will also have a good reason to consider topping up that extra RM6,000.