Toyota 86 Test Drive Review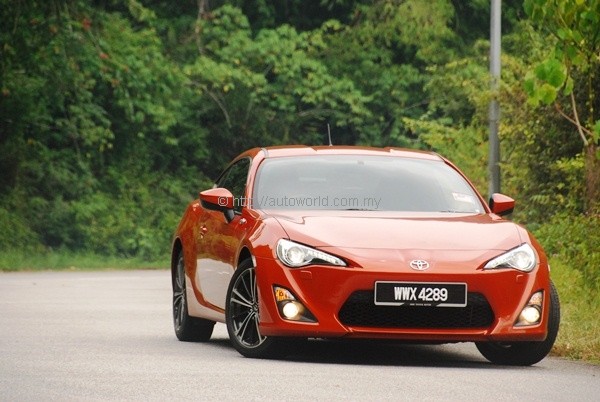 Petrol heads of a slightly older vintage will recall the days when Toyota occasionally churned out a couple of cars that are more than capable of tickling the enthusiasts' fancy. Cars like the Supra and Celica represent a rare breed of Toyotas for which you have a realistic chance of finding a bedroom poster on a teenager's wall.
Problem is that sports cars cost a lot to make, and are generally not very profitable. Toyota saw that the real money in the industry comes from practical middle class buyers who sign cheques for their SUVs and passenger cars, and from then on, the company focused on making sensible and reliable cars, with dynamism and flair taking a backseat. Even bread & butter models like the Corolla have arguably regressed from the heyday of the AE101.
Today, Toyota are regular chart-toppers in most markets worldwide, but their standing with enthusiasts is not as lofty. This reality is not lost upon Akio Toyoda, who was appointed President and CEO of Toyota Motor Corporation in 2009. Unlike his predecessors, Toyoda is a man of action, and he's a motorsports kaki, certified test driver of the Nurburgring. Having successfully dragged Toyota out of the now-infamous recall scandals, Toyoda has set his sights on recapturing the mojo and sparkle of the Toyota brand. Basically, we want more guys like these in charge in the industry.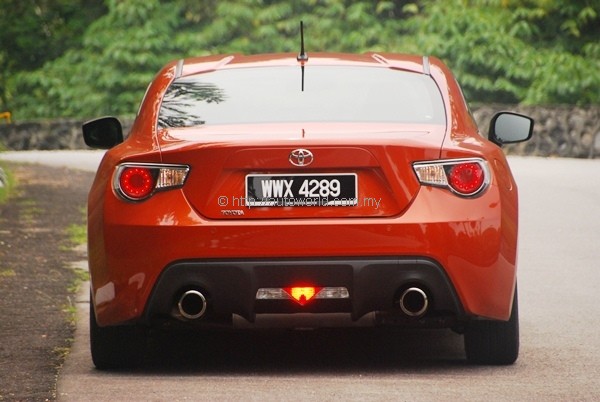 The full extent of Toyoda's handiwork will only be visible in a couple of years, but indications of his influence can be seen in the all-new Lexus GS and also the subject of our review today, the Toyota 86, a simultaneous revival of three Toyota icons – the famous Corolla AE86, the Sports 800, and 2000GT. It crucially follows the front-engine rear-drive architecture of its three forebears, this aspect central to its appeal.
Common knowledge by now is that the 86 is the result of a joint development project with Subaru. The cars all roll out from Subaru's factory, but Toyota will account for the majority of volume. As we delve into the details, it quickly becomes clear that each company contributed its own unique touches to the car.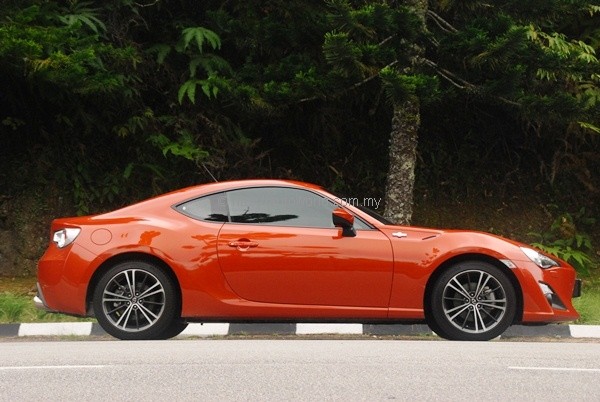 At long last, a Toyota to be desired by enthusiasts.

Prices, Variants, and Equipment
Subaru will launch its mechanical twin of the 86, the BRZ, here in due course, but until then Toyota's option will have to do. Buyers are offered a choice of two six-speed transmissions priced RM6,000 apart. Including insurance, the manual version can be on your driveway for RM243,000, and the auto as tested here at RM249,000. Let us state right here and now, that manual will be the one to go for if you genuinely wish to enjoy the best that the 86 has to offer.
Both versions are identically equipped, and standard kit for the money are keyless entry and start, cruise control, dual-zone climate control, tilt and telescopic steering, Alcantara leather trim, VSC with Sport Mode, traction control, ABS, EBD, and seven airbags. Illumination is provided by auto-operated HIDs with self-leveling and washers. Front and rear fog lamps are also standard.
On-board entertainment is served by a 2-DIN audio unit which is immediately recognizable as an item from Toyota's parts bin. Sound quality is not worth shouting about, and the absence of steering-mounted controls is not really acceptable for the money regardless how focused the 86 is. It is a good thing then, that the boxer engine up front serves up some interesting harmonics when worked, but more on that later.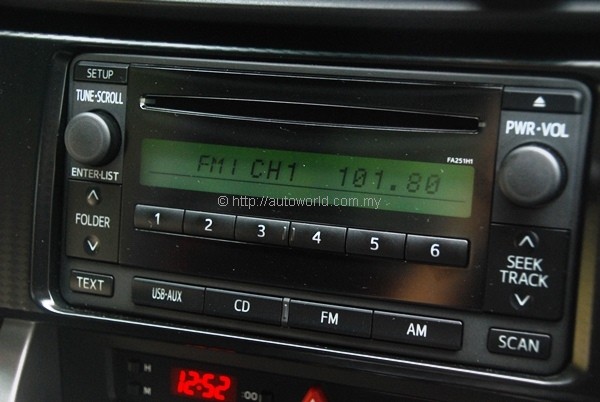 Definitely an item from Toyota's vast parts bin.

Exterior Design
While the 86 undoubtedly derived its name from the Corolla AE86, its coupe styling appears closer to the 2000GT instead, with similar proportions when viewed from the side. The side window frame was deliberately styled to resemble the 2000, though the 86's cabin does not sit as far back compared to its forebear which had its engine sitting behind the front axle. The round red LED tail lights are another unmistakable 2000GT tribute.
The 86's boxer sits almost on top of the front axle, and its dimensions allowed Toyota sculpt a very low front, so much so that the front wheel arches rise over the bonnet line. We can't say if Toyota and Subaru had this specific purpose in mind, but the bulges proved useful in helping us visually aim the 86's nose more accurately when cornering.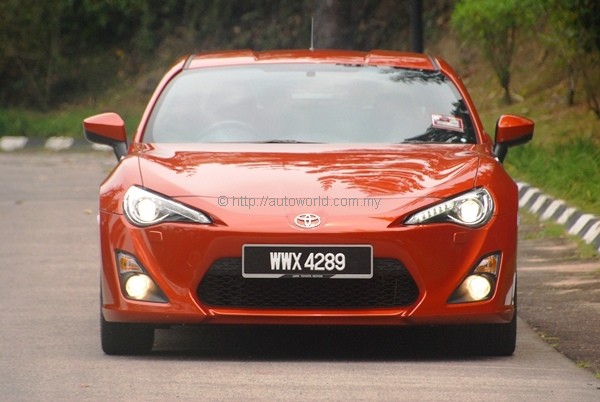 From behind the wheel, the wheel arches allow you to accurately aim the 86's nose at corners.

Interior
When we take sports cars out for review, we naturally expect having to make a lot of ergonomic compromises such as awkward sitting positions and insufficient bins to dump our mobile phones and parking cards. In this respect, the 86's cabin turned out to be a massive and pleasant surprise.
You sit 400mm off the ground, that's the lowest any Toyota has ever went in history. The cabin's driver focus is unmistakable with its tachometer-dominated instrument cluster and short gear lever. The handbrake is also well placed within easy reach, for the naughty moments when you want to do that handbrake turn. All controls – air-con, power windows, and audio – are generally within easy reach and painless to operate.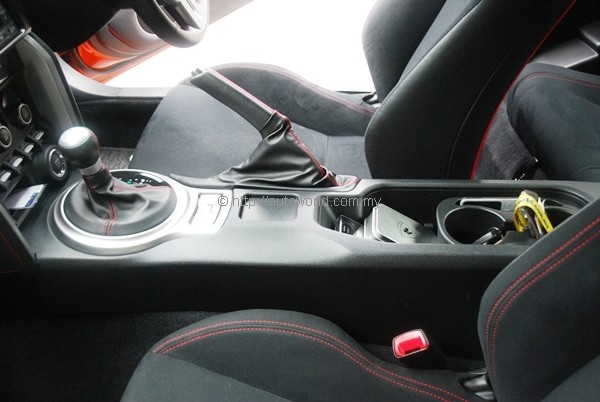 Centre console is unusually practical for a sports car.

Build quality is average, but what's really praiseworthy is how the cabin retains a great number of practical touches that make day-to-day living in this car that much more pleasant. For one, I have never tested a 2+2 coupe with a properly useful centre tunnel that has space for my keys and mobile devices. Then, there's a slot just in front of the gear lever that is just right to fit a parking card. This is a clear demonstration that driver focus should never be used as an excuse for ergonomic failure – the 86's cabin is appropriately driver-focused and it got almost all of its basics right.
Moving to the rear, well, we don't recommend you put people there for journeys of any length – there is barely any room for a kindergarten-going child, let alone a grown adult. Amazingly, there are ISOFIX child seat mounts, so those of you who just had babies can keep your 86 for a while longer before swapping to a Camry.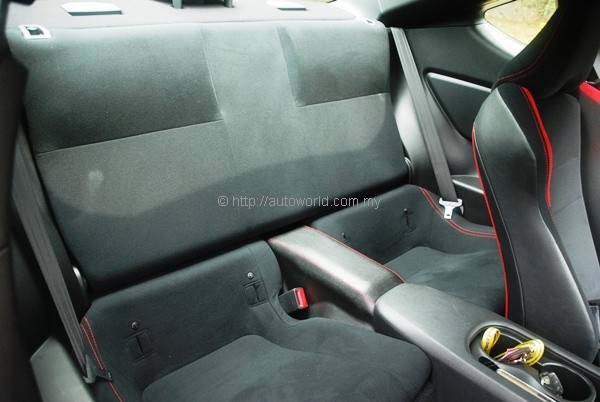 Rear accommodation is limited, but you can put your toddler there, thanks to ISOFIX mounts.

Technical Specifications
Nothing in the 86 better illustrates the level of collaboration between Toyota and Subaru in this project than its engine. Subaru contributed the flat-four block while Toyota strapped on its VVT-i and D-4S direct injection system. A turbocharged version of this engine is being used to power the Subaru Legacy GT, but in the 86, breathing is natural.
The engine's bore and stroke are both measured at 86mm, which is not a coincidence. Resultant displacement is 1,998cc, and the engine operates on a 12.5 compression ratio. The owners manual prescribes the use of RON 98 petrol if possible, although it was further stated that RON 95 can be used without affecting engine durability or drivability. The engine itself is a high revver, redlining at 7,450rpm and delivering its peak power output of 197hp at a stratospheric 7,000rpm. Peak torque of 205Nm is served over a window spanning from 6,400 to 6,600rpm.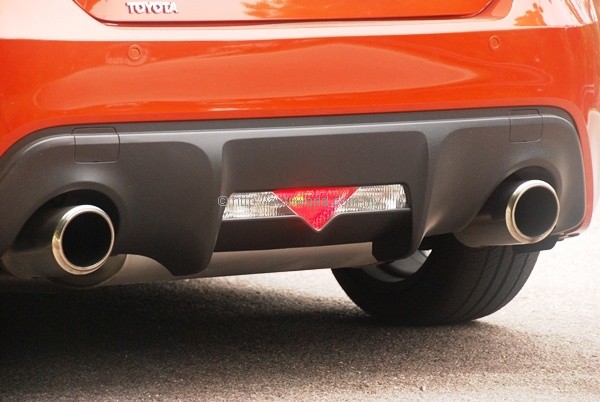 The two exhaust tips measure 86mm in diameter.

Power is sent to the rear through one of two six-speed transmissions on offer, with a Torsen LSD to help with distribution of torque. Also ready to step in help the driver out are electronic traction and stability control systems, the latter with a Sport Mode that gives you a bit more leeway before reigning in your fun.
The 86 is independently sprung at all corners, with MacPherson struts up front, and double wishbones behind. A quartet of ventilated discs provide stopping force, and contact patches with the ground come in the form of 215/45 R17 Michelin Primacy HP tyres, which are assuredly not the grippiest rubber in the business.

Paddle shifters are useful, but why is the signal stalk on the left.

Driving Impressions
In its automatic transmission guise as tested here, the 86 sprints from rest to 100kph in 8.2 seconds and is capable of a 210kph top speed. The manual fares slightly better at 7.6 seconds and 226kph tops, but that's not very fast this day and age, and we can think of more than a few family sedans that will leave this flashy coupe choking in smoke on the highways.
Yet, outright pace was never the 86's trump card. The true ace up the 86's sleeve is driver involvement and that is a quality that this car possesses in abundance. You'll need to wring every last rev out of that boxer unit up front to make brisk progress, but let us assure you that few motors this side of a BMW six-pot are as satisfying to gun. Sound of the boxer burble is sufficiently pleasing and addictive that you won't quite mind the thirsty consumption or poor sound-proofing package.
Simply put, the 86's engine is one that both needs and loves to rev, and this is where the choice of an automatic transmission is ill-advised. I've come to the point where paddle shifters have become little more than novelties, and yet with the 86, the transmission's manual mode was more of a necessity than a luxury. The inherent nature of automatic gearboxes to shift early means that human intervention is often needed if you want to keep the engine on the boil for brisk progress. Further spoiling the fun is that the 86's auto swaps cogs with neither speed nor smoothness. We can't stress this point hard enough – get the manual.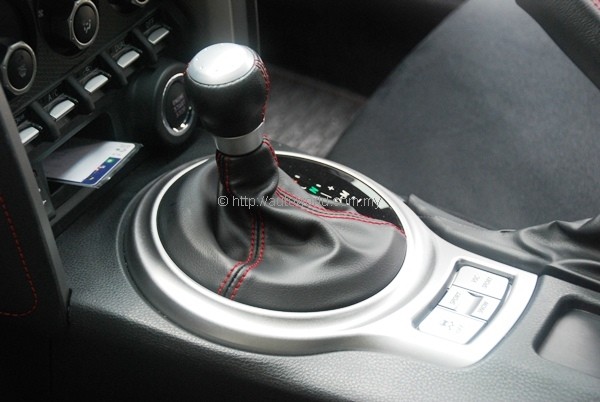 6-speed auto robs some of the fun. If you buy the 86, we recommend the manual.

There is thankfully better news from the ride and handling department. In my books, I will rate the 86's ride as being a little on the stiff side. It is by no means harsh, but do slow down for speed bumps. Potholes are absorbed well, and the suspension sufficiently pliant to maintain good composure over poor surfaces. This last bit is a crucial virtue for a car to have it wants to be fast not just around Sepang but in the real world as well.
The 86 loves corners. Despite only average levels of grip from its tyres, the impressive talents of its chassis really comes to the fore here, making the best out of what's being given. Changes in direction are sharp, and because you don't get a sudden surge of turbocharged torque mid-way through the rev range, you have plenty of margin for error when steering by its throttle. The way which the car genuinely connects with its driver is worth writing home about. The amount of information that the chassis feeds back into your nervous system is really amazing, and helps sharpen your driving focus like no other car.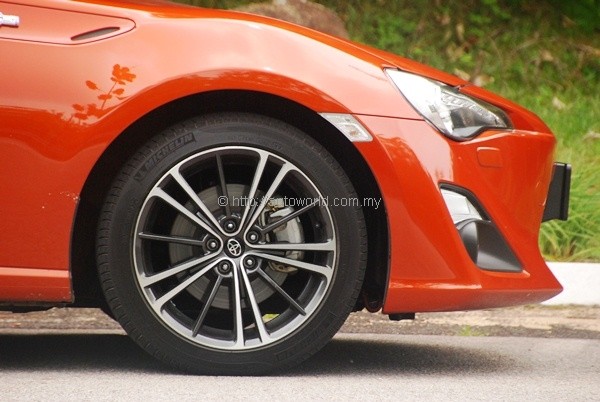 17-inch Michelin tyres are not extraordinarily grippy, but chassis makes good use of what's given.

Verdict
Fast, it ultimately is not, but the Toyota 86 is a car that genuinely lives up to its well-deserved hype. It is a car that truly engages and rewards its driver. Yet, the most impressive achievement of this car is how it seamlessly blends driver focus with day-to-day usability. It calls for fewer compromises than many other sports cars, and yet its driver rewards are no less satisfying. You even get more peace of mind than other sports car owners, with the extensive service network of UMW Toyota Motor at your disposal for after sales support.
It is unfortunately a little expensive, though this is not quite Toyota's fault. The 86 was developed as an affordable sports car for the masses, but thanks to duties and taxes, only members of the upper reaches of Malaysian society will get to enjoy the 86's exceptional talents. But take it from us, if you do buy the 86, go for the manual.


Further Details:
– Toyota 86 prices and specifications in Malaysia
– Toyota vehicle prices and specifications in Malaysia