Aston Martin Launches Kuala Lumpur Showroom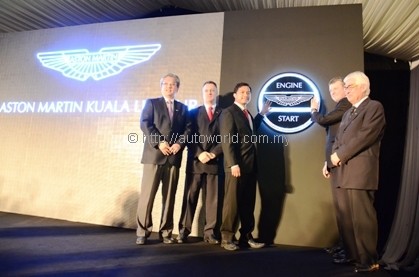 Kuala Lumpur, 16 July 2012 – Aston Martin is officially in Malaysia today, as it opens its doors for business at the Aston Martin Kuala Lumpur showroom in Jalan 219 Petaling Jaya today. The 480 square metre facility is a RM8 Million investment that incorporates all the aspects of Aston Martin's luxury retail environment with full service capability and will house Aston Martin's growing sports car line-up.
Among the guests present at the launch were Mr. Ray Kyles, Acting British High Commissioner to Malaysia, Mr. Andy Gawthorpe, Global Sales Director of Aston Martin UK, Dr. Matthew Bennet, Regional director for Aston Martin Asia Pacific, Dato' robin Tan, Chairman and CEO of Berjaya Corporation Berhad, and En. Nazrul Moktar, Executive Director of Jelita Seleksi Sdn Bhd. Jelita Seleksi Sdn Bhd is the official franchise importer and dealer of Aston Martin cars in Malaysia.
Mr. Andy Gawthorpe officially opened the Aston Martin Showroom, saying, "Aston Martin continues to focus on the future with the ongoing development of our retail network and the introduction of new products."
En Nazrul Moktar said, " We are very excited to be launching the Aston Martin showroom in Kuala Lumpur and are confident about its success in the growing high Luxury Sportscar segment in Malaysia. With the opening of this showroom, Aston Martin owners can now purchase and service their cars right here in Malaysia. As a matter of fact, Aston Martin Kuala Lumpur has received very good response this year especially with the recent release of the Vanquish."
Dr. Matthew Bennet, Asis Pacific Regional Director said, " Malaysia represents one of our most significant opportunities in Asia with its rapidly growing economy. I am delighted with the investment from Jelita Seleksi Sdn Bhd in this new showroom. T obey able to display and service our Aston Martin product range in the heart of Kuala Lumpur, one of the fastest growing cities in Asia is a clear statement of our commitment to build the Aston Martin brand in Malaysia.
The Aston Martin models currently available in Malaysia are DBS, Rapide, V12 Vantage, V8 Vantage and from the first quarter of next year, the Vanquish will be available – prices start from RM1.2 million to RM 2.2 million.