Home
Motorsports
Five win trip to Italy in Shell Helix 'Get Your Heart Racing'...
Five win trip to Italy in Shell Helix 'Get Your Heart Racing' Contest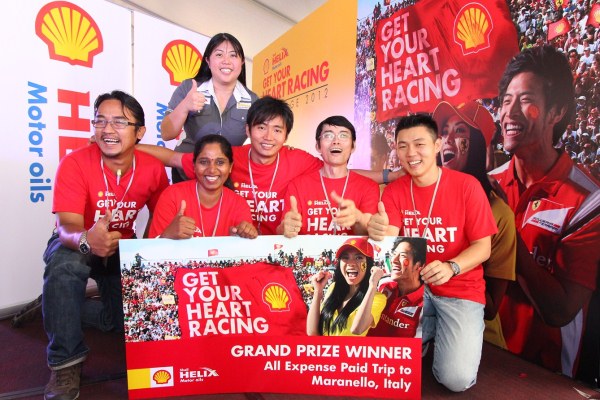 Five Shell Helix users are heading for an all-expense paid VIP trip to Italy worth RM20,000 each after finishing ahead of seven other finalists in the Shell Helix 'Get Your Heart Racing' Contest finale at Berjaya Hills Resort, Bukit Tinggi, Pahang last Saturday. From 6 to 10 September 2012, the five winners will be on an itinerary that takes them to visit Ferrari's HQ in Maranello, shopping in Milan, and then to catch the F1 Grand Prix live at Monza.
The five – Chin Choon Fui, Tan Boon Seong, Mohd Arif Shobri Awang, Neela Muniandy and Soe Toong Fatt – collected the highest scores in a series of challenges such as kite assembly, searching for coins in a sandpit, 'teh tarik' pulling, dribbling a football or taking penalty kicks, shooting paintball targets, identifying pizza ingredients or clothing items as well as general knowledge.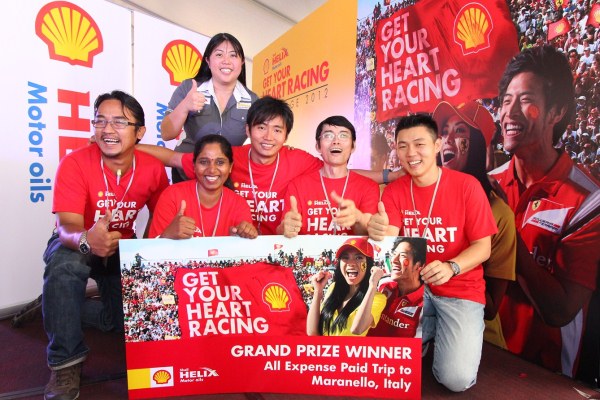 The finale at Bukit Tinggi was the culmination of the two-tier contest held from 15 March to 31 May 2012. It was open to customers who purchase a four-litre pack of Shell Helix Ultra fully synthetic motor oil or from the Shell Helix HX7 synthetic technology range that includes the HX7, HX7 E and HX7 Diesel. In the first tier, customers had to count the number of Shell Helix words in an image on entry form and submit their entries at selected Shell stations, authorised workshops or by mail with proof of purchase.
"We are delighted that this year's contest attracted more than 14,000 entries from all over Malaysia. At Shell, we will continue to leverage on our exclusive partnership with Ferrari to reward our customers with memorable experiences that no other lubricant brand can offer," said Ms Seow Lee Ming, Cluster Marketing Manager, Shell Lubricants SEA-South.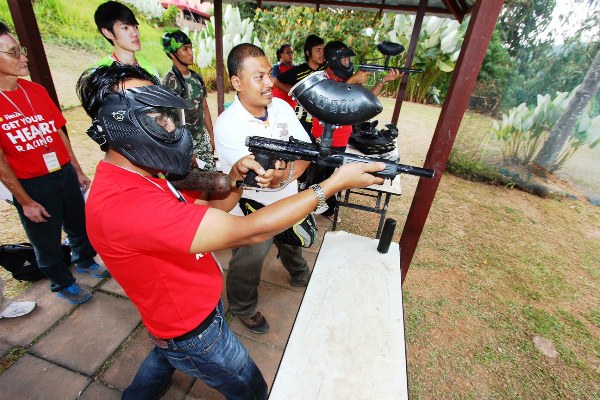 Pictures: Official Shell Malaysia release
See also:
– Shell Helix Global Promotion offers VIP trip to Italy
– Shell Helix roadshow @ Danga City Mall, 20-22 April 2012
– Shell Helix roadshow @ Queensbay Mall, 26-29 April 2012
– Shell Helix roadshow at The Curve and MidValley