All-New BMW 6 Series Gran Coupe Launched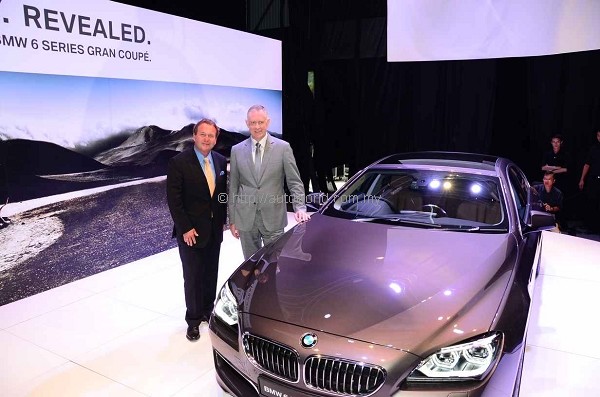 Kuala Lumpur, 29 June 2012 – BMW Malaysia has just unveiled what is possibly the best-looking 6 Series ever, and it comes in a four-door configuration, making it a viable alternative as an executive car, although at the price tag ofRM788,800, it will only be for the upper echelons of management, or possibly the head honcho of an organization.
The new 6 Series certainly looks more classy than the current model, and the re-designed tail end is greatly improved in the looks department, and if you are the owner of the current 6 Series, (which means you actually can afford one, you are advised not to go near the new Gran coupe, as this model is called, or else you might succumb to the temptation to whip out your cheque book and sign up for it.
The four-door arrangement now makes the BMW 6 Series a car that business executives can consider other than the more austere-looking 7 Series, especially if the person likes to drive every once in a while. Seriously, if I had a driver chauffeuring me around in a 6 Series Gran Coupe, the chances are that he will be riding shotgun, and I will be the one driving it.
"With the all-new BMW 6 Series Gran Coupe, BMW sets another milestone in the Malaysian Automotive industry. The new four-door coupe incorporates all the traits known to BMW and successfully complements our line-up of the BMW 6 Series range in Malaysia. With its combination of supreme driving dynamics, premium aesthetics and revolutionary design, we are confident that the all-new BMW 6 Series Gran Coupe will provide our customers with a surreal experience of both comfort and excitement, said Dr. Gerhad Pils, the newly appointed President of BMW Group Malaysia. The launch today was quite significant as it also marks the last day in office for Mr Geoff Briscoe as the outgoing President and the first official appearance of Dr. Gerhad Pils as the new President of BMW Group Malaysia.
Pils added that BMW Group Malaysia has had a remarkable growth so far for the year 2012 with a total of 2,702 BMW, Mini and Motorrad vehicles delivered as of May 2012, comprising 2,414 BMW, 140 Mini, and 148 Motorrad vehicles.
The 6 Series Gran Coupe is sold alongside the two-door 6 Series Coupe line, and features a 6 cylinder in-line gasoline engine and a twin-scroll turbocharger. Power output is 320 horsepower with a maximum torque of 450Nm – this actually give the Gran Coupe 'muscle car' status, and although I do not envisage that any of its owners is likely to go dragging on the streets on Saturday nights, it means that a driving enthusiast with the means to buy it can have fun once in a while, or every day, for that matter, should he or she wish to. Zero to 100 km/h acceleration is done in 5.4 seconds, and top speed is 250 km/h. Power is transmitted to the road through the rear wheels, via an 8-speed automatic gearbox. There are three modes, Comfort, Sports or ECO PRO to choose from, which allows the driver to select the most appropriate mode depending on his or her mood. An Auto Start/Stop function switches the engine off when the car is at rest.
Fuel consumption is mooted at a frugal 7.8 litres per 100 kilometres and CO2 emissions of 181 grams per kilometre.
Apart from its gorgeous looks, the interior features and build befits the 6 Series Gran Coupe as a member of the 6 Series family. The cockpit is fully focussed on the driver, and interior colours are available in Black, Cinnamon Brown and Ivory White. A premium package which includes 19-inch wheels, Nappa leather upholstery with contrast stitching and instrument panels with leather finish is available for an additional RM35k.
As a member of the exclusive 6 Series family of BMW, the Gran Coupe comes with integral active steering, Adaptive Stabilizers, Dynamic Damper Control, brake energy regeneration, and EPS.
The 6 Series Gran Coupe is very exclusive, and based on what I can see of the specification, will be a great car to own and drive – however, it would probably appeal more to non-conventional types – the mainstream ones will probably be happier with the 7 Series, which provides more interior 'living space'.