Audi A6 2.0 TFSI Test Drive Report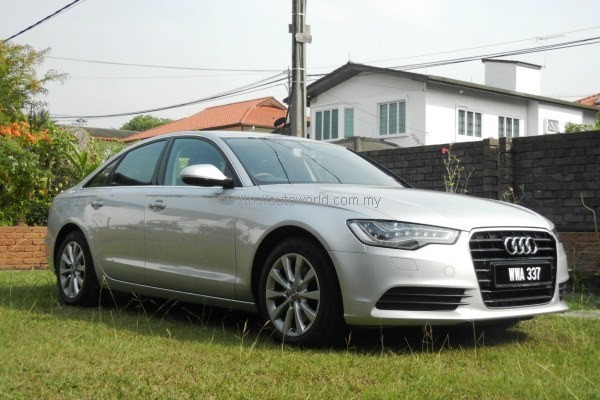 When Audi launched the latest generation A6 last year, the only variant on offer was the 3.0 TFSI quattro at RM515,000 before insurance. For the specs that were being offered, that's actually pretty good value, but let's face it, half a million ringgit is still a lot of money to spend on a car, especially if you're not the type who would put the 3.0-litre engine and its quattro drivetrain to full use.
For those of you who are more sensible with cash and less concerned about the merits of all-wheel drive, there is now the option of ordering your A6 at a more affordable RM345,000 price point. That amount of money gets you the more modest A6 2.0 TFSI Multitronic, which is the subject of our review today.


What's missing from the 3.0?
Having enjoyed savings to the tune of RM170k, it is therefore natural that one would have to expect an equipment deficit in the A6 2.0 compared to its 3.0-litre sibling. To start with, you have to make do with two cylinders less, with the remaining four arranged in line and displacing 1,984cc.
Powering the A6 2.0 is the familiar EA888 engine of the Volkswagen Group that we also find in the A4 and A5. In this application, however, outputs have been scaled down. Instead of 211hp and 350Nm available in the two aforementioned models, the A6 gets a more modest 180hp @ 4,000 – 6,000rpm and 320Nm @ 1,500 – 3,900rpm.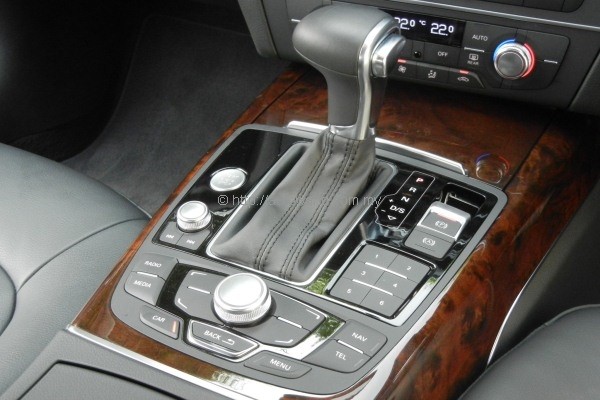 Multitronic CVT drives front wheels and programmed with 8 virtual ratios.

Further items deleted from the specs sheet are sports suspension and Audi's quattro all-wheel drive system. The A6 in 2.0-litre guise powers only the front wheels, with standard transmission being the Multitronic CVT. You also get a pair of paddle shifters to work through the eight virtual ratios programmed into the transmission's software control.
In terms of creature comforts, the A6 2.0 loses electric steering adjust, two rear side airbags, reverse camera, and the Bose sound system. Keyless access is also removed, but buyers can add it to the package as a RM3,000 extra. Speaking of extras, our test car comes further equipped with LED headlamps worth RM13,000. For your information, standard illumination comes in the form of Xenon headlights with range adjustment.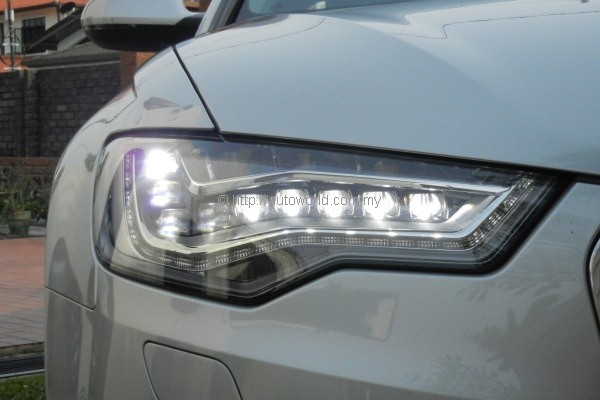 Our test car had optional LED headlights worth RM13k.

Driving Experience
Ample mid-range torque and the inherent smoothness of a CVT gives the entry-level A6 a highly polished and dignified character on the cruise. Acceleration is best described as smooth and effortless, and there is never any real need to pull an excess of revs even if you're looking to cover ground in a hurry.
Audi's engineers did a fabulous job to mitigate the inherent nose-heaviness of the A6's layout, which has its engine slung north-south over its front axle, and in the case of our 2.0 TFSI test car, spinning only the front wheels. Understeer remains present at the limits, but as a whole, this car's dynamics is tuned with comfort and refinement as higher priorities over outright sportiness.
The A6's mannerisms, especially in its modest 2.0 TFSI trim, can only be described as pleasingly refined. You can forget about outrunning that 5 Series (any variant) at the corners, but go smooth with inputs, and a serene driving experience is yours to enjoy. It is for those who place passenger comfort as a priority, that the A6 makes a very compelling option.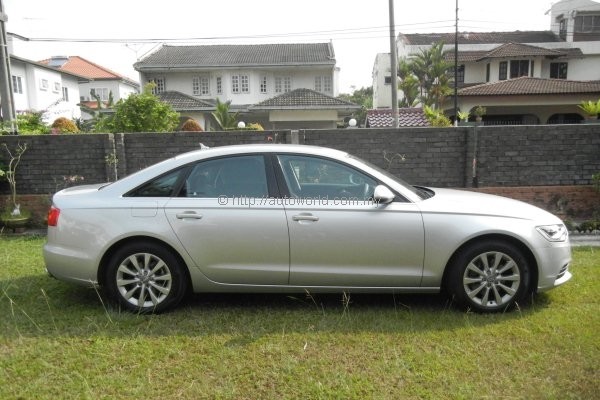 Smoothness and refinement is the A6's ace in the hole.

Verdict
The A6 2.0 is a highly-recommended pick for those shopping at the lower end of the premium mid-sized market. Its pricing substantially undercuts the BMW 520i (RM358,800) and Mercedes-Benz E 200 CGI (RM373,888) but without significant sacrifices to equipment levels. Of course, the 5 Series is still the one to go for if sporty dynamics sit high in your list of priorities.
Also, unlike the 520i and E 200, the A6 2.0 does not feel like a specced-down variant of its more expensive sibling. This aspect of the A6 2.0 is especially pleasing, as at no point will you find yourself thinking, "Damn, I should have went for the 3.0 instead." Rather, you'll be spending most of the time patting yourself on the back for saving RM170,000.


Further Details:
– Audi A6 2.0 TFSI price and specifications
– Audi vehicles' prices and specifications in Malaysia
– List of official Audi branches and dealers in Malaysia.