Isuzu D-Max now available with Hi-Def Limited Edition spec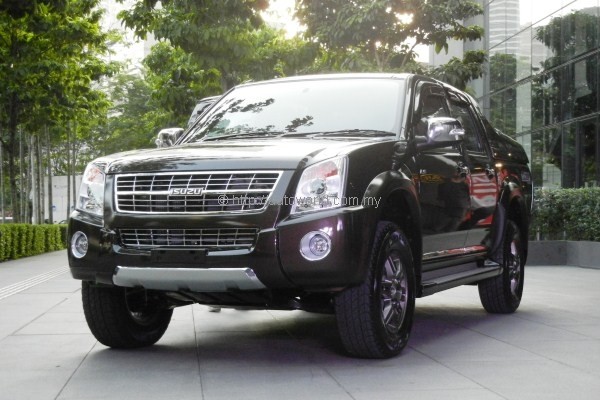 In conjunction with the company's seventh anniversary in business, Isuzu Malaysia Sdn Bhd has launched the D-Max Hi-Def Limited Edition which decks the popular workhorse with higher than usual spec trim and fittings. This is not the first time Isuzu has given us Hi-Def editions of the D-Max and this latest iteration is limited to a production run of 210 units.
Cosmetic touches differentiating the new Hi-Def from the regular D-Max start at the front, with extensive usage of chrome on the reworked front grille. The rims come with a titanium finish, and there is more chrome at the rear courtesy of its lamp guards. 'Hi-Def' decal stickers all-round further shout the fact that this is not an average D-Max.
Stepping inside, more Hi-Def touches await, with the 'Hi-Def' fonts stitched on the brown Italian-leather seats being the most prominent. The 'Hi-Def' carpet mats are also exclusive to this model, and the door sills feature an Isuzu logo that lights up a blue LED glow when the doors open. Standard in the new D-Max Hi-Def is a built-in multimedia unit with GPS navigation, reverse camera, and Bluetooth handsfree. The system is capable of MP3 and MP4 playback via DVD, USB or the Aux cable.
Based on the D-Max 3.0-litre 4×4, the new Hi-Def is offered with the option of manual or automatic transmission, with pricing ranging from RM99,247.70 to RM106,229.70 (OTR with Insurance, private registration). Two colour choices are available, Platinum Brown Mica and Mercury Silver Metallic, and customers can choose to have their rear bed lined with an anodized aluminium roll bar or covered up with a D-Box. Choosing the D-Box is a RM2,000 cost option.
On-the-road prices of the D-Max Hi-Def with insurance for private registration are as follows:
– D-Max Hi-Def 3.0 4×4 M/T (Roll Bar): RM99,247.70
– D-Max Hi-Def 3.0 4×4 M/T (D-Box): RM101,299.70
– D-Max Hi-Def 3.0 4×4 A/T (Roll Bar): RM104,177.70
– D-Max Hi-Def 3.0 4×4 A/T (D-Box): RM106,229.70
Prices and specs of regular variants of the D-Max can be found in our New Car Database: Isuzu D-Max prices and specifications in Malaysia.