Impul kits now available for Nissan Sylphy and Livina X-Gear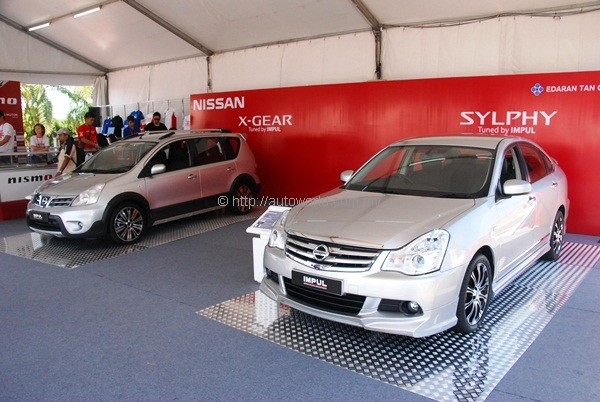 In conjunction with Super GT 2012 Round 3 last weekend, Edaran Tan Chong Motor Sdn Bhd has officially launched new Tuned by Impul variants of the Nissan Livina X-Gear and the recently facelifted Nissan Sylphy. As before, the Impul kit offers an exclusive set of accessories to cater for the the needs of customers who wish to customize their Nissan vehicles without voiding their warranties.
"We are very excited to be able to offer enthusiasts these sportier variants of our popular Nissan Livina X-Gear and Nissan Sylphy which have been specially tuned and developed by ETCM's business partner, Impul of Japan. These variants are intended to cater to those who aim to drive something sportier and more exclusive," said Dato' Dr Ang Bon Beng, Executive Director of ETCM.
According to Dato' Ang, its offering of Impul-tuned Nissan cars have accounted for about 10% of sales for each respective model. Each Impul part can be sold separately for current and future Nissan owners, although those who opt for the full works have the benefit of having all these items bundled into the purchase price and financed together with the car.
The Livina X-Gear Tuned by Impul costs an additional RM8,000 over the standard car, offering four items namely the Impul Blast 2 stainless steel exhaust muffler (RM1,800), 17″ Impul Aura SX-20 alloy wheels (RM4,500 per set) shod with 205/45 R17 Goodyear Eagle F1 Directional 5 tyres (RM350 per piece), a rear wing spoiler (RM700), and the Impul sports suspension system (RM2,800) which features new shocks and springs. Ride height is lowered by 25mm.
Meanwhile, the full Impul works on the Sylphy will add RM11,000 on the final purchase price, and items in the list are similar to the X-Gear's – stainless steel exhaust (RM1,800), 17″ Aura SX-10 alloy wheels (RM4,600 per set) with 215/45 Goodyear Directional 5 tyres (RM400 per piece), and the Impul sports suspension (RM2,800). Bodywork is enhanced by the Impul Aerokit which gives a new front grille (RM800), rear wing, and skirts all-round (RM3,600).
Together with the cars, the Impul parts are protected with a 3-year / 100,000km warranty on manufacturing defects if they are purchased and installed by ETCM on a brand new Nissan Livina X-Gear or Nissan Sylphy.