Honda Insight 2012 Facelift Review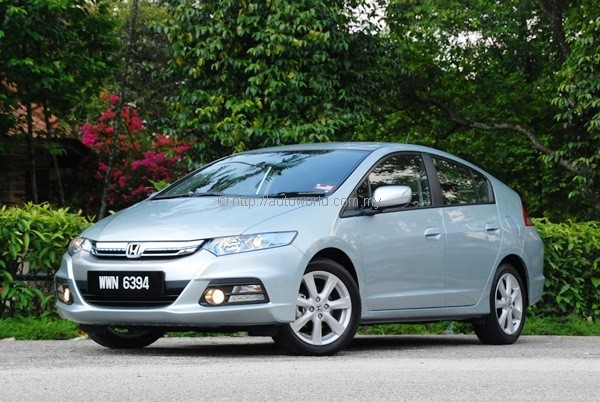 The Honda Insight has been in the market for a little over a year now, and sales have been phenomenal. More than 4,000 units were snapped up in its first full year on sale, and demand has shown no sign of relenting. Government tax breaks on hybrid vehicles have enormously benefited the Insight, which was, for a long time, the most affordable hybrid vehicle on the market.
Toyota gatecrashed the party earlier this year with the Prius c which offers a more advanced powertrain at a price that is lower than the Insight. Honda then countered with the Jazz Hybrid, whose price in turn undercuts Prius c. The Insight, meanwhile, was updated with a new 2012 model despite being only a year into its model cycle.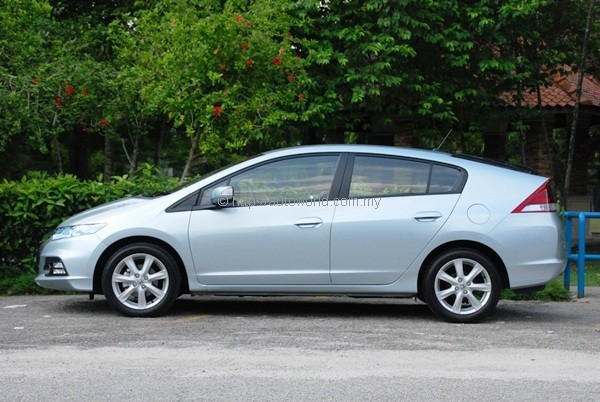 Honda sold more than 4,000 Insights last year.

Changes are minor, and Honda has kept its price unchanged at RM99,800 with insurance (price was raised from the original RM98,000 in Aug 2011). The most noticeable difference between the 2012 model and its forebear would be the revised front bumper and grille combo. You would probably notice another cluster of lights lining just below the front signal lights, and you may think, 'Aha! Daytime running lights.' Well, they aren't; they are just reflectors.
Inside, Honda has lowered the rear hip points and re-shaped the roof lining to liberate an additional 15mm (that's half an inch) of headroom for the rear passengers. The insulation package has been beefed up with additional materials for improved NVH, and the rear beam that runs across the tailgate has been made thinner for improved rear visibility.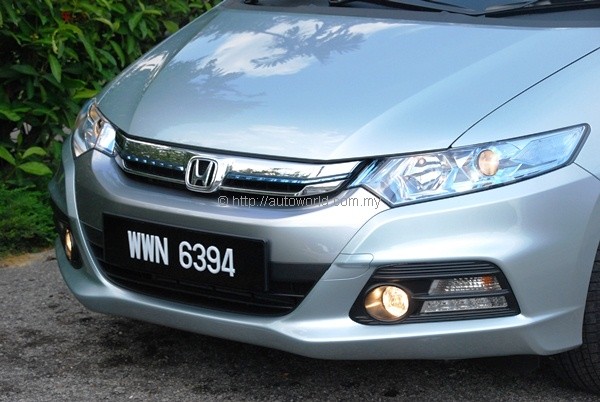 No, those are not DRLs.

The engineers also did some fiddling under the hood to improve fuel economy. To this end, Honda has re-worked the engine control mapping and enhanced the CVT for better efficiency. A power-saving fuel pump further reduces energy consumption. Quoted numbers are nevertheless unchanged from before, so we have a 87hp/121Nm petrol engine aided by a 13hp/78Nm electric motor for propulsion.
Mechanically, the Insight is almost identical to the recently launched Jazz Hybrid, and with a price differential of RM5,000, choosing one over the other boils down simply to a matter of preference. Would you prefer the Jazz's Ultra Seats or the Insight's 400 litres of boot space? It is also worth noting that the cheaper Jazz gets disc brakes all-round whilst the Insight makes do with drums at the rear.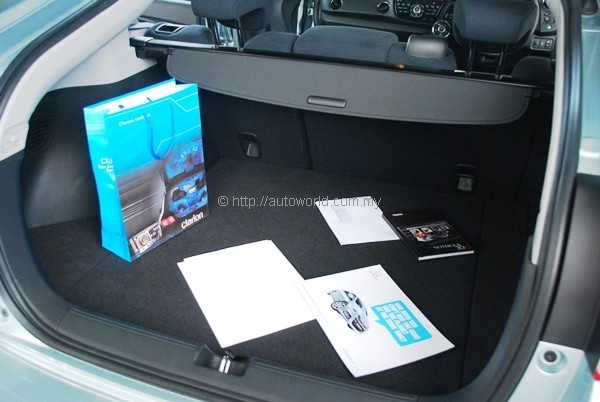 400 litres of luggage space.

There isn't much to differentiate both cars from a dynamic perspective. Honda's chassis engineers may no longer be the best in the business, but they are still pretty darned good. The Insight's dynamics are satisfactory if not fully satisfying. It rides comfortably enough, and body roll is manageable, not that you will ever be tempted to drive it overly hard. The steering's light weight is clearly geared for urban rather than hill-climb demands.
On a straight line, it won't be the fastest off the block, and we certainly wouldn't suggest a drag race with the Toyota hybrids, but the Insight does have a good dose of pace at its disposal if you need to get anywhere in a hurry. It pulls strongly up to about 130-140kph, and if you're a law abiding citizen, technically you won't need it to go faster than that anyway. At highway speeds, the Insight is impressively refined and sufficiently stable. Noises from the engine room are pretty well insulated even when you're gunning it, validating Honda's claims of an improved NVH package.
The recent surfeit of choices in the sub-RM100k hybrid segment has not adversely affected the Insight's appeal, although I personally prefer the Jazz Hybrid if asked to choose from this segment. More than its green credentials, the Insight also offers a well-packaged interior and a pleasingly refined driving experience that, like the Jazz Hybrid, makes it an ideal city runabout.


Further Details:
– Honda car prices and specifications in Malaysia
– Honda Insight price and specifications in Malaysia
– List of Honda official dealerships in Malaysia