Lexus GS 250 Test Drive Report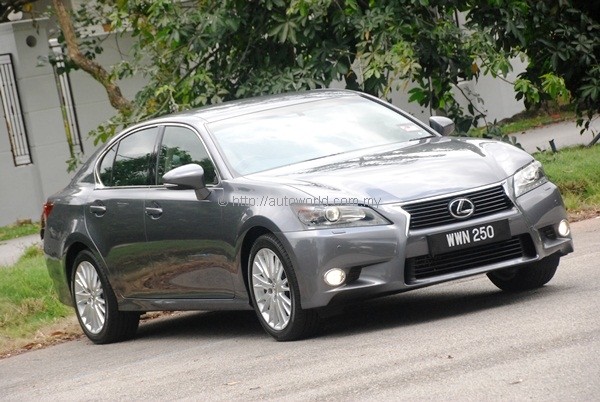 In many marketing classes, Lexus is often cited as an ideal case study in the subject of brand building. How do you start a fresh new brand and have it challenge top notch industry players each with almost a century of heritage and prestige to boast? Toyota had the answer, and it took them just 20 years to execute it.
As we know, Lexus today is genuinely viewed by many as being on equal terms with the established German luxury marques, and they are not wrong. Premium pricing has something to do with it, but more importantly is how that hefty price tag is backed by a line-up of solid products and a customer experience that possibly is second to none in the business.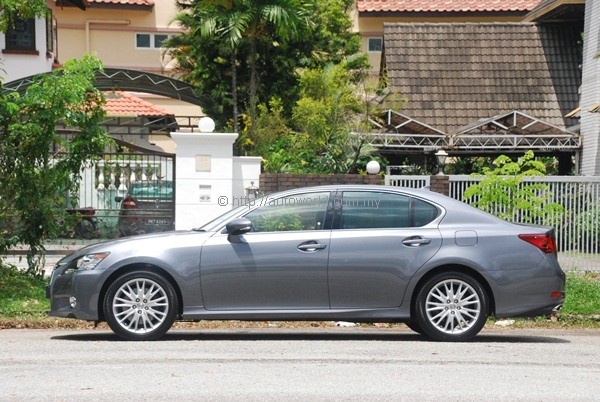 Styling is aggressive, and has hints of the BMW E60 5 Series.

Lexus vehicles have established a reputation of being extremely refined and superbly built. An absence of noise and rattles is the hallmark of the Lexus driving experience. That impeccable sense of luxury is then allied with age old Toyota virtues of reliability and rock solid residuals. A winning combination indeed.
Excellent products, Lexus vehicles are, but exciting they most certainly have not been. Not for the lack of trying, mind you – the company has already spurned out products like the LF-A and IS-F to challenge the Audi R8s and BMW M3s of the world, but has there been a Lexus that is genuinely desirable? You may approve of your uncle buying that RX 350, but given a budget of RM300,000 will the IS 250 or BMW 3 Series be the first to cross your mind?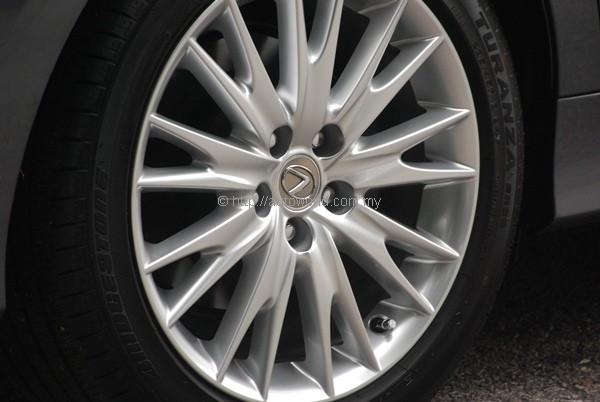 18-in alloys mark our test car out as a Luxury spec model.

Here then, is where the all-new Lexus GS comes in. Its mission is to establish itself as a genuine contender alongside the German big three – BMW 5 Series, Mercedes-Benz E-Class, and Audi A6. Our mission is to find out if it succeeds, and based on first impressions alone, its chances are promising. It looks good, and that alone will ensure that it racks up more sales than its immediate predecessor.
There are several hints of the BMW E60 in the design lines, but to my eyes, this is definitely one of the best styling efforts to wear a big L badge. From the spindle-shaped front grille, to the swept back headlamps, to the diffuser elements of the rear bumper, there are many well-executed touches of understated aggression that serve to highlight the fact that this is a sportier and more exciting vehicle than the one it replaces.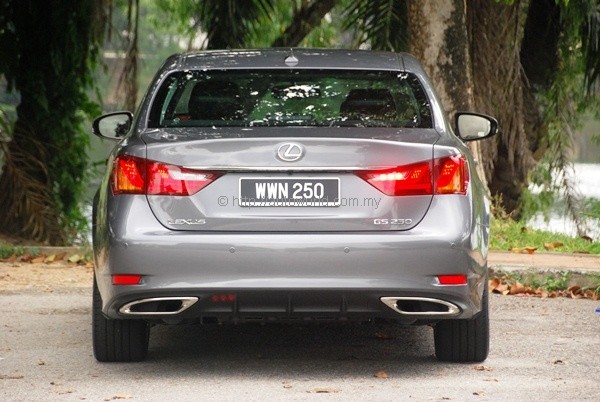 Rear bumper has sporty diffuser elements. Well executed.

Two natural breathing direct injected V6 engines are on offer, displacing 2.5 and 3.5-litre capacities respectively. The subject of our review here uses the smaller of the two engines, and it is the mid-spec GS 250 Luxury priced at RM409,287.30. The standard GS 250 goes for RM375,995.30, and at the other end of the spectrum, we have the GS 350 F Sport which asks for RM477,092.95.
Picking the spec level of our test car nets you a set of bigger alloy rims (18″ vs 17″), adaptive front lights, additional wood and leather trimmings, 18-way power adjusting seats with memory for driver and front passenger, 17-speaker Mark Levinson audio, and control switches on the arm rest. Some of these items are omitted even in the more expensive F Sport models, which get more aggressive body kit and trim items as compensation.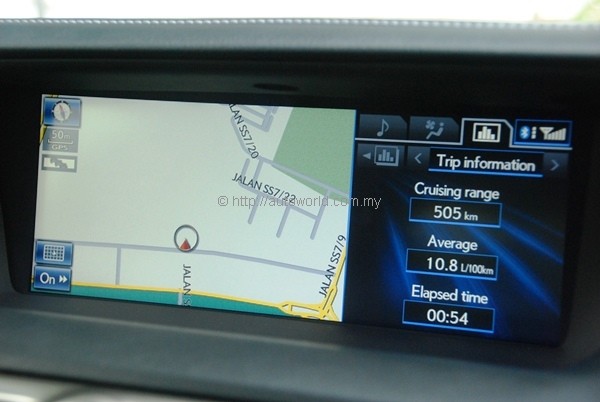 Higher-end models get a 12.3-in central screen.

We'll leave the 350 aside for a future review. So, focusing on what we have here, we're looking at outputs of 206hp @ 6,400rpm and 253Nm @ 4,800rpm produced from 2,499cc aided by the use of Dual VVT-i technology. Unlike the Europeans, Lexus is resisting from adopting forced induction technology. Time will tell if resistance is futile, but for buyers looking for a naturally aspirated V6 in something bigger than a Nissan Teana, options are pretty limited these days – it's this or the Mercedes E 300.
Recent experiences with Europe's turbo engines have made us grow highly accustomed to having a strong shove of torque that starts down low and continuing relentlessly through the mid-range. The GS 250 takes us back to the good old days of wringing every last rev from the tachometer in order to extract the engine's best performance. The experience is, shall we say, hilariously un-Lexus, in a good way.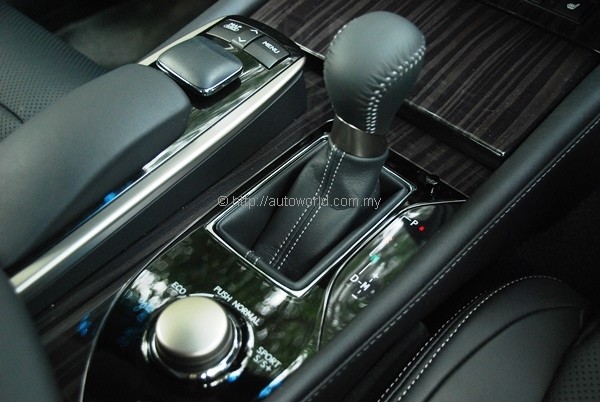 Transmission has six speeds, but that's quite enough, actually.

Press materials highlight the use of an equipment known as the Sound Generator which is, and I quote, 'installed in the intake area to raise the sound pressure of specific frequencies to create a pleasant engine sound'. Now, that's a little like faking an orgasm, but the fact is that very few test cars have made me giggle the way this Lexus did each time I pulled its tachometer past 4,000rpm to unleash the throaty roar of its engine, again, and again, and again.
Coming back to reality, the engine's impressive sound does not translate to neck-snapping acceleration. We reckon most of the European four-pot turbos will comfortably outrun our GS 250 test car here on the straights. Quoted century sprint time is 8.6 seconds, a figure that is easily eclipsed by all of its rivals, even in base-spec formats. What the GS 250 offers is a smooth and seamless power delivery that eases you all the way to the double ton – so, don't for a second think this car is slow, because it isn't.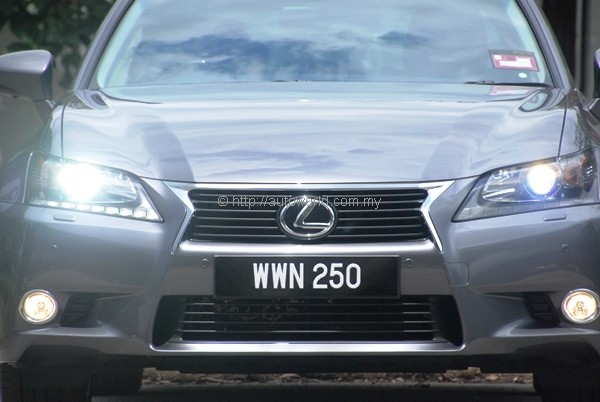 Front fascia is imposing.

Nevertheless, the GS is at its heart a Lexus, and its chassis tuning retains a comfort bias, even with the Drive Mode Select system set to its most aggressive Sport+ mode, which hardens engine response and stiffens the suspension setup. At the other extreme, we have Eco mode, in which the engine almost refuses point blank to stray anywhere north of 2,000rpm until you give it a bootful of throttle.
While the new GS is undoubtedly sportier than its predecessor, or most preceding Lexus models for that matter, it is ultimately not a sporty vehicle. Those seeking dynamic pleasures will be better served by the BMW 5 Series or Audi A6. Otherwise, consider this vehicle on the grounds of its well-executed styling, superb cabin ambiance, and Lexus' unparalleled ownership experience.


Further Details:
– Lexus car prices and specifications in Malaysia
– Lexus GS prices and specifications in Malaysia
– List of Lexus official dealerships in Malaysia