Hino 300 Series commercial trucks launched in Malaysia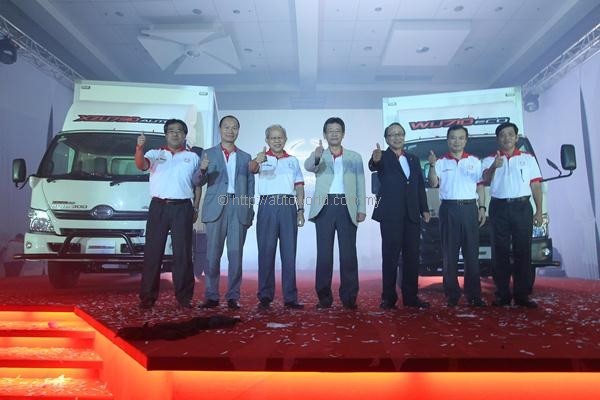 Hino Motors (M) Sdn Bhd has launched the all-new Hino 300 Series light commercial vehicles, the first vehicle in its class to be offered in Malaysia with automatic transmission. There are six basic models to choose from with three cabin variations – wide cabin for city driving, crew cabin for additional four passengers, and the standard cabin.
The models have gross weights ranging from 4,800 to 8,300kg and is accordingly fitted with either four or six wheels. Smaller variants are equipped with a five-speed manual transmission, while the 8,300kg versions get six-speeders. The XZU720 Auto, a six-wheeler wide-cabin variant, is equipped with a six-speed automatic transmission.
Greater attention has been paid to comfort and cabin practicality, and as such, the 300 Series cabins are bigger than predecessor models. The large footstep with foldable gearshift lever enables quick and convenient cabin caccess. For safety, all trucks are built with a collapsible steering column and have reinforced side-impact beams. Pillars are made narrower to minimize blind spots.
In 2011, Hino enjoyed a 35% market share in the light commercial vehicle segment, making it the market's leading player. The total performance of Hino trucks and buses also commanded a 35% market share, retaining the top position, with an improvement of 7% from the year 2010. The company aims to put 8,000 of its vehicles on the road nationwide in 2012, accounting for a market share of 43%.
Picture: Official Hino Motor (M) Sdn Bhd release.