Proton Prevé – First Driving Impressions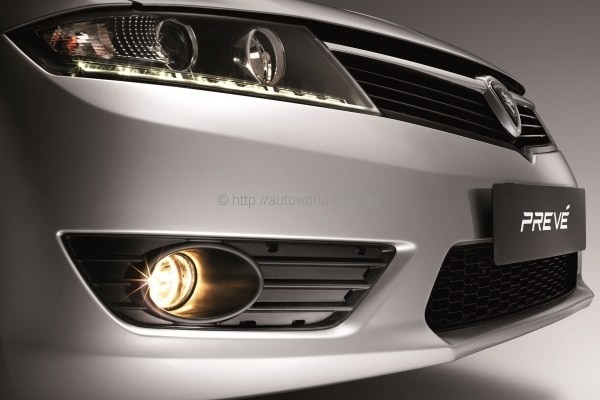 Interest in the Proton P3-21A continues to build, and after attending a preview test drive held for the media today, we can confirm three things about the car – its name is Prevé, it is scheduled for launch middle of this month, and it is rather good, significantly improved from existing Proton cars.
Motorists driving in the vicinity of Putrajaya today might have seen a convoy of taped up cars on the road led by a black Inspira. Behind the wheels of those cars were us and our friends from a few other publications. We were asked not to bring our cameras with us, so until launch date, the teaser photos provided by Proton that you see at the top of this page will have to suffice in terms of visual stimuli.
No pictures to show, but as far as info is concerned, Proton personnel shared plenty with us. Read on…
The Name – Prevé
It's pronounced 'prae-vae', though it was originally meant to be pronounced 'preef', as per the English word that means 'to prove', and Proton certainly has a lot to prove to the Malaysian public after 25 years of misgivings. Noble as the name may be, however, a name pronounced preef is not likely to inspire buyers. Try telling the world you drive one.
Happily for Proton, the Spanish word for envision is spelled Prevé with an acute é at the back and pronounced 'prae-vae'. It was then decided for aesthetic and acoustic reasons that the Spanish take on the word will be adopted as its official designation, although Proton remains to stress on the English origins of the name. Oh, and if you think pronouncing it is difficult, try typing it… with the acute é.
Where it stands
Online rumour mongers have been speculating for a long time that the Prevé is developed as a replacement model for the Persona. That notion is true in some markets, but as far as Malaysia is concerned, the Persona will remain on sale, but only the entry-level B-Line spec. The M-Line and H-Line trims are being discontinued to leave a comfortable gap between both models. Some of you might recall a similar strategy back in 1993 when Proton continued selling 1.3-litre variants of the Iswara after launching the Wira.
Proton's immediate product strategy places the Prevé in between the Persona and Inspira in its model line-up. So, to further separate the top-spec RM75k Prevé from the Inspira, the latter's 1.8-litre variants will be discontinued, and as a very interesting side note, we were informed that an Inspira 2.0 manual is in the pipeline.
What you can expect
From earlier announcements, Proton will be offering the Prevé in three model variants. Pricing starts at an estimated RM62k for the base line 1.6-litre manual going up to the top-spec turbocharged CVT variant at RM75k. In between sits a naturally aspirated CVT variant at an estimated RM65k. Preliminary bookings show an overwhelming preference for the top model, which has accounted for more than 70% of orders thus far.
As expected, the Campro CFE engine introduced in the Exora is offered here as the headline engine paired exclusively to a CVT with 7 virtual ratios and a pair of paddle shifters. What shocked us a little, however, are the lower-spec variants, which get the 108hp Campro IAFM+ engine from the Saga FLX rather than the 125hp CPS unit. Proton was frank to admit that there were cost considerations behind this decision, and it was felt that the IAFM engine allowed the company to give the Prevé a competitive starting price while still offering decent performance.
Zooming out from the engine room, however, and there are a few things that impress in the Prevé, and we shall start with its chassis. It is developed from the Exora's platform, but the MPV's torsion beam rear suspension has been substituted for a proper multi-link setup. Proton's architecture even features a trailing arm that resembles the Ford Control Blade design, although unlike Ford, Proton has maintained a coil-over spring strut layout.
Bootspace is measured at 508 litres, with the use of a space-saver spare tyre undoubtedly contributing a few of those litres. Take nothing away, however, from an impressive packaging achievement considering Proton's use of a multi-link rear suspension setup. Anyone who tries to sell you the idea that the torsion beam is a space-efficient setup is clearly talking hogwash. If Proton can come up with a sufficiently compact multi-link setup, bigger manufacturers have no excuse.
In terms of equipment, Proton is arming the Prevé to its teeth. Some goodies are restricted only the CFE model, but everyone can expect rear disc brakes, ABS, EBD, seat belt pre-tensioners, active head rests, trip computer, and remote boot release. Exclusive stuff to the top dog would be push start button, auto folding wing mirrors, auto wipers, and stability control. One item that particularly caught my attention was rear fog lights, offered in a domestic market Proton for the first time ever, standard for all three variants.
Driving Impressions
In the preview drive today, we had the opportunity to drive all three variants of the Prevé over a distance of nearly 160km over a variety of roads. The CFE version was naturally the pick of the range thanks to its strong mid-range torque that allowed for effortless high-speed cruising. The entry-level manual version, which featured a five-speed 'box from Getrag proved to be the most fun, but the IAFM CVT version turned out to be the biggest and most pleasant surprise.
We tested the IAFM-CVT combo in the Saga FLX SE last year, and whilst the car was mostly pleasant, its was plagued by a very serious three-second throttle response lag. That lag was pleasantly missing in the mid-spec Prevé, and although it did not have the pace of its turbocharged sibling, it was still commendably quick, reaching 150-160kph without too much effort, though with a lot of noise.
Speaking of noise, this is one area that Proton has made great strides with the Prevé. The CFE variant was pleasingly quiet at high speeds, although the IAFM versions threw up quite a racket when the engines were worked. Nevertheless, it was impressive to note that other sources of noise, namely the tyres and wind were convincingly muted.
We are also pleased to report that the Prevé keeps up Proton's promise in delivering cars that ride and handle with the best of them. Suspension setup is indeed world class, with a spot on balance in terms of ride quality and handling sharpness. Stability at high speeds, up to 200kph, is beyond reproach, and amongst C-segment competitors, only the Ford Focus will have nothing to fear from the Prevé in terms of ride and handling.
Conclusion
Impressions gleaned from our pre-production test cars suggest that the Prevé is by far Proton's best ever product. Ride and handling is its stand out quality, and the amount of kit bundled into the package is similarly praiseworthy. We still have reservations of its build quality, and there is still work to be done in terms of overall powertrain refinement.
However, it should be remembered that at its price point of below RM75k, one can't expect German levels of quality. The Prevé is a huge leap forward for Proton, and is a properly competitive package. A launch date of 16 April was mentioned in today's drive, but not confirmed. Official prices will be announced then, but expect them to be lower than the estimated figures.
Pictures: Official Proton release.
See also:
– Proton P3-21A – Soft launch and sneak peek in Power of 1 event at Bukit Jalil
– Proton P3-21A – More Info to Digest
– Making of the Proton P3-21A: More pieces fall in place
– Making of the Proton P3-21A: Day Four's progress
Further details:
– Proton Preve 1.6 IAFM M/T preliminary price and specifications
– Proton Preve 1.6 IAFM CVT preliminary price and specifications
– Proton Preve 1.6 CFE CVT preliminary price and specifications
– Official prices and specifications of Proton cars in Malaysia